The South End: A Boston neighborhood guide
The South End is a diverse neighborhood with quaint townhouses covered in ivy and a fine dining scene untarnished by tourist attractions. One of the first important things to know is that the South End is not Southie.
The South End and South Boston (called Southie) are different neighborhoods, each with a distinct character, and separated by I-93. Walking through the South End, you'd have a hard time confusing it for the boisterousness of Southie. The South End is also bordered by Roxbury, Back Bay and Chinatown.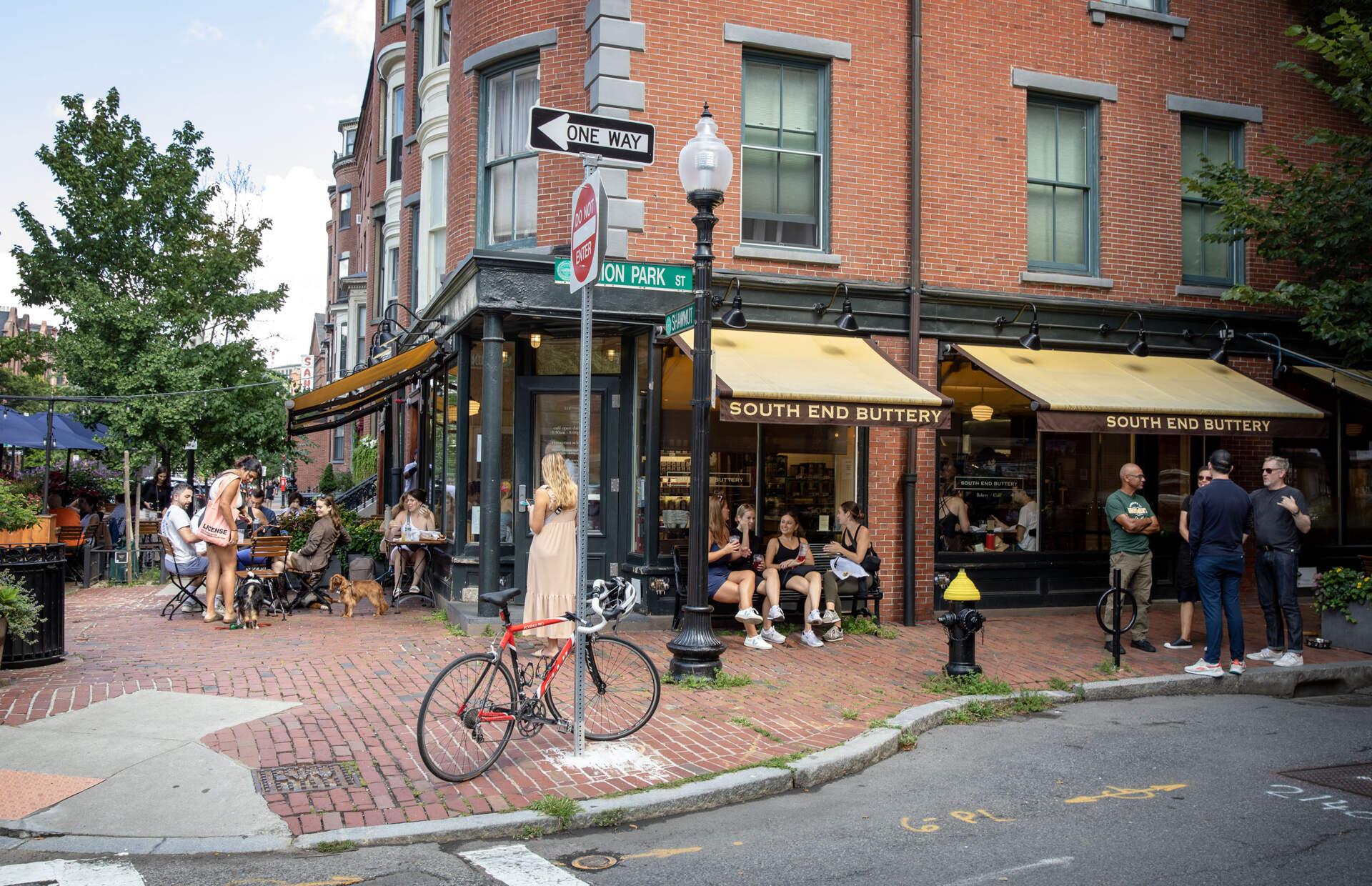 The South End was created by filling in marshland, starting in the 1830s, to create more room for the population of Beacon Hill. The city intended for the land to be purchased by the wealthy to build single-family homes surrounded by plots of land, but the plan was quickly altered to accommodate a changing Boston, swapping estates for elegant rowhouses to attract the upper middle class.
The neighborhood was laid out mostly on a grid, anchored by rowhouses around a central garden with a fountain — like you'll still see on Union Park Street or Worcester Square. Thanks to restrictions on building size and materials, the neighborhood has a distinct and cohesive look: connected brick homes, bay windows, iron railings and a smattering of small parks.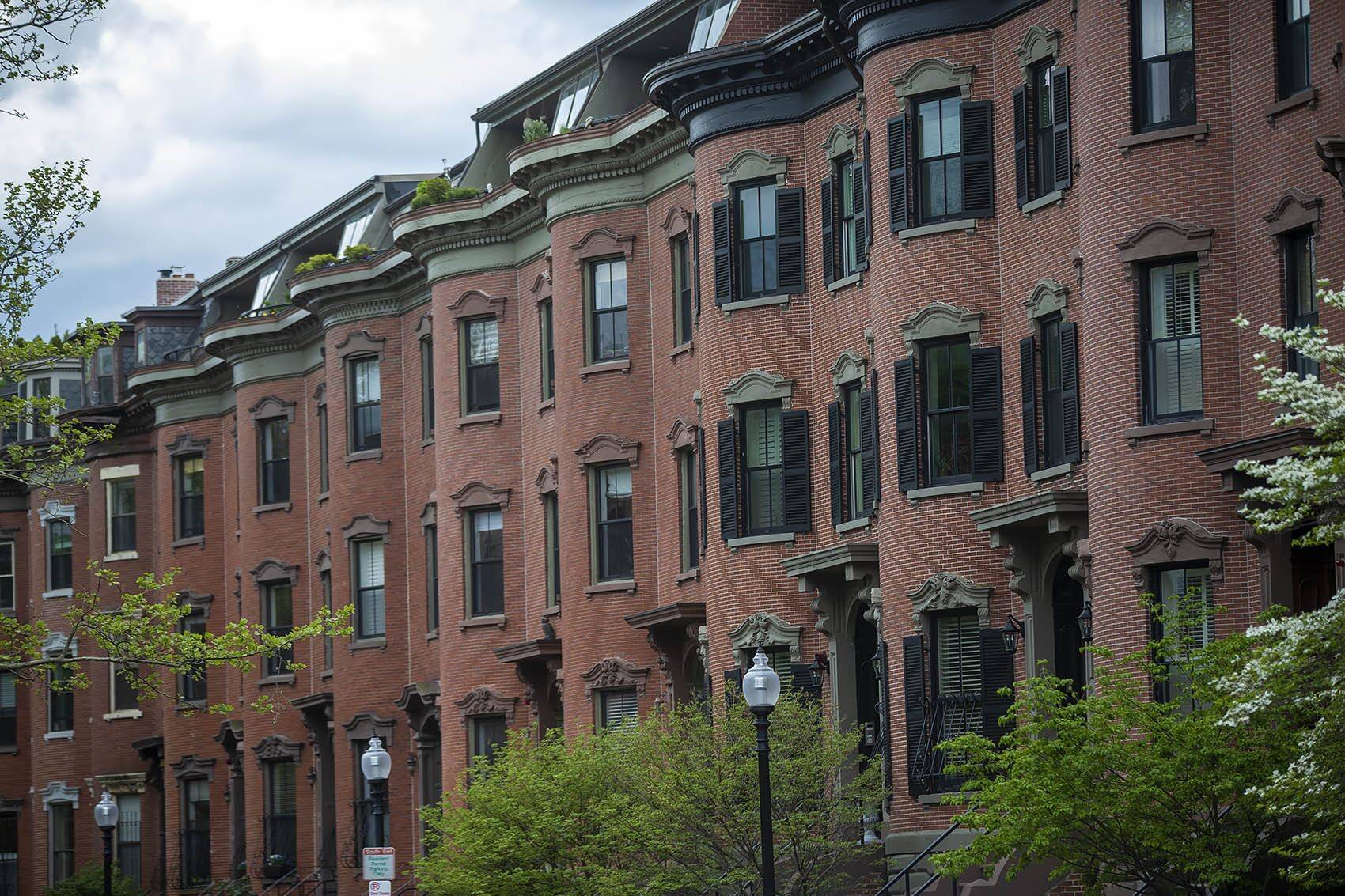 By the 1880s, the Back Bay had been filled in and attracted richer residents away from the South End. After the financial "Panic of 1873," many homeowners couldn't pay their mortgages and would open their homes to lodgers to pay the bills. As the price of real estate got cheaper in the South End, more businesses moved in, like piano craft factories and breweries.
In the first half of the 1900s, immigrants, people of color and working class residents lived in the neighborhood. By 1950, only 5% of Boston's residents were not white, but in the South End, non-white residents accounted for more than 20% of its population. Those in the LGBTQ community, particularly gay men, moved to the neighborhood to live in same-sex lodging homes. In the 1940s and 1950s, the city's famous jazz clubs — Hi Hat, the Wig Wam, Wally's Paradise — lit up the area where the South End merges with Roxbury. (Wally's opened in 1947 and is still around, with live music every night.)
After World War II, city residents flocked to the suburbs. The city began demolishing blighted buildings, spurring a preservationist movement in the neighborhood. Thanks to the organizing of neighborhood associations, and to the criticism of the West End demolition, the city transitioned to a plan that would preserve many of the buildings.
In the late 1960s and early 1970s, a Puerto Rican community started to blossom in the neighborhood. The community famously resisted an urban renewal project that would have displaced residents from their homes in 1968. Working with city planners, they won the right to develop Villa Victoria, an affordable housing development run by Inquilinos Boricuas en Acción. The community remains vibrant in the neighborhood today, located in the geographic center of the South End. You'll know you're there when you see the big Puerto Rican flag mural. A summer festival — Festival Betances — celebrates the strength of the community and its culture every year.
The South End became a magnet for artists, activists, the LBGTQ community, immigrants and people of color. But in recent decades, the neighborhood began to gentrify, often at the anguish of those who saw it as a haven from the wealthier areas of downtown.
Today, the neighborhood is one of contrasts. It encompasses everything from picturesque brick townhouses and vibrant arts district to a sprawling Brutalist-style Boston Medical Campus and a large homeless population. On the southwest side of the neighborhood is the SoWa Art + Design district. Artist studios, galleries, and a weekly open market for farmers and artists bring the area to life. The Boston Medical Center campus stretches along the southern edge of the neighborhood. The safety net hospital was originally called Boston City Hospital, and was the first city-run hospital in the country. On the edge of the neighborhood, at the nexus of Roxbury and South Boston, is an area known as "Mass. and Cass" that in recent years has attracted those struggling with homelessness and opioid addiction. Mayor Michelle Wu has called it a humanitarian crisis. Pine Street Inn, the largest homeless shelter in New England, sits on the northeast border.
Along the central avenues and side streets of the South End are historic brick townhomes, upscale restaurants and gardens bursting with English charm. You'll see young couples in their 20s and 30s pushing strollers and walking their dogs; medical graduate students; and well-dressed, cosmopolitan residents. Without any major tourist attractions, the South End is rarely listed in a guidebook. But the dining scene often attracts residents from other neighborhoods and the suburbs. Culinary delights, wine bars and jazz clubs will keep a foodie busy here.
---
The South End by the numbers
---
What locals say about the South End
Nicolas Gutierrez moved to the South End from Miami for a job in Boston as a software engineer.
"I was under the impression when I originally saw the South End that it's all really nice apartments that are totally out of everyone's price range, it's all really rich people that own their places, but the reality is that there's lots of places to rent," he said. "There's real community of young families, young professionals — just walk by any of the parks and you see that all around."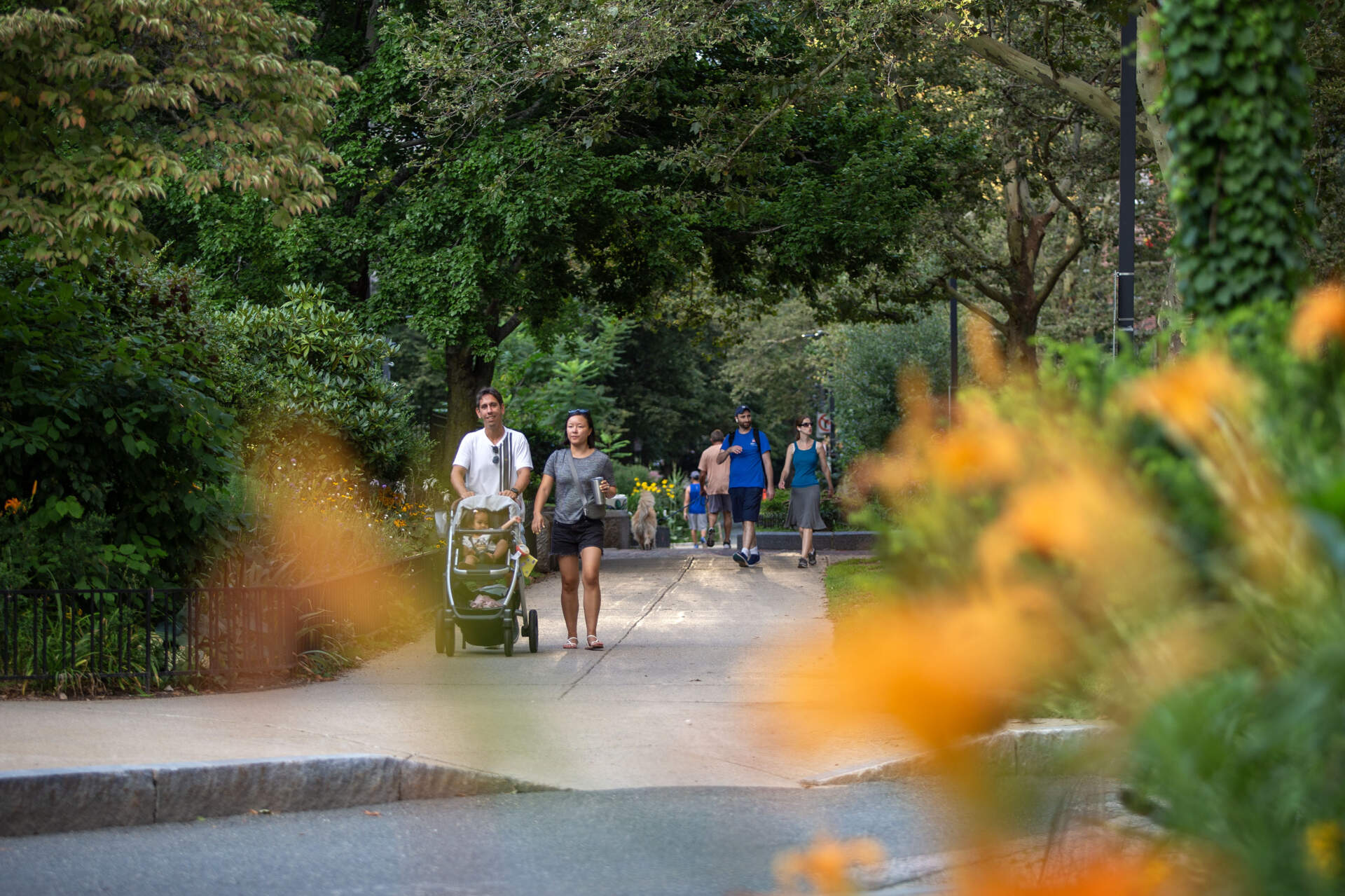 When he moved to the neighborhood, he said, he started to find community just by walking down the street.
"These stoops on the brownstones are just full of people just having some wine, just chatting. If you walk down they'll just invite you over," Gutierrez said.
On this day, he's taping up parking permits outside his apartment in a brick townhouse for his moving truck. After six years, he's leaving the South End to move in with his girlfriend in Brookline.
"There's a reason I stayed for six years. This wasn't just a place I moved to for a job, it's a place I found a great community," he says. But, he said, "I'll be back for the food."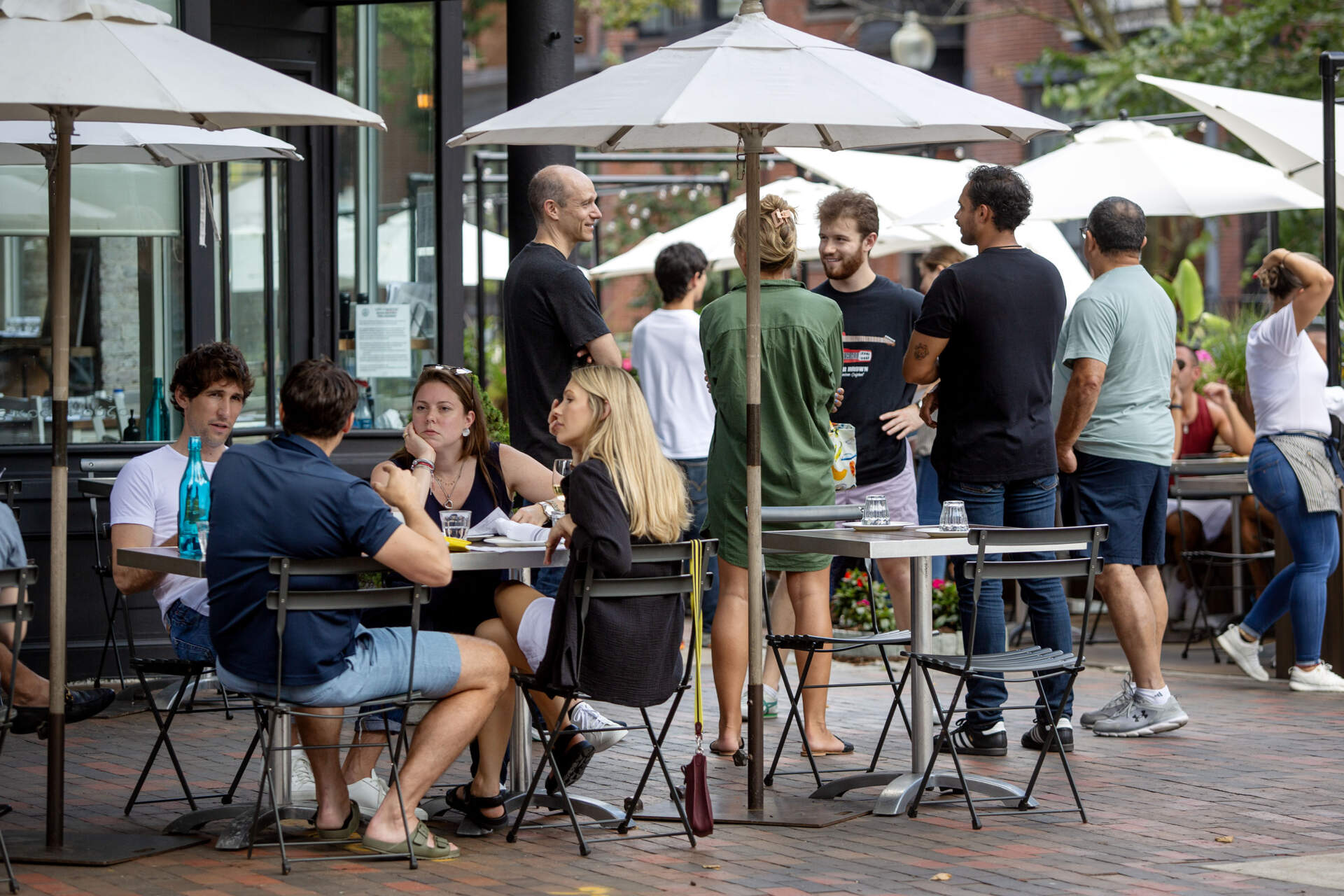 Gutierrez said the food scene attracts a lot of people to the neighborhood. Tremont Street and Shawmut Avenue are lined with sophisticated restaurants and cafes. And, he said, there are some of the "best Puerto Rican restaurants you could find in the whole city" here.
Angie Osborn and Stephanie Ortiz have lived in the South End for about five years now, after bouncing between a few spots in the area like Brookline and Allston. Osborn attended college at Northeastern, and Ortiz at Boston University.
Ortiz said the neighborhood really felt like home to them when they got Milo, the 8-month old puppy calmly pacing at their feet. "You get to know all the dog owners in the area, everyone says hi to each other." Osborn agreed, and laughed as she said part of the fun is "our dog being excited to see his dog friends. It feels very homey."
Plus, it's a great neighborhood to have a dog, they said. They go to Peters Park a lot because it has a fenced in dog area (and Milo can't be trusted off leash yet). They also frequent Blackstone Square: "It's one of our favorite spots in the South End."
Osborn said she really likes the greenery in the South End. In the summer, the neighborhood is bursting with roses and other flowers in manicured gardens and planters. Ivy covers the mostly brick townhomes in the central residential section.
"It's kind of like a neighborhood oasis immediately in the city, which is what I like best about it," she says. "It's not super fast paced, but it's immediately surrounded by fast-paced." She notes that she likes the neighborhood's proximity to Back Bay, the Prudential Center and Newbury Street.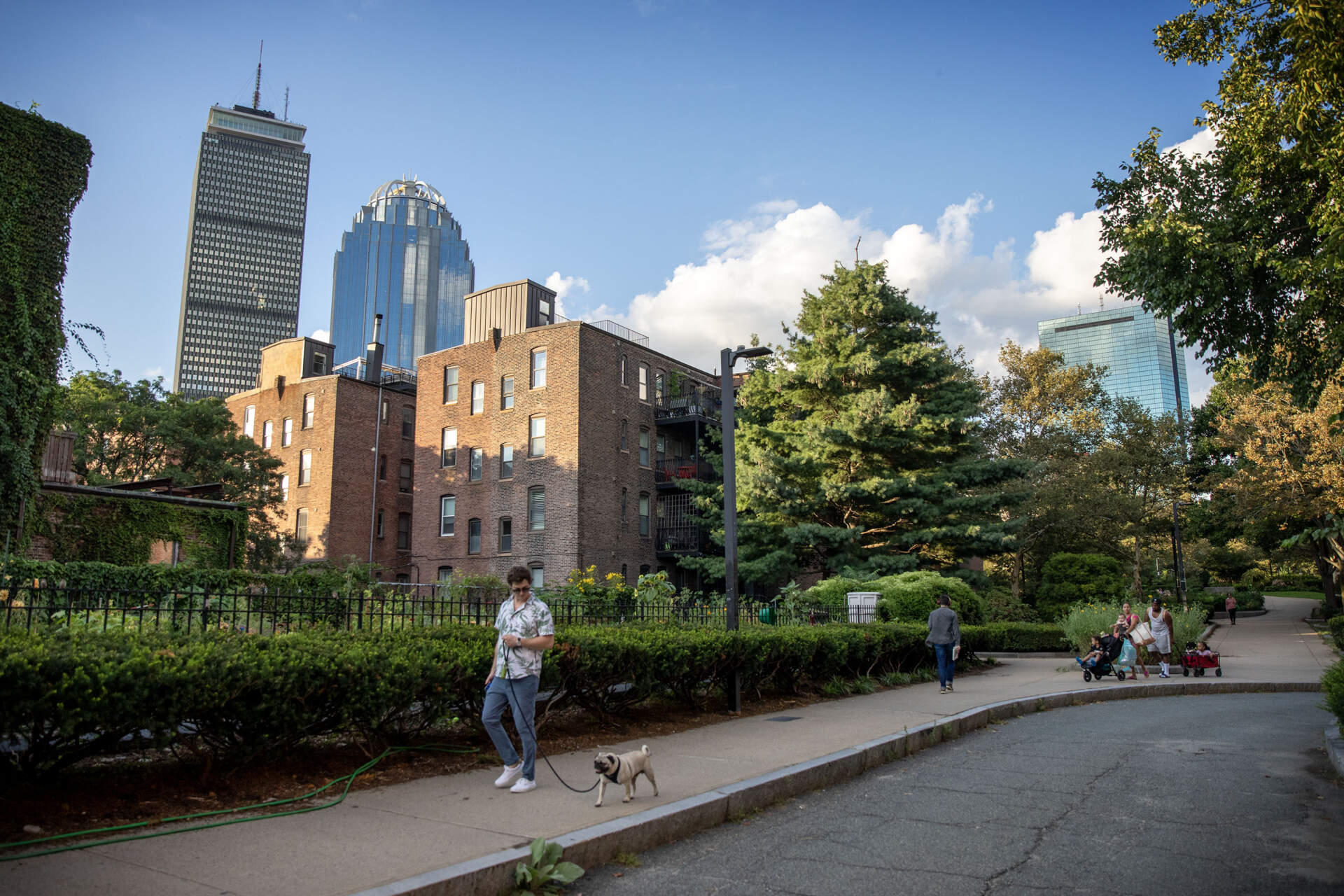 Hugh Miller came to Boston in June 2021. Miller, who's in his 60s, had been teaching children in Thailand, but during a COVID wave, the school shut down and he was repatriated to the U.S. The government gave him the choice of three U.S. cities, so he gave Boston a try.
There was less help than expected when he got here, he said, and ended up at Boston Medical Center's emergency room for a while. Eventually, he got to Pine Street Inn.
"Pine Street is considered the best of the field," he said. "So I've been there, trying to get out."
Miller used to be a software development engineer at IBM, living in Texas, before he moved to Thailand where he wanted to live the rest of his life. He struggles to see Boston as his home.
"For me, personally, it doesn't feel like home," he said. "If I were still working for IBM or something, I think it would be wonderful here [because] I'd have income and status here."
He noted that the South End is the "posh area" of town. "I find most people very friendly, courteous and stuff. It's incredibly clean. It almost feels like you're going back 200 years in history."
He said he enjoys walking around the South End, looking at its historical aspects. And he appreciates the close proximity to the Boston Public Library, Copley Plaza and the Prudential Center where it's fun to people watch.
"It's wonderful to be able to be part of that."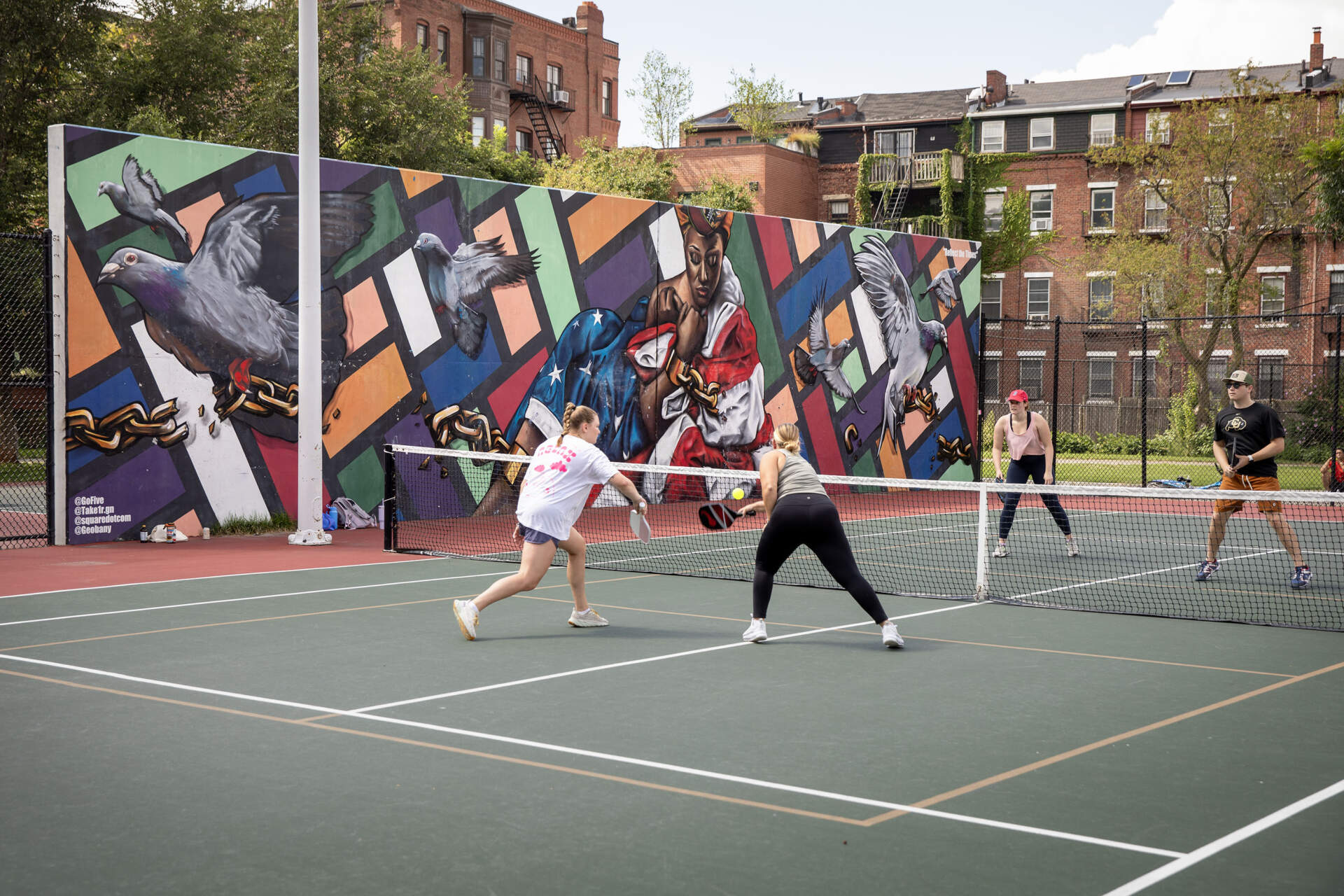 ---
Neighborhood haunts
Here are a few places locals say they go for their everyday shopping and socializing. (Note: The South End has become a bit of a destination for fine dining in Boston — be sure to check Eater's guide if that's your scene.)
Kava Neo-Taverna: This little Greek/Mediterranean restaurant and bar is a great spot for a cozy date night or a weekend afternoon lunch. Locals say it's the best restaurant in the neighborhood, and probably the city.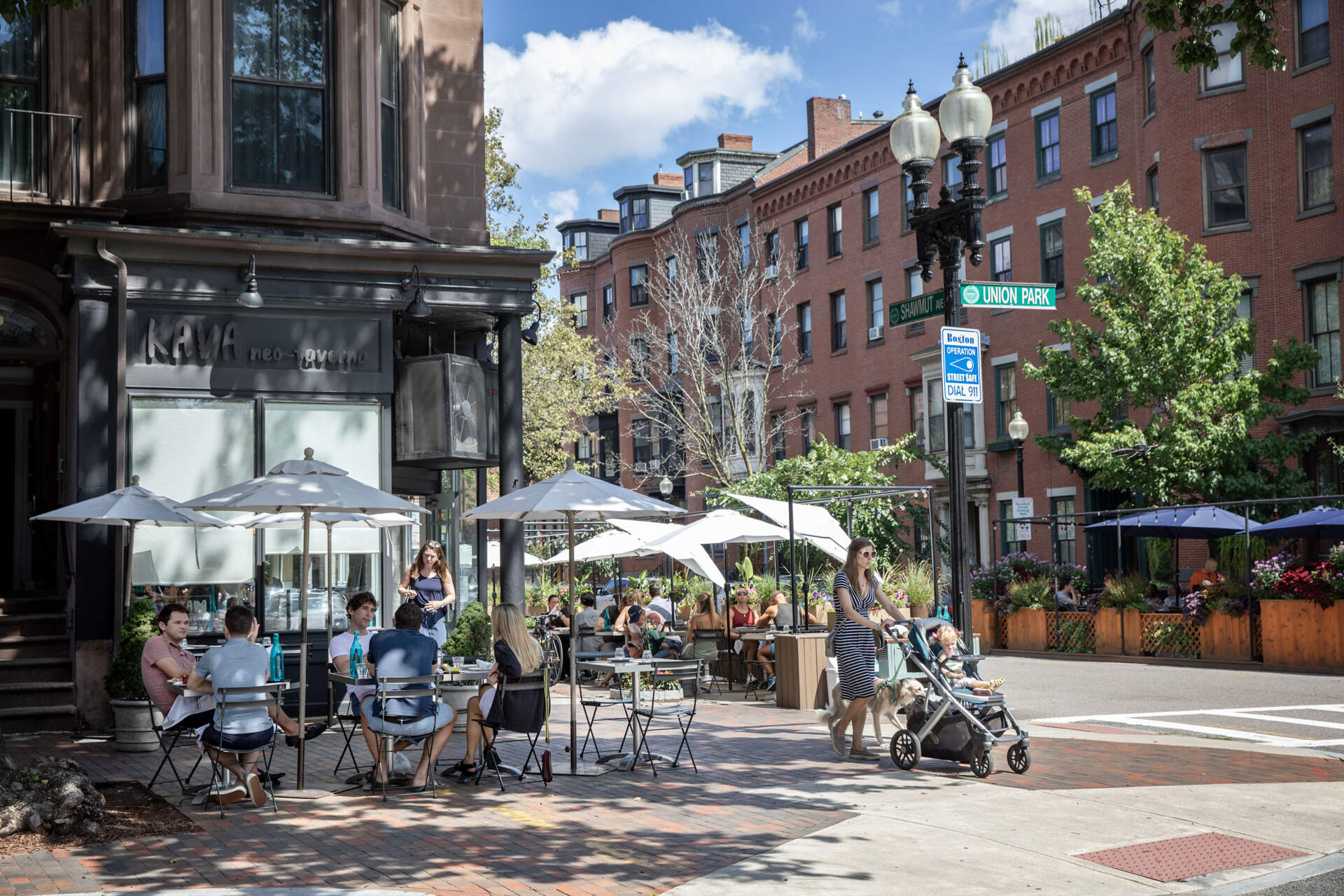 Franklin Cafe: A local institution with creative cocktails and a full dinner menu served until 1:30 a.m. A great late night hang, plus a place to reconnect for Sunday morning brunch. Some neighborhood residents say this is their go-to spot every weekend.
Titus Sparrow Park: One of the many little parks you'll find in the South End, this one has a playground, basketball and tennis courts. There's also summer concerts, and other seasonal events programmed here for the community.
Boston Sculptors Gallery: A contemporary sculpture gallery cooperative operated by a group of New England artists. It was one of the first spaces to open in the '90s, kicking off the SoWa Art + Design district.
Georgiana's: A neighborhood market with prepared sandwiches, coffee, craft beer and other essentials.
South End Buttery: For almost two decades, this neighborhood staple has served residents with simple but high quality coffee and pastries. It also has a restaurant and bar which means you could spend all day in this cozy corner spot people watching.
Boston City Lights: A free performing arts school for kids.
More Than Words: It's a bookstore that's more than a bookstore. They have new books, used books, clothing and gifts — and it's run by young people. It's part of the nonprofit organization's broader mission to empower youth.
Vejigantes Restaurant: The food at this Puerto Rican restaurant is as authentic as you'd get on the island.
Wally's Cafe: One of the last remaining clubs from jazz's heyday in Boston, this family-owned business has live music every night of the week. It also operates as a training ground for music students in the city.
Tell us: Did we miss your favorite spot or hidden gem in the neighborhood? Let us know here, and it may appear in a future version of this list.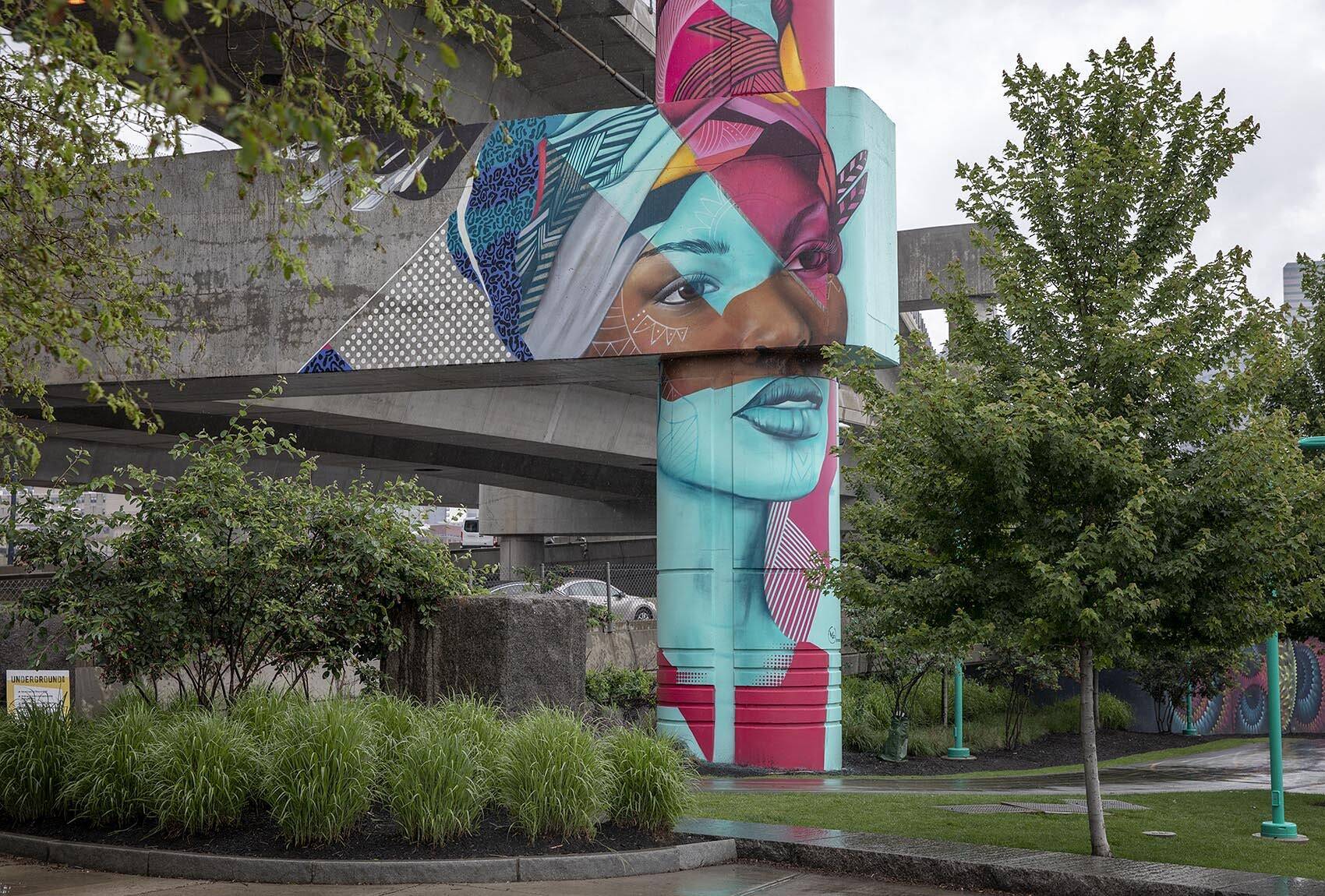 ---
WBUR's Amy Gorel reported and wrote this guide, with additional reporting from WBUR's Irina Matchavariani.