'There wasn't any kind of warning': Towns frustrated over family shelter placements
Some city and town leaders in Massachusetts are expressing concerns they were not notified when the state placed homeless families in hotels and motels in their communities. Local officials argue this makes it hard for them to ensure that families' basic needs are met.
State officials counter they are doing their best, but the situation is changing quickly.
In Bedford, town officials said they discovered unhoused families after a 911 call from a hotel room. Because of a language barrier, police asked hotel staff for the name of the person who had rented the room, "only to find out, at that point, the room had been rented to the commonwealth of Massachusetts," said Heidi Porter, Bedford's director of health and human services.
Police notified town officials, who quickly discovered the state had placed 17 unhoused families at the hotel. Since they became aware of the shelter placements in early August, the number has grown to 66 families, staying at two hotels in the town northwest of Boston.
"We need more help. We really do. We needed this to be a little bit more organized."

Heidi Porter
Bedford officials said they also learned the hotels-turned-shelters did not have dedicated staff to assist the families. They said this is challenging because all of the families are newly arrived immigrants, many of whom do not speak English and are not connected with community support or safety-net programs.
The state-funded family shelter system has expanded quickly over the past year, reaching a record high in July, and roughly doubling its caseload from this time last year. As of Monday morning, there were 6,217 households in the system, or roughly 25,000 individuals.
Part of the increase is due to a rising number of newly arrived immigrant families, many of whom have fled unrest in Haiti.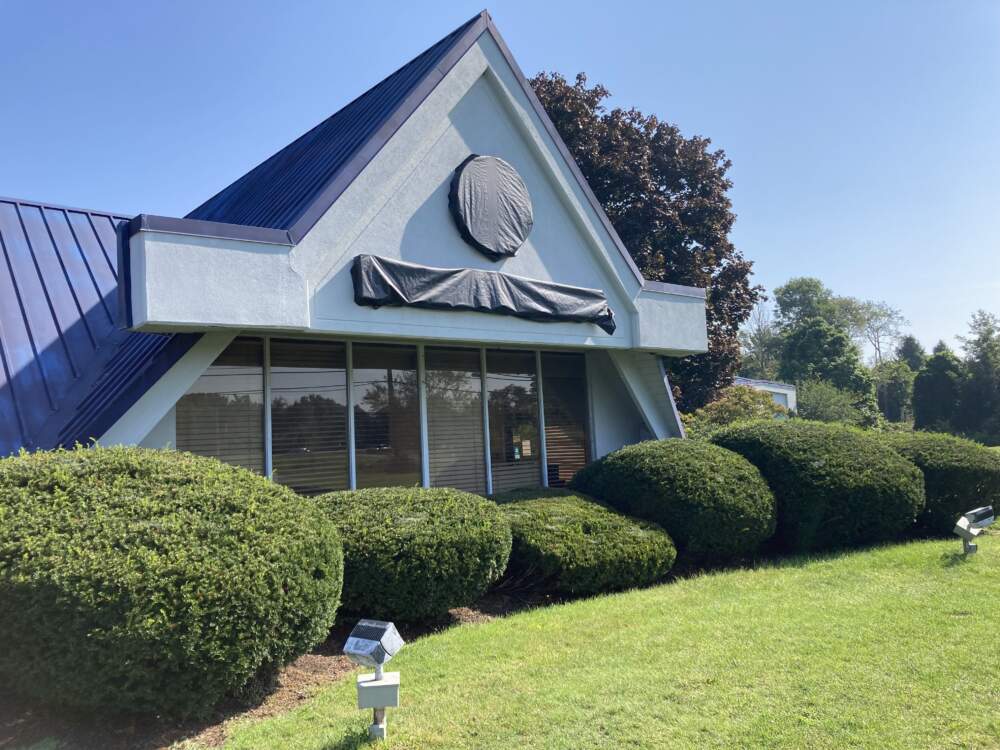 The state has struggled to add units fast enough to meet the growing demand and has increasingly turned to hotel and motel rooms to fill the gap. Under a 1983 state law, Massachusetts is obligated to provide shelter to eligible homeless families.
The shelter expansion has led to tensions with some residents and municipal officials. In Yarmouth, shelter placements recently drew protestors, and last month a hate group demonstrated outside placements in Woburn.
This summer, the state could not find enough shelter providers and started placing families in hotels and motels without the usual shelter staff. Currently, 828 families are in units without access to caseworkers and translators.
State officials have said they strive to provide these families with food and baby formula, as well as connect them with local organizations.
Responding to criticism about the lack of communication with local officials, a spokesperson for the Executive Office of Housing and Livable Communities — which oversees the shelter system — said families are placed in shelter throughout the day and into the evening which can complicate communication.
"We work hard to give local officials as much notice as possible when families are sheltered in their communities," the spokesperson said in a written statement. "But given the fast moving nature of this emergency, sometimes that notice cannot happen until the families are already there."
The state is "deeply grateful for the partnership of communities for stepping up to help us meet this moment," the statement continued.
It's not just local officials who have expressed frustration over the state's lack of communication. Some community organizations echo their concerns.
"There wasn't any kind of warning," said Christine Schuster, president and CEO of Emerson Hospital, discussing two shelter locations near the medical center. "It's really good for the local community hospital if the state reaches out to them sooner rather than later."
As soon as hospital officials learned about the shelters, Schuster said, the staff and community mobilized.
"One of the first things that we did was cultural training for all of our staff, so that they are knowledgeable, and [we] can ensure that we're respectful of the Haitian culture."

Christine Schuster
"One of the first things that we did was cultural training for all of our staff, so that they are knowledgeable, and [we] can ensure that we're respectful of the Haitian culture," she said.
The hospital bolstered translation services. Its doctors conducted physicals, so kids could enroll in summer camp. Its obstetricians rallied, delivering 10 babies in the past few months. They also raised money for car seats and other supplies.
"We're now working to try to get people primary care doctors," Schuster said, noting that the average stay in the state's family shelter system is over a year.
Bedford staff and residents also sprang into action. Town officials have been at the hotel sites every weekday, Porter said.
"We just started going down, talking to folks, figuring out what they needed," she said. "The immediate needs were food, some clothing and tons of questions about getting access to medical care."
The town has provided food from a local food bank, as well as gift cards, car seats and other donations from the community. Since the families are new to Massachusetts, town officials and volunteers have also helped with needs like picking a MassHealth insurance plan and registering children for school. Porter said the town doesn't know whether the state will reimburse for any of this work or the items it is providing.
"We need more help. We really do. We needed this to be a little bit more organized," Porter said. "It would have been helpful to have a heads up."
Last week, the Healey administration activated up to 250 National Guard members to help with the unstaffed shelter sites. The members are expected to be deployed in the coming days. The state said it is also setting up regional rapid response teams, staffed by state employees, to help oversee sites and serve as a point of contact if issues arise.
Porter said she participated in a call with representatives from two dozen other cities and towns that have unstaffed shelters. She said she feels for communities that don't have the capacity to step up and reallocate resources the way Bedford has.
"I could see the frustration, and I heard the frustration," she said.