A comprehensive guide to fall's classical music performances
Few cities the size of Boston offer quite as much classical music. From the free to the pricey, from the intimate to the grandiose, no one in a 10-mile radius of Back Bay can complain about our range of offerings. Here's a list of the most notable events on the classical calendar from just after Labor Day through just before Christmas. I make no claim that this is an "objective" list, and I don't personally recommend all of them. But all the events I know of are here to which my own prejudices and predilections encourage me to anticipate with pleasure.
And if these musical events aren't enough, please don't forget to check listings of concerts — especially free concerts, student concerts, and faculty recitals — offered at the various schools and conservatories. There's no shortage of great music in this part of the world.
Opera | Symphony Orchestras | Visiting Artists | Vocal Music | Solo & Chamber Music | Chamber Orchestras | Early Music | Contemporary Music
---
OPERA
Tod Machover's 'VALIS'
MIT Theater Arts Performance Space, Cambridge
Sept. 8-10
I can hardly think of a more exciting way to begin the new classical season than with a newly updated revival of Tod Machover's shimmering electronic opera "VALIS" (an acronym for Vast Active Living Intelligent System). Commissioned in 1987 for the 10th anniversary of the Centre Pompidou in Paris, two years later "VALIS" had its American premiere, under the direction of the composer at MIT's Media Lab. It was Machover's first opera, based on Philp K. Dick's semi-autobiographical sci-fi novel of the same name. The impressive Bridge recording, conducted by Machover, is still in print. The score is an inventive and often hauntingly beautiful arrangement of synthesizer, live instruments, and electronically expanded instruments, which Machover calls "hyper-instruments," a compelling amalgamation of minimalism, medieval, Wagner and rock.
This new production stars ascending superstar bass-baritone Davóne Tines (who has already thrilled Boston audiences with his Celebrity Series concert in April and for his magnificent performance as Malcolm X, in Andrew Davis's "X," with Boston's Odyssey Opera). And it will be staged by MIT's Jay Scheib, who directed what was probably this year's most internationally-discussed opera production, the augmented-reality version of Wagner's "Parsifal" at the Bayreuth Festival. AR and AI might be even better suited to Machover than to Wagner. I can't wait to see—and hear—it again. Tickets are free.
Puccini's 'Madama Butterfly'
Boston Lyric Opera | Emerson Colonial Theatre
Sept. 14-24
One of the world's most beloved operas is being re-examined for the way it has misrepresented its Asian characters. Given the corniness of the Italian libretto and the American melodrama it's based on, the fresh look might be most welcome (unlike, say, Boston Lyric's cockamamie, musically destructive notion last year of performing the four acts of Puccini's "La Bohème" in reverse order). As the result of BLO's three-year Butterfly Project, a study in authentic story-telling, Cio-Cio San (called Butterfly) will no longer be a timid turn-of-the-century Japanese geisha, but a pre-Pearl Harbor American nightclub entertainer, and instead of yearning for her American lover to return to Japan, she'll be trapped in an American internment camp. In a time when anti-Asian hate crimes have been increasing, can the BLO creative team turn Puccini's sentimental and even repellant stereotyping into living drama? Soprano Karen Chia-Ling Ho sings the title role. Phil Chan directs. David Angus conducts.
Sept. 20-22
Librettist Cerise Jacobs's activist opera company has included work by significant composers and composers virtually unknown in these parts. Mexican-born composer Jorge Sosa, who created White Snake's 2019 immigration opera, "I Am a Dreamer Who No Longer Dreams," is maybe halfway between. The family-friendly puppet parable "Monkey" promises elements of "The Wizard of Oz" and exceptional production values. Chinese countertenor Chuanyuan Liu sings the title role. Roxana Mirhrum directs. Tianhui Ng is the music director. Along with an impressive team of puppeteers.
Oct. 6-8
One of our most inventive local opera companies has a couple of intriguing programs lined up for this season, beginning with "Whispers: Echoes from the Halls" — billed as "an immersive horror opera experience," using such spine-tingling sources as "Don Giovanni," "Lucia di Lammermoor" and "The Turn of Screw" to create a spooky new work. Keep your eyes out for BOC's revival of Peter Brook's "La tragédie de Carmen" — the legendary British stage director's harrowing, claustrophobic, four-character, 90-minute version of Bizet's masterpiece for which dates and casting have not yet been announced.
Rossini's 'La Cenerentola'
Boston Lyric Opera | Emerson Majestic Theatre
Nov. 8-12
BLO changes pace and style for its next production. Rossini's delightful rom-com, "La Cenerentola" (Cinderella). Most of the familiar elements are here, down to the hateful stepsisters, but with some 19th-century twists (an inept father instead of a wicked stepmother). The music is unforgettable, beginning with the exhilarating overture and ending with one of Rossini's most triumphant coloratura arias in which Cinderella celebrates her victory over adversity. At its best, it should be stiletto sharp and lighter than air. Cecelia Hall sings the indomitable heroine, Dawn M. Simmons directs, and David Angus conducts.
---
SYMPHONY ORCHESTRAS
Oct. 5-Nov. 25
Boston's most celebrated orchestra is also the musical organization with the fullest schedule. Music director Andris Nelsons leads the majority of these, including concerts with both Shostakovich Cello Concertos with Yo-Yo Ma (Oct. 12-15) and all five Beethoven piano concertos with the superb Paul Lewis (on separate programs, Oct. 19-21).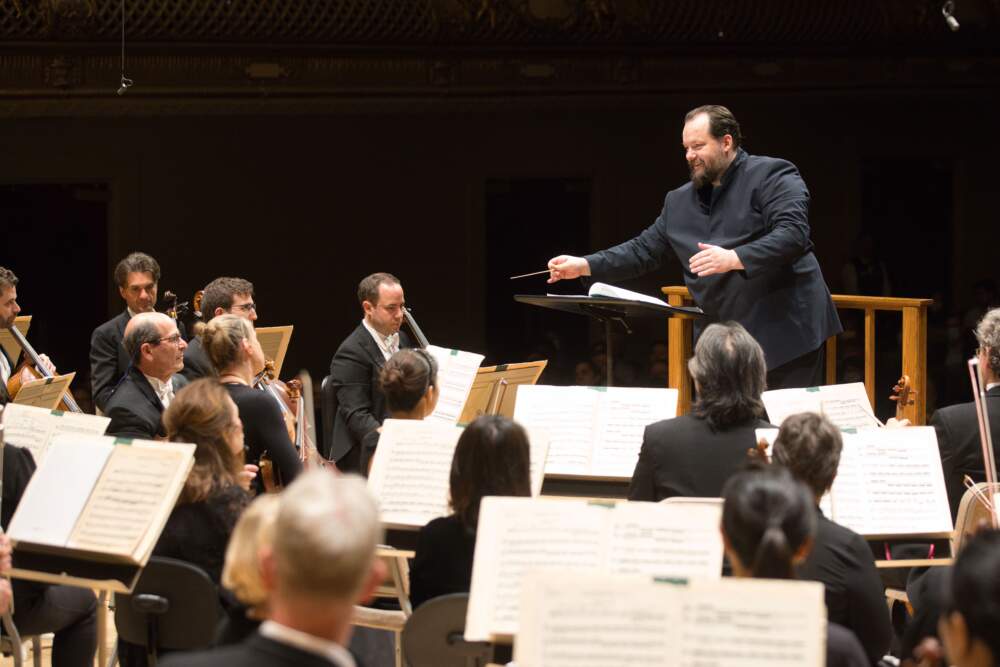 But the most exciting concerts are often the ones led by visiting conductors. As has been the case in recent years, the outstanding event has been the one led by the BSO's brilliant, multifaceted artistic partner since 2016, British operatic and orchestral composer/conductor/pianist Thomas Adès. I'm especially partial to Adès as a conductor for his surprising and refreshing choice of material. This fall, he'll be leading a program consisting of Liszt's once too-familiar "Les préludes," György Ligeti's dazzling modernist Piano Concerto (with Adès's frequent collaborator, the brilliant Russian pianist Kiril Gerstein), Stravinsky's sublime "Orpheus" (nobody at the BSO brings Stravinsky more to life — particularly compared with Nelson's inert attempts — and no one chooses less hackneyed Stravinsky to perform), and finally one of Adès's own most engaging and haunting orchestral scores, his masterpiece from 2007, "Tevot" (Nov. 16-18).
That same weekend, Adès turns up with Gerstein again at a BSO Chamber Players concert to play Ligeti's "Monument - Self-Portrait - Movement" for Two Pianos and the American premiere of Adès's own "Növények Songs" with mezzo-soprano Katalin Karolyi. The BSO Chamber Players will also perform Ligeti's Bagatelles for Wind Quintet and Mozart's heavenly String Quintet in C, K. 515 (Jordan Hall, Nov. 19).
Oct. 1 & Nov. 5
Steven Lipsitt's Bach, Beethoven, and Brahms Society returns to historic Faneuil Hall for concerts this fall. The first (Oct. 1) includes the ubiquitous Beethoven Seventh Symphony preceded by less familiar music by such rediscovered French composers as Louise Farrenc and Chevalier de Saint-Georges and a seldom-heard piece by Saint-Saëns ("La muse et le poète"). The second concert (Nov. 5) features some excellent soloists from the ranks of the orchestra: Roksana Sudol and Andrew Price in Bach's Concerto for Violin and Oboe and Ian Greitzer and Ronald Haroutunian in Strauss's Duet-concertino for Clarinet & Bassoon, along with Haydn's Symphony No. 43 ("Mercury") and Schubert's Symphony No. 5.
Oct. 20 & Nov. 17
One of the most striking qualities of Benjamin Zander's concerts with the Boston Philharmonic Orchestra is less what he chooses to play (usually familiar classical and modern masterpieces) than how he puts his programs together. Zander's popular and eloquent pre-concert talks appeal to both novice and sophisticated audiences. The Philharmonic's first concert opens with one of the most famous and popular pieces of music ever written, Rossini's "William Tell" Overture, and ends with one of the greatest, Beethoven's Seventh Symphony (Oct. 20). Both pieces depend on lyrical grace alternating with rousing energy and speed. In between, Zander has placed a less familiar and more meditative work, Elgar's Violin Concerto (with Israeli violinist and conductor Guy Braunstein). Zander's second fall program (Nov. 17) features Israeli pianist and conductor Benjamin Hochman in Bartok's Third Piano Concerto, which will be book-ended by the thrilling Passacaglia from Benjamin Britten's opera "Peter Grimes" and a performance of Shostakovich's harrowing (and sometimes tedious, though probably not this time) Symphony No. 10.
Zander is also the founder and conductor of the astonishing Boston Philharmonic Youth Orchestra, which has one ambitious fall concert on the docket including Wagner's "Die Meistersinger von Nürnberg" Overture, Hindemith's Symphonic Metamorphosis on Themes of Carl Maria von Weber, and the Brahms First Symphony (Symphony Hall, Nov. 5).
Oct. 22 & Dec. 10
Music director Tianhui Ng's opening concert with the New England Philharmonic is the thoughtful "Epic Journeys," featuring works inspired by the immigrant experience, including Eric Nathan's 2023 "In Between" (a co-commission with Oberlin), the Boston premiere of Oswald Huynh's "Gia Đình" ("Family"), and Chinese composers He Zhanhao and Chen Gang's "The Butterfly Lovers Violin Concerto" (1959), with exemplary violin soloist Danielle Maddon (Oct. 22). NEP's Annual Family Concert includes the premiere of the orchestral version of Jordan Kuspa's "Mystery of the Missing Music" (2021), a "musical whodunit" in which two teenagers introduce the instruments of the orchestra. Also featured will be a concerto movement performed by the winner of the NEP Young Artist Competition (Dec. 10).
---
VISITING ARTISTS
Boston has a spectacular pool of local performers. But we are not so provincial that we don't have an equally spectacular array of visiting artists and celebrities (not always the same). This fall, the Celebrity Series of Boston does not include such acclaimed visiting orchestras as the Berlin or Los Angeles Philharmonic, which were on last year's list. But we can still be happy to have some of the visitors who are scheduled to appear in this season's line-up.
I enthusiastically admire French pianist Jean-Yves Thibaudet, Georgian-born German violinist Lisa Batiashvili and French cellist Gautier Capuçon. They seem to be longtime friends, so the pleasure of hearing them as soloists is tripled by hearing them play together. Their Celebrity Series program consists of three delicious masterworks: Haydn's Piano Trio No. 44 in E Major, Ravel's Piano Trio in A minor and Mendelssohn's Piano Trio No. 2 In C minor. (Jordan Hall, Oct. 20).
And who wouldn't want to spend an evening with the legendary multi-Tony-award-winning Broadway superstar soprano Audra MacDonald? (Symphony Hall, Oct. 22)
Are you into harps? Here comes not one, but two rare evenings — both free! — with two stellar harpists, Eduardo Betancourt and Charles Overton (Harvard Epworth Church, Cambridge, Oct. 27; Arlington St. Church, Boston, Oct. 28).
One of my favorite singers in the world, the endearing Brazilian vocalist Luciana Souza, joins forces with MacArthur "genius" percussionist and songwriter Dafnis Prieto (Berklee Performance Center, Oct. 28).
The brilliant cellist, Alisa Weilerstein, comes from a family of distinguished musicians. She is often pushing boundaries. But I'm sorry to say I don't always trust her judgment. Her upcoming Celebrity Series concert, "Fragments I," consists of newly commissioned pieces interspersed without pause between movements from Bach's solo Cello Suite No. 1. What makes my flesh crawl are the words "immersive," "multisensory" and "enhanced by responsive lighting and scenic architecture," as if music, let alone Bach, needed "enhancement" (Sanders Theatre, Nov. 5).
Distinguished pianist Sir András Schiff returns to the Celebrity Series for the first time in 7 years for a recital including works by Mozart, Beethoven and Schubert, which he will (famously) introduce from the stage (Jordan Hall, Nov. 10).
Another legendary diva, soprano Renée Fleming, returns to Boston for a solo recital after her heroic last-minute willingness to replace Yo-Yo Ma, who came down with COVID at Tanglewood this past summer (Symphony Hall, Nov. 12).
Daniil Trifonov, the astounding young Russian pianist, returns for a solo recital featuring a wide spectrum of works by Rameau, Mozart, Mendelssohn and Beethoven's notoriously challenging "Hammerklavier" Sonata (Symphony Hall, Nov. 15).
And another amazing pianist, Jeremy Denk, one of the most thoughtful and intelligent artists before the public today, is giving a recital in which he'll be "telling" the history of women composers across the centuries. His sensitively, imaginatively-played self-curated programs are often among the most memorable of any season (Jordan Hall, Dec. 9).
---
VOCAL MUSIC
Sept. 23-May 14
Although Emmanuel Music, under artistic director Ryan Turner, is not strictly vocal, it's vocal music we mainly associate with Emmanuel, especially the weekly Sunday morning Bach cantatas. Beginning Sept. 24 and running until May 12, 2024, one can arrive at 11 a.m. to hear the spiritual cantatas. The Emmanuel season technically begins not at Emmanuel Church and with no vocal music. Guest pianist Simone Dinnerstein returns to the Emmanuel fold playing three concertos: Bach's D-minor, Mozart's C-major and a Philip Glass rarity, his "Tirol Concerto for Piano and Orchestra," based on Austrian folk tunes. There will also be — I'm nervous to report — a "visual counterpart," in the form of a video installation. Am I old-fashioned because I just want to hear the music I love? Or cranky because these visualizations seem cliché? Is it another way to coddle instead of challenge an audience with a shrinking listening span? Or is this really a new way to experience art? (Distler Hall at Tufts University, Sept. 23)
Ned Rorem Centennial
Isabella Stewart Gardner Museum's Calderwood Hall
Oct. 1
The Gardner Museum will be celebrating the centennial of composer and diarist Ned Rorem, a larger-than-life figure in the American concert-music scene who died last year at the age of 99, with one of his most ambitious works, "Evidence of Things Not Seen," an evening-length song-cycle. The performers will be soprano Miriam Gordon, mezzo-soprano Brenda Patterson, tenor William Ferguson, baritone Randall Scarlata and pianist Laura Ward. Divided into three sections: Beginnings, Middles and Ends. The cycle includes 36 poems by 24 different authors, ranging from Walt Whitman to Robert and Elizabeth Browning, to American poets Langston Hughes, Mark Dot, and Paul Monette. Sentimental and melodramatic, this is a rare chance to hear this entire work.
'Israel in Egypt'
Handel + Haydn Society | Symphony Hall
Oct. 6 & Oct. 8
Joshua Cohen begins his first full season as the director of America's oldest choral society with one of the most ambitious and delightful works by one of H&H's namesake composers, Handel's Technicolor epic oratorio "Israel in Egypt." The libretto seems to have been compiled from the Old Testament by Charles Jennens, the librettist for Handel's "Messiah," an annual H+H event (Nov. 24-26). Entertaining and ravishing, "Israel in Egypt" will be performed on period instruments.
---
SOLO & CHAMBER MUSIC
Mistral Music
West Parish Church, Andover & Congregation Kehillath Israel, Brookline
Sept. 9-10
Flutist Julie Scolnik is the guiding spirit behind (and often in front of) this chamber group. The season opens ominously with "Portraits of Madness." The program includes "A Song" from Ukrainian composer Roman Prydatkevych's "Ukrainian Rhapsody," Mahler's String Quartet, a flute and piano arrangement of Lensky's aria from Tchaikovsky's opera "Eugene Onegin," excerpts from Beethoven's Trio in E flat and Schumann's magnificent Piano Quartet.
Sept. 17, Oct. 8 & Nov. 12
Ashmont Hill Chamber Music presents an eclectic mix of soloists and chamber musicians. The fall season starts with an evening of Persian classical music with Nima Janmohammadi, setar, and Pejman Hadadi, tombak (Sept. 17). Then one of our most distinguished elder statesmen of the keyboard, Victor Rosenbaum, plays an afternoon of Schubert (Oct. 8), followed by Jamaican-American violist Jordan Bak, with pianist Ji Yung Lee, in music by Manuel De Falla (an arrangement of his vocal masterpiece "Seven Popular Spanish Songs"), Tyson Gholston Davis, Anne Leilehua Lanzilotti, Robert Schumann, George Enescu and Arnold Bax (Nov. 12).
Music for Food
New England Conservatory's Brown Hall
Sept. 24 & Nov. 19
The stellar violist Kim Kashkashian is not only a great musician but a model citizen. Music for Food, the program she founded 13 years ago, now has 20 chapter cities in the United States (including Boston), Canada and Taiwan. Admission to the concerts is free, but a donation is encouraged that will fund a hunger relief organization. More than 2 million meals have already been distributed. At this year's concerts, a series called "Parlando" ("Speaking," in English) features a premiere for viola composed and performed by a New England Conservatory student and a chamber work that centers on spoken words This fall's "speaking" events include two landmark 20th-century masterpieces: Stravinsky's "Histoire du Soldat" (with Kashkashian performing as one of the narrators) and Schoenberg's "Pierrot Lunaire" (featuring soprano Lucy Fitz Gibbon).
Rockport Music
Shalin Liu Performance Center
Sept. 24 & Oct. 8
Most of Rockport Music's classical programs are in the summer, but some special classical events are saved for the fall. Pianist Mahani Teave, the only musician I've heard of from Easter Island, will be playing Bach, Chopin, Liszt and Rachmaninoff as well as traditional music from Rapa Nui and music based on traditional Rapa Nui music (Sept. 24). Two breathtaking virtuosi — Canadian-German cellist Johannes Moser and the staggering Canadian pianist Marc-André Hamelin — join forces for a program of Nadia Boulanger, Hamelin (the pianist's own "Four Perspectives") and the great cello sonatas by Debussy and Franck (Oct. 8).
Oct. 28-29
Four programs forming a special two-day mini-festival will be held in conjunction with the publication of Boston Globe classical music critic Jeremy Eichler's masterful and moving new volume, "Time's Echo: The Second World War, the Holocaust, and the Music of Remembrance." The book focuses on four great composers who lived through the war and wrote devastating works of musical memorial: Richard Strauss, Arnold Schoenberg, Dmitri Shostakovich and Benjamin Britten. At each of these concerts, members of the Borromeo Quartet and guests will play a chamber work or new chamber arrangement of a piece by one of these composers.
Winsor Music
St. Paul's Church, Brookline
Sept. 30 & Nov. 26
One of my favorite chamber groups begins the season with an irresistible program called "Dancing with Bach," which features Winsor founder Peggy Pearson, an incomparable oboist, in a new dance suite of Bach keyboard works orchestrated by the composer Eric Nathan. This will be followed by the premiere of musician/composer/lyricist Lavell Blackwell's "On the Impulse to Move," which, so we are told, was inspired by John Adams and Stevie Wonder (a fascinating pair). Another premiere, Yu-Hui Chang's "Song of the Spirit," will be followed by a celebration of the 100th birthday of György Ligeti with an early work of his with the tantalizing title "Old Hungarian Ballroom Dances." The other outstanding Winsor performers include current Winsor directors Gabriela Díaz, violin, and Rane Moore, clarinet, along with Gabriel Boyers, violin; Ashleigh Gordon, viola and more (Sept. 30).
Winsor's other appealing fall program includes Natacha Diels's "What do you Want to See Today?" — a new work by Winsor co-director Rane Moore, Marc Mellits's "Parking Violation," Mark Applebaum's "Aphasia" and John Adams's "John's Book of Alleged Dances" (Nov. 26).
Oct. 1, Oct. 15 & Nov. 12
BCMS's three fall concerts start with a Mozart piano quartet, a Mendelssohn string quintet and Dvořák's beloved piano quintet (Oct. 1). Then we get a Beethoven string trio, a Brahms piano quartet (G minor) and Daniel Godfrey's "Ad Concordiam," a quintet for oboe, piano and strings (Oct. 15). And finally there's a program with the Brahms F-major Cello Sonata, Kodály's Duo for Violin and Cello and Schubert's delicious "Trout Quintet, with Max Levinson at the keyboard (Nov. 12).
Oct. 2 & Nov. 13
The New England Conservatory celebrates some of its most distinguished faculty in a series of free chamber music recitals. The highly regarded "First Mondays," curated for the past 39 years by cellist and NEC president emeritus Laurence Lesser, kicks off with a recital featuring two remarkable musicians, violinist Stefan Jackiw and pianist Max Levinson, first in the Sonata No. 4 by Charles Ives then joined by cellist Jonah Ellsworth in the Brahms C-major Trio. These works will surround Alfred Schnittke's Piano Quintet, with Vivian Weilerstein, piano; Masha Lakisova and Kristy Chen, violins; Njord Fossnes, viola; and Julia Yang, cello (Oct. 2).
As part of the "Faculty Recitals" series, Lesser will celebrate his 85th birthday and his 50th year at NEC with pianist Minsoo Sohn in a rangy joint recital that includes the two artists in Bartok's Rhapsody No. 1 and Rachmaninoff's Sonata in G minor. In between, Lesser will have the stage to himself in Bach's Solo Cello Suite No. 6 in D. (Nov. 13).
Nov. 17-19
The only fall concert by this endearing group, now celebrating its first quarter-century, is called "Tendrils of the Soul" and features music from the First Viennese School, including the heart-rending Cavatina from Beethoven's late String Quartet, Op. 130; Haydn's marvelous String Quartet Op. 54, No. 2; and one of the most sublimely beautiful chamber works ever composed, Schubert's Cello Quintet in C major. The group will play in Lexington, Cambridge and Brattleboro, Vermont.
Oct. 8 & Nov. 19
Wendy Putnam's CCMS presents the Jerusalem Quartet in string quartets by Mendelssohn, Ben Haim, Debussy (Oct. 8) and the Hermitage Piano Trio playing the Piano Trio No. 2, Op. 76 by Joaquín Turina, the Trio élégiaque No. 1 by Sergei Rachmaninoff, Mariano Perelló's "Tres Impresiones" and the Piano Trio No. 4, Op. 90 (the infectious "Dumky" Trio) by Antonín Dvořák (Nov. 19).
---
CHAMBER ORCHESTRAS
A Far Cry
Jordan Hall; St. John's Church, Jamaica Plain; Longy School of Music
Sept. 15-Dec. 17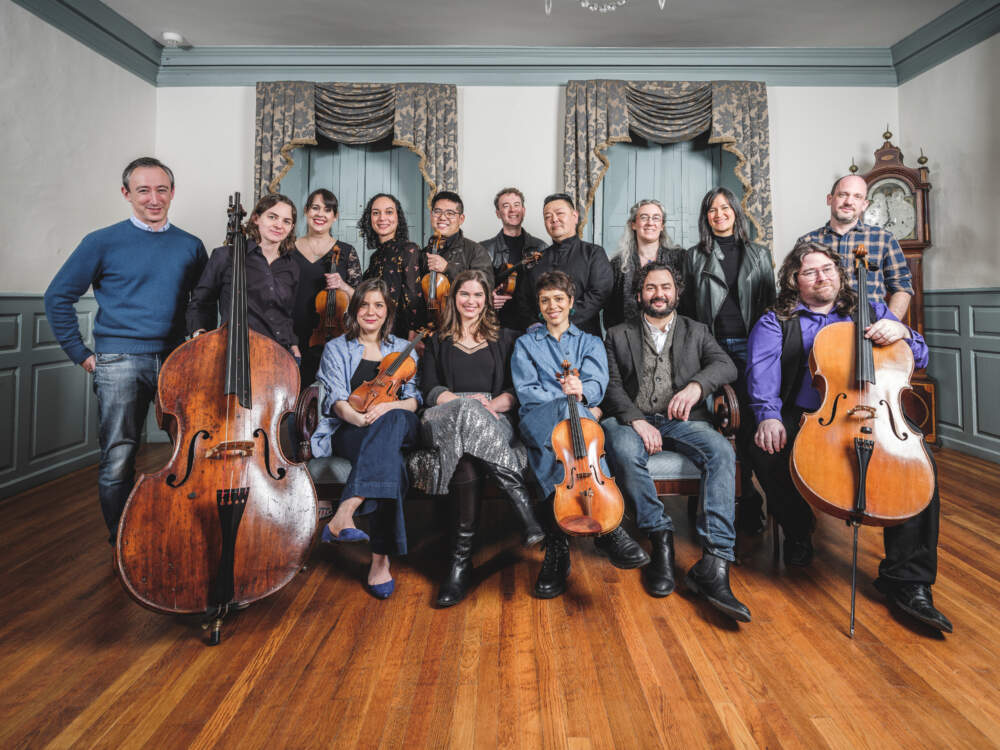 One of our most popular and inventive groups, the conductor-less chamber ensemble A Far Cry, has a full plate for us this fall, beginning with "Reimagined," a program including pieces by Bach arranged by women (Andrea Casarrubios and Michi Wiancko), Shelley Washington's arrangement of her own "Say for String Orchestra," and a new arrangement for the entire group of Schubert's "Death and the Maiden" quartet (Sept. 15). "Three witches, three muses, three little pigs" — the Criers seem more than a little interested in groups of three, so their "Ménage à Trio" is a program for string trios in some unexpected combinations, with work by Freya Waley-Cohen, Salina Fisher, Errollyn Wallen and Jean Cras (Oct. 21-22).
For the Criers' next program, "Four Quartets," the celebrated pianist Awadagin Pratt commissioned three of the composers here — Alvin Singleton, Jessie Montgomery and Paola Prestini — to create new chamber works inspired by T.S. Eliot's late meditative masterpiece. The rest of the program consists of reciprocal new arrangements of music by Beethoven that may have inspired the poet (Nov. 17).
And finally: "Immortal" is a concert that consists of the last chamber works by two towering composers who died heartbreakingly young: Mozart's String Quintet No. 6 in E flat Major and Schubert's mindboggling String Quintet in C Major. "What do we leave behind after we're gone?" the Criers ask in their program note. These pieces are one moving answer (Dec. 16-17).
---
EARLY MUSIC
Oct. 13-Nov. 26
Boston is a world capital for early music, and the Boston Early Music Festival is the Celebrity Series for historical musical performances. Here are some of the highlights of the fall season. Sollazzo Ensemble and Cappella Pratensis join forces for "Feast of the Swan," an evening of music "and merriment" from the Dutch Renaissance (Oct. 13). La Poème Harmonique presents "Music for a Young King" — pieces by Lully, Charpentier, Lalande, Cavalli and others who worked in the court of Louis XIV (Oct. 27). And the ensemble I Gemelli with tenors Zachary Wilder and Emiliano Gonzalez Toro offer the intriguingly titled "A Room of Mirrors," music from the Italian Renaissance (Nov. 18).
BEMF isn't producing a full-scale opera production this year (that will come next year) but its smaller-scale opera sounds irresistible: John Frederick Lampe's "The Dragon of Wantley," said to be the most popular English opera of the 18th century, replete with hilarious parodies of Handel. BEMF doesn't always reign in its tendency to be arch — fingers crossed (Nov. 25-26). All of these BEMF events will also be available to stream virtually after the in-person performances.
Boston Baroque
Sanders Theatre, GBH Calderwood Studio, Jordan Hall
Oct. 13-15 & Dec. 2-3
At its half-century mark, Boston Baroque — founded by Martin Perlman, who is still music director— is the city's oldest period-instrument orchestra, and the playing has always been on the highest level. This fall, BB is giving us a historical instrument performance of Beethoven's Ninth Symphony, you know, the one ending with the memorable "Ode to Joy" (Oct. 13-15) for chorus and four vocal soloists: soprano Heidi Stober, mezzo-soprano Daniela Mack, tenor William Burden and celebrated Metropolitan Opera bass Eric Owens. BB's annual Handel "Messiah" (Dec 2-3) is also in good hands, with Boston favorite soprano Amanda Forsythe, mezzo-soprano Tamara Mumford, tenor Karim Sulayman and bass Roderick Williams.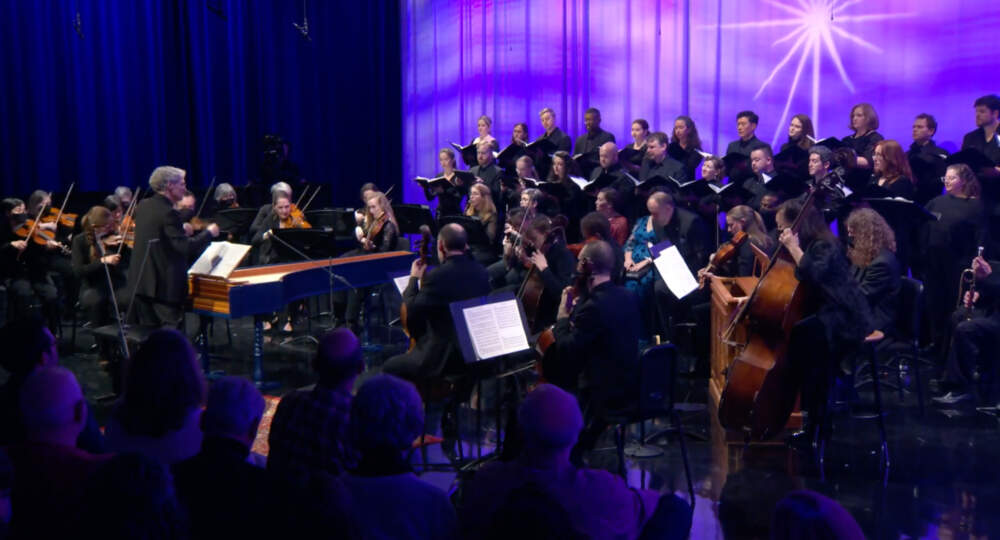 Blue Heron
First Church in Cambridge
Oct. 14 & Dec. 15-16
The immensely popular Renaissance-music vocal group, Scott Metcalfe's Blue Heron, starts its season with "The Musical Nightingale" (Oct. 14), songs by Sweelinck, Le Jeune, Pevernage, De Rore and others from the famous 1597 songbook "Le Rossignol musical." And after a six-year hiatus, Blue Heron's "Christmas in Medieval England" returns with a new program of carols, chant and motets Dec.15-16.
Oct. 21-22 & Oct. 24, Dec. 8-9
Anne Azema's internationally acclaimed and always compelling early-music group kicks off its season with one of its rousing specialties, "We'll Be There! American Spirituals, Black and White, 1800-1900" (Oct. 21 at Trinity Church, Oct. 22 at Twelfth Baptist Church and Oct. 24 at Emmanuel Church). This will be followed by the Camerata's endearing "A Medieval Christmas," a live performance of their recent Harmonia Mundi recording (Dec. 8 at Follen Church and Dec. 9 at First Parish Church of Newbury).
Nov. 5-6, Dec. 5 & Dec. 10
The delightfully intimate Seven Times Salt offers two programs this fall: a 17th-century British celebration of the harvest, with rousing sing-a-longs (Nov. 5-6), and its 21st annual Winter Solstice festivities (Dec. 5 and 10).
---
CONTEMPORARY MUSIC
'To remember, to be inspired'
New Gallery Concert Series | Longy School of Music's Pickman Hall
Oct. 21
Sarah Bob's New Gallery Concert Series (NewGal) combines performances of new music and the display and response to new works of visual art. Bob's statement about the first concert talks about "exploring how memory, muses, tributes, and nostalgia impact who we are and aspire to be." It features, along with Bob herself, the wonderful Borromeo String Quartet (performing Eleanor Alberga's "Remember" and Vijay Iyer's "Dig the Say," with the Borromeo's Nicholas Kitchen and Yeesun Kim in Jessie Montgomery's Duo for Violin and Cello), soprano Morgan Beckford, and saxophonist Matthew Evan Taylor, "who will improvise his response to Daniel Bernard Roumain's work 'they still want to kill us,'" along with pieces by H. Lesley Adams, and the visual artist L'Merchie Frazier.
Nov. 12
Entering its 51st season, Boston's oxymoronically oldest new-music group (directed by David Hoose) still has some juicy leftovers from its 50th-anniversary commissions, including Lior Navok's "Quicksand" and a new work by Richard Cornell. The rest of the program consists of Andrew Imbrie's 1995 "Earplay Fantasy," Yu-Hui Chang's "Mind Stretch" (2021) and the Boston premiere of Carlos Sanchez-Gutierrez's "Diaries II" (2018).