Eastie Farm gets $1M to train young people for green jobs
East Boston's Eastie Farm will receive a $1 million grant from the National Science Foundation to expand its youth Climate Corps program. The program pays young people to train for jobs in urban farming, food distribution, climate resilience and community organizing.
"We're excited to create a blueprint of a youth-based transition to a green economy, especially in an environmental justice community," Eastie Farm Director Kannan Thiruvengadam said in a statement. "With such a blueprint, more communities can follow suit, and the motivated, hopeful, and competent youth army that emerges may well save our — their — world."
Beginning in February, 2024, 40 young people ages 16-22 will be hired to work at Eastie Farm and partner farms and organizations to learn about food and climate justice while also training for jobs in a green economy.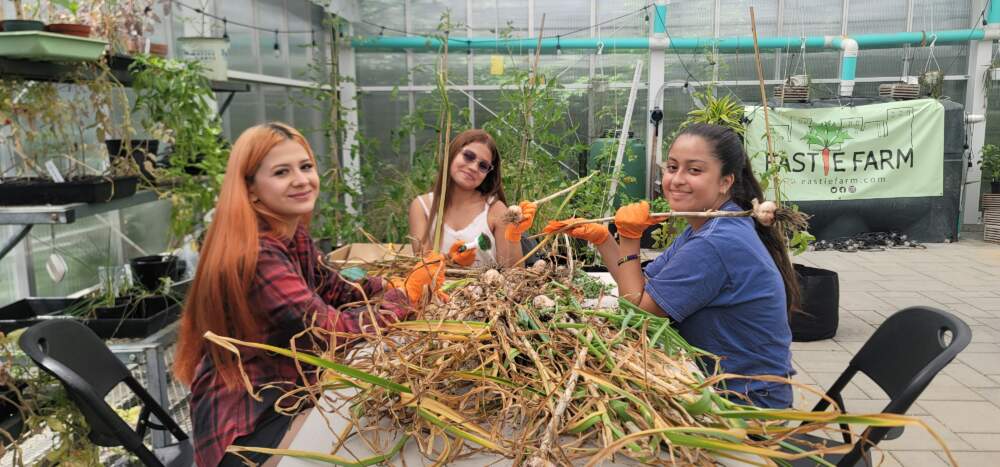 "They're learning how to grow food locally in a food desert. They're helping build a local food system. They're distributing food to people," said Jenny Wechter, Eastie Farm's operations director. "They're also doing advocacy work. Working with legislators, talking to them about the farm bills, what needs to happen based on our understanding of community."
The East Boston neighborhood has the highest percentage of immigrants in Boston and a median household income below the city as a whole. It's also the Boston neighborhood with the farthest average distance to a grocery store.
Eastie Farm has been a pioneer in climate and food justice since its founding nearly a decade ago. The farm helped feed people during the pandemic and still supplies boxes of fresh produce to people living in public housing. Its 1,500 square-foot greenhouse is also climate-friendly, heated and cooled with geothermal energy. Rainfall on the roof is diverted to irrigate plants and help prevent flooding in the neighborhood.
The program will partner with the city of Boston, Emerald Tutu, Northeastern University and MIT to give young people additional opportunities in biological and social science research; for instance, studying salt-tolerant plants to help restore coastal marshes, or looking at ways to make state-sponsored programs like MassSave more accessible to East Boston residents.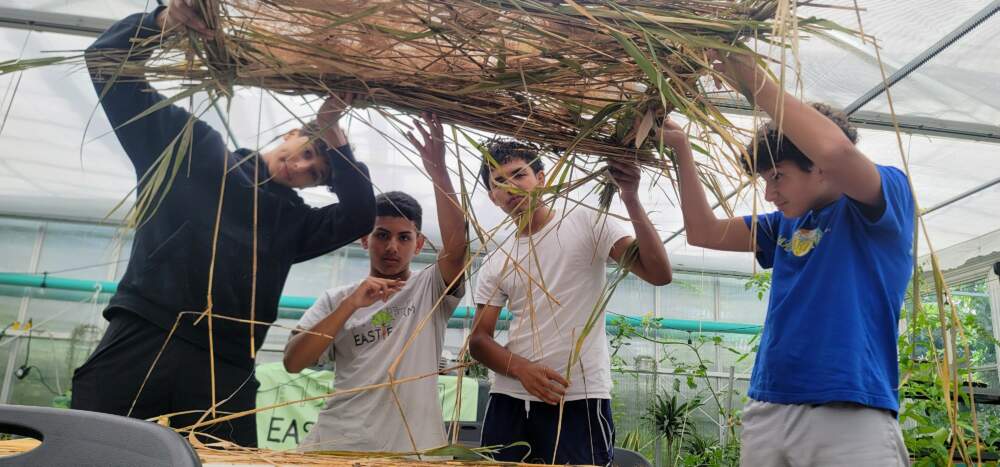 The goal is to create a model program that can be replicated throughout the country, said Wechter, while bolstering a green economy in East Boston and improve the neighborhood's resilience to climate change.
"Youth in environmental justice communities are the ones who are going to suffer the most from these problems around climate change," said Wechter. "We hope to be empowering youth and inspiring them to see a climate-positive future by actually being paid to do that work in their own community."