State funds Mass. hotline to reduce risk of fatal overdoses
Massachusetts is funding an overdose prevention hotline, the first such investment by a state according to public health leaders.
The hotline, which has been privately funded until now, allows people using drugs alone to be monitored during a phone call, and receive emergency medical care if they overdose.
The Massachusetts Overdose Prevention Helpline is staffed by paid and volunteer workers, many of whom have experience with drug use. Staff answer calls 24 hours a day, seven days a week. The hotline provides people preparing to inject, swallow or snort drugs a toll-free number: 1-800-972-0590.
The helpline is run out of Boston Medical Center (BMC) and modeled on a nationwide program.
When a hotline staffer answers the phone, callers give an address and cellphone number. The staffer stays on the phone for at least five minutes — sometimes longer — after the caller uses drugs.
If the caller stops responding to questions, the staffer calls 911. A caller's address is only shared if there's a suspected overdose.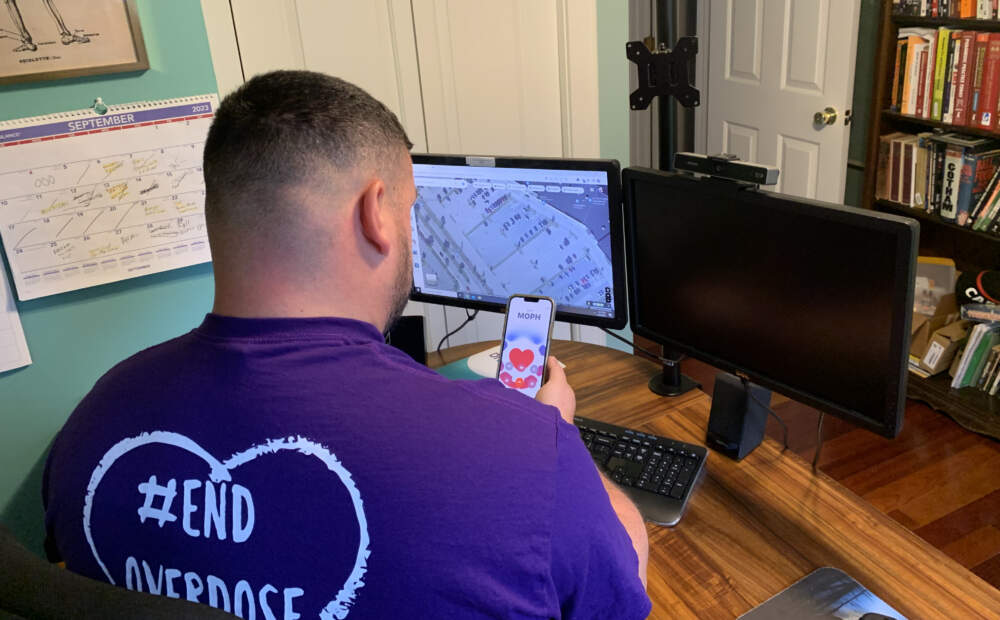 "All overdoses are preventable — [with the overdose reversal drug] naloxone and rescue breathing work," said Stephen Murray, the Massachusetts helpline director and a harm reduction program manager at BMC, in a statement. "The great majority of people who die from overdose, die alone without someone present and ready to rescue them. This overdose prevention line makes sure that people using alone get help in time."
So far this year, staff on the Massachusetts hotline have monitored nearly 600 injections or other types of drug use and called emergency medical services to assist with eight overdoses.
The state funding started in August. Organizers said they are expanding the program, which operates out of BMC's Grayken Center for Addiction. RIZE Massachusetts Foundation provided the initial funding. The Massachusetts Harm Reduction Advisory Council helps train helpline volunteers.
State officials inked an emergency contract with BMC to run the hotline, one of several steps taken after the state Department of Public Health (DPH) reported a record number of fatal overdoses in 2022: 2,357 people.
Gov. Maura Healey announced the $350,000 contract during a Recovery Month celebration Tuesday. A health department spokeswoman says this year is a pilot, and the department will determine a long-term approach after it reviews call data.
The vast majority of overdose deaths are linked to fentanyl, an opioid that can halt breathing immediately. Tests of drug samples collected by a variety of organizations show fentanyl in cocaine, meth, fake pills and other drugs. Users may not realize the drugs may contain the deadly opioid.
State data shows 90% of overdose deaths occurred while the person's drug use was not monitored, and 43% of people had used drugs alone. This increases the risk of a fatal overdose because there is no one present to call 911 if the person stops breathing.
"I've met too many grieving families whose lives have been torn apart by overdose deaths. This trauma and heartbreak are preventable," Healey said in a statement Tuesday. "By providing people with an alternative to using alone, the Overdose Prevention Helpline saves lives. Massachusetts is committed to growing our role as a national leader in harm reduction and prevention efforts, and we will continue to do everything in our power to reduce overdoses and save lives."
Some advocates are pushing for supervised consumption sites where people can use drugs under the supervision of trained staff, but so far none are available in Massachusetts. The hotline offers an alternative.
"The overdose prevention helpline is an important tool in our toolbox," said Deirdre Calvert, director of the state Department of Public Health's Bureau of Substance Addiction Services, in a statement. "If we want to turn the tide and decrease overdose deaths, we need to support bold innovative programs like the overdose prevention helpline."
This article was originally published on September 26, 2023.