Mass. employers unsure about the economy despite jobs report
Employers in Massachusetts feel pessimistic about the economy but are still trying to fill positions, according to the latest Business Confidence Index released Tuesday by the Associated Industries of Massachusetts.
The index dropped to 49.8 on a 100-point scale in September, down 2.6 points compared to the previous month. Anything below 50 is considered pessimistic.
The index is also down 4.1 points from September 2022.
"It appears that the long-awaited economic slowdown, as the result of the Federal Reserve's effort to moderate inflation, may finally be showing up for employers," said AIM executive vice president Christopher Geehern.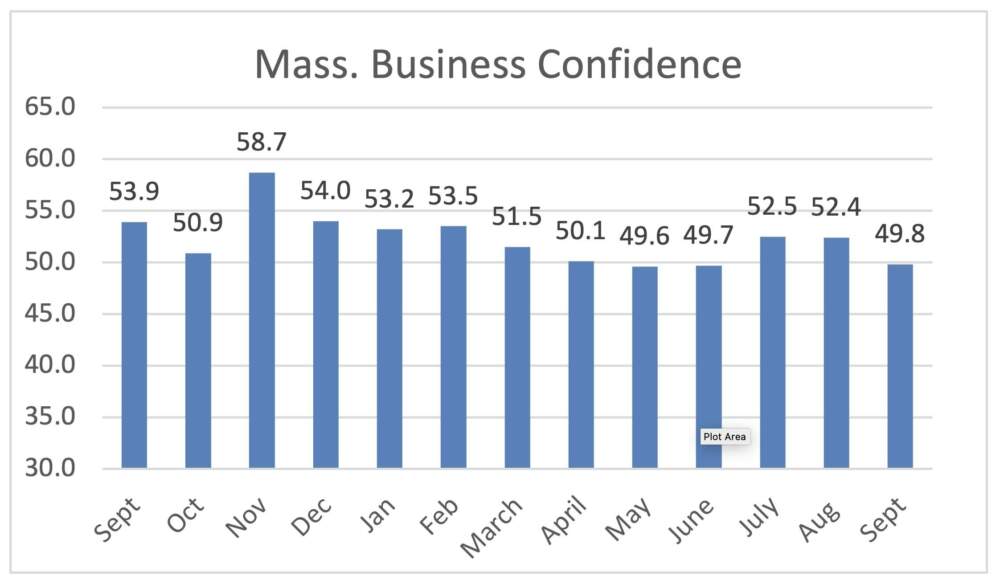 Business confidence varied a bit by region. Employers on the North Shore were more optimistic than the state overall with an index of 53.5, down just slightly from 53.9 the previous month. There was also more optimism in western Massachusetts, which had a business confidence index of 52.5, down 3.1 points from the previous month. Employers in central Massachusetts were more pessimistic than the state overall with an index of 46.9, down 4 points from August.
AIM's index has oscillated above and below that 50 mark delineating optimism and pessimism over the last several months — indicating an overall sense of uncertainty among employers, according to Geehern.
Employers are now taking steps to prepare for an uncertain future. Geehern said that includes lowering spending in order to maintain cash flow and other measures.
"That can mean a slowdown in production," Geehern said."That can mean postponing a planned expansion. That can mean pushing out planned projects."
One area that isn't slowing down is the job market: Employers in the survey are still looking to hire.
"The job market continues to be very, very strong," Geehern said. "We have employers saying, 'Hey, look, we're kind of slowing some things down. But, boy, we're still having trouble finding skilled employees to help us move forward.' "
The September Business Confidence Index was based on a survey of 118 employers in the state, according to Geehern.