7 takeaways from new report about how Mass. can meet its climate goals
When it comes to climate and clean energy goals, Massachusetts has some of the most ambitious in the country. But what the state doesn't have is a detailed plan to achieve them.
To help bridge this gap, the state's Climate Chief, Melissa Hoffer, published a new report this week with 39 recommendations for how the state can do three big things: Zero-out carbon emissions by mid-century, build more clean energy and prepare for more severe weather.
The report advocates for a coordinated statewide approach to the climate crisis — one where state agencies work together to plan, fund and implement a wide variety of programs and policies.
The cost of implementing these recommendations will be high and will affect every part of the economy, but "there really is no choice in the matter," Hoffer said.
"The cost of not acting — the increasing cost of climate disaster response, the lost work time, human morbidity and mortality — all of those things are much, much, much more expensive than the investment needed to achieve our mandated emissions reductions and the resilience investments that are going to keep us safe."
The 87-page report is dense and covers a lot of ground. But here are the main takeaways:
Analyze what it will cost to achieve its climate goals
Massachusetts has detailed climate goals for 2050, but it has no idea what it will cost to achieve them. So, the first order of business, according to Hoffer's report, is a comprehensive economy-wide analysis of what the state will need to spend to decarbonize — or dramatically slash planet-warming emissions. This work entails connecting a whole lot more renewable energy to the electric grid, protecting natural lands that suck carbon out of the air, protecting coastal communities and preparing for a future with more extreme weather.
There's a lot of federal money available to help with these goals, but it will likely only cover somewhere between 8-30% of what's needed, the report says. The state will need to make up the gap, and it will need to get creative with how it does this. The report cited the recently-established Green Bank is a good example of a creative solution.
The report suggests that state agencies submit preliminary recommendations for how Massachusetts can come up with the money to meet its goals by the end of 2024.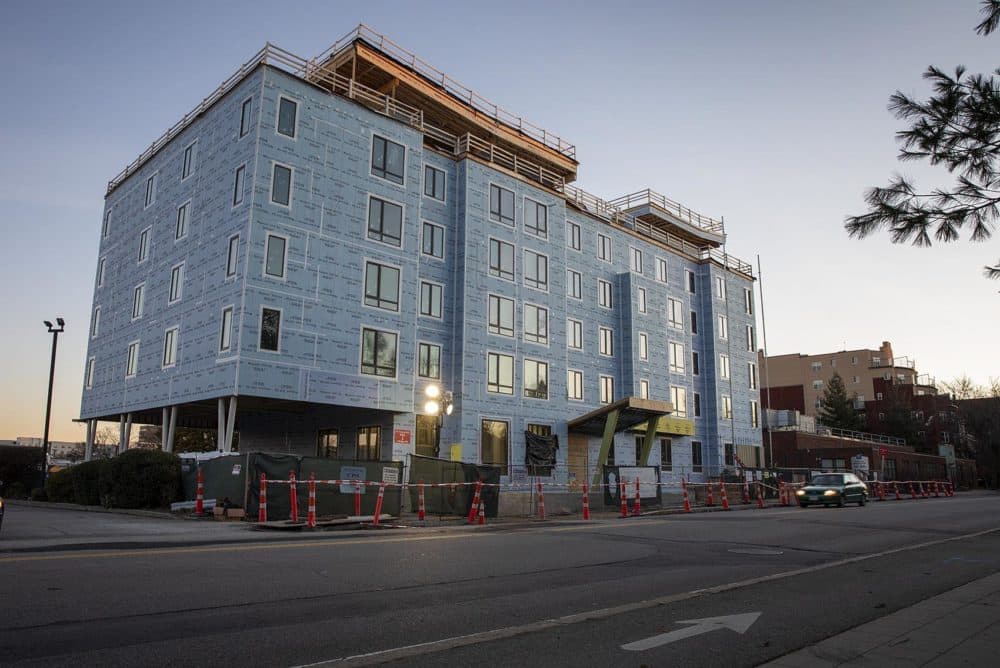 Make sure spending aligns with goals
The state is developing a checklist to help state agencies evaluate their budgets and make sure the money they're spending advances the state's climate goals in an equitable way. According to the report, this tool should be ready by 2025.
For example, if the housing department is going to spend money to create or incentivize more affordable units, it should make sure that the buildings are all electric, energy efficient and resilient to extreme heat and flooding.
Bolster resiliency planning
In addition to cutting emissions, "we have to make the investments that are necessary to protect communities form the increasing impacts of climate change," Hoffer said. "Our baseline has shifted and we don't have a stable climate anymore."
The report lays out several recommendations for protecting communities against sea-level rise, hardening infrastructure against future climate threats, and preparing stronger response efforts when the inevitable disasters occur. Here are three important examples:
Develop a coordinated 'Coastal Resilience Plan'
Massachusetts has 1,500 miles of coastline and it's often up to municipalities and individual property owners to figure out how to protect against sea-level rise or the impacts of more extreme coastal storms. The report recommends establishing a single authority to oversee this work and make sure plans are coordinated, well-funded and equitable.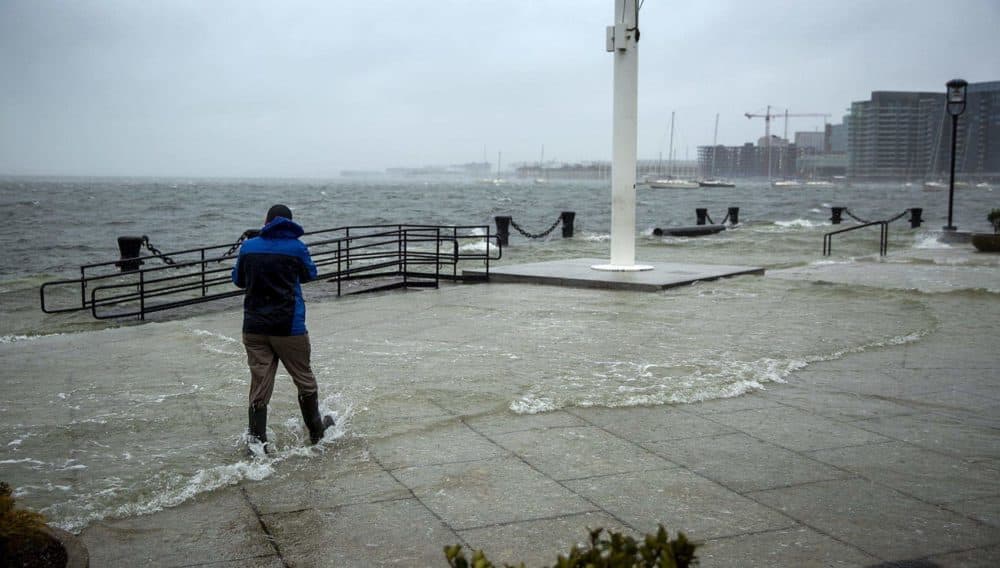 Harden the state's electrical infrastructure
It's no secret that our electrical grid is vulnerable to the increasingly chaotic weather that climate change brings. As the state increasingly relies on electricity to power everything, protecting this infrastructure becomes all the more important. Some of this work is already underway, but the report also suggests investing more in microgrids and so-called virtual power plants.
Increase statewide emergency planning
The impacts of climate change will be "disruptive and dangerous," the report says, and the state needs to be better prepared — and not just for weather-related disasters like inland flooding and extreme heat. The state needs to start planning for a likely influx of climate refugees and other migrants from more vulnerable areas of the country and world, more adverse health effects from a warming world and heightened risks to critical infrastructure like hospitals.
Keep a focus on environmental justice in climate policy
Gov. Healey has made environmental justice and equity a pillar of her climate strategy, and the report suggests ways to build on the work that's already been done. For example, it says that the state needs to do a lot more work to ensure that clean energy technology like rooftop solar panels, heat pumps and electric vehicle chargers are affordable and accessible for moderate and low-income residents.
And to avoid repeating injustices of the past, the report asks that state agencies involved in approving energy projects — whether new electric substations or high-voltage transmission lines — do a better job assessing the potential impact these projects could have on neighborhoods that have already been disproportionately impacted by polluting infrastructure.
The report also says the state should follow the federal government's lead and ensure that at least 40% of state or federal investments in anything from clean energy to housing, transportation and workforce development directly benefit disadvantaged communities. 
Decarbonize schools and improve climate education
The vast majority of public school buildings in the state are heated with fossil fuels, and many are in desperate need of repairs. Hoffer recommends that the state work closely with the Massachusetts School Building Authority, a quasi-government agency, to make all new or renovated public schools fossil-fuel free and more resilient to climate change impacts like extreme heat or flooding. As climate advocates have long pointed out, swapping gas and oil heating systems for electric heat pumps will bring added co-benefits like air conditioning and improved air quality.
The report also recommends that the state develop K-12 curriculums to teach students about climate change — why its happening, what the likely impacts will be and what can be done to prevent more warming.
For young people interested in a tackling climate change, Hoffer suggested Massachusetts launch a Climate Service Corps to help prepare them for jobs in clean energy and climate resiliency.
Increase the pipeline of clean energy workers
Massachusetts has launched or funded a number of clean energy workforce development programs. But the effort so far has been "insufficient" to meet the coming demand, according to the report. To give one example, by 2030, the state needs an additional 29,700 electricians, HVAC technicians, EV mechanics, and other clean energy workers.
Training for these positions can take several years, so the clock is ticking. By May 2024, the report says the state needs to have developed a "cross-agency plan" for training and attracting the workers it will need.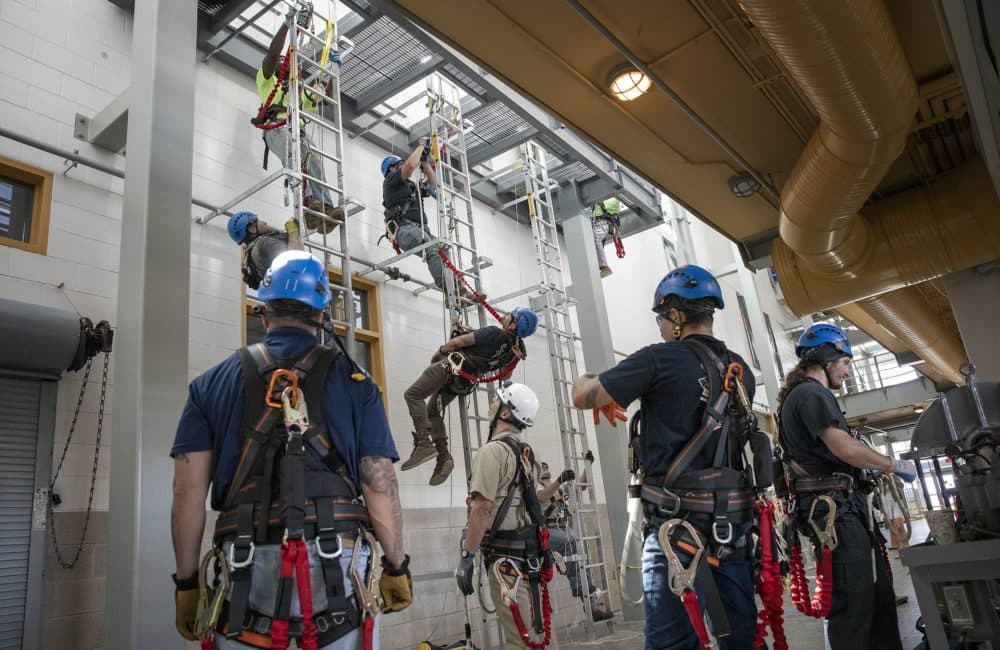 Consider redesigning or phasing out Mass Save
Mass Save, the state's energy efficiency program, was designed to help consumers and business owners reduce their energy usage. While it's been wildly successful, there's growing concern in the climate world that the utility-run program may have outlived its usefulness.
"It has become increasingly clear," Hoffer's report states, "that under the current statutory framework, the Mass Save program is failing to take the steps necessary to achieve the transformative levels of building decarbonization required."
The report makes clear that a coalition of state agencies should figure out what the next iteration of the Mass Save program should look like, or make plans to fold it into the future state-led "Building Decarbonization Clearinghouse." That's the jargon-filled name of a potential new one-stop shop for people and businesses looking to electrify appliances, increase energy efficiency and install solar panels or EV chargers. The clearinghouse would conduct whole home audits and help people figure out how to finance these upgrades.
Other odds and ends
Publish an annual report card about climate progress. The report card would assess how the state is doing on a few key metrics like: the number of heat pumps installed and electric vehicles on the road; the accessibility of fast public EV chargers; the amount of land the state has conserved to help soak up carbon emissions; and the amount of clean energy the state procured or built. According to Hoffer, the first report card will come out sometime in December.
Strengthen regulations and state policy to prevent deforestation, conserve more land and protect biodiversity.
Reduce emissions from airplanes. While Massachusetts does not include emissions from airports in its overall greenhouse gas accounting, the report is clear that MassPort needs to do more to slash them. This could include looking into lower-carbon fuels or limiting the number of "short-hop" trips where adequate rail options exist — flights from Boston to New York, for example. The report says nothing about the proposed expansion at Hanscom Field.
Help large businesses like hospitals, colleges, prisons and supermarkets compost their organic waste so it doesn't end up in a landfill. State law already requires entities that generate at least a half ton of organic waste per week to send it to a compositing facility or biogas digester. But as the report notes, it's not always easy for companies to find places to offload their waste. The report recommends a bigger role for the state in matching organic waste generators with companies looking for the waste.
"Lead by example." The state owns a lot of buildings and infrastructure, and it spends a lot of money every year on goods and services — $2 billion in 2022, alone. To help set an example and create market demand, the report says the state must accelerate its efforts to electrify its buildings and fleets, improve the resiliency of its assets and make a bigger effort to only buy climate-friendly products and services.
Launch a public information campaign to help people understand the scale of the climate threat and the scope of what needs to be done to mitigate it. While many people in Massachusetts say they believe climate change is happening and are concerned about the effects, polls indicate that few really know what they can do. But there is a lot that people can do — electrify their homes and use electric modes of transportation, for instance. As part of this public information campaign, the report says the state needs to do a better job helping people navigate the state and federal rebates and subsidies that exist for heat pumps, solar panels and EVs.