Worcester opens 'micro units' housing for people experiencing chronic homelessness
The city of Worcester is celebrating the construction of a new permanent supportive housing development for people who've been chronically homeless, and it represents a first in the state.
The building, called "A Place to Live," was developed by and will be run by Worcester Housing Authority. It's the first housing authority in Massachusetts to develop housing specifically for people who are coming out of homelessness, according to local and state officials.
"With this project, the housing authority's making a clear statement: we want to help our homeless population," said Worcester Housing Authority CEO Alex Corrales. "For some of our residents, it's going to be a place of rebirth. For others, a place to grow. But certainly, for all of them, it will be a place to live."
City, state and nonprofit leaders marked the completion of construction with a ribbon-cutting Tuesday.
The idea for the building originated in 2018, when then-City Manager Ed Augustus, now the state's housing secretary, convened a task force to develop a plan to expand permanent supportive housing in Worcester with the goal of ending chronic homelessness there.
The group determined that just over 100 additional supportive housing units were needed in the city.
"Certainly, we can all agree that that need is much greater today," Corrales said. "And although 38 Lewis Street, 'A Place to Live,' doesn't solve the chronically homeless problem in Worcester, it allows us to inch a little bit closer toward a solution."
The property's opening comes as Worcester is anticipating a 14% increase in the number of individual adults who are homeless this fall as compared to fall of last year.
The building features 24 "micro units" — very small, fully-furnished studio apartments with bathrooms and kitchenettes. An on-site case manager will connect tenants with support services such as mental health care and job training, and a resident manager will stay in the building overnight.
"We know that simply giving our residents a bed without services does not solve the underlying issues they may be facing," Corrales said. "We need to provide the programs and resources that will prepare them to thrive on their own."
Tenants will pay no more than 30% of their income in rent. Government subsidies tied to the property, known as vouchers, will cover the rest.
The property was originally supposed to be built using modular construction, but pandemic-related complications forced a change in plans, and it was built using traditional construction. Total project costs ended up being more than $8 million — considerably higher than the $3 million estimate given when it was approved by the state in 2020 — due to inflation, supply chain issues and other factors.
The development is being paid for with a mix of funding from the state's Executive Office of Housing and Livable Communities — which funded more than half of the project — the U.S. Department of Housing and Urban Development, the city and the nonprofit Massachusetts Housing & Shelter Alliance. The housing authority also obtained some loans.
Worcester experienced a 30% increase in adult homelessness from March of 2022 to February of this year, according to Leah Bradley, CEO of Central Massachusetts Housing Alliance. The nonprofit runs family shelter and rental assistance programs and is the lead agency for the regional Continuum of Care, a regional planning body required by HUD to work toward solutions to homelessness.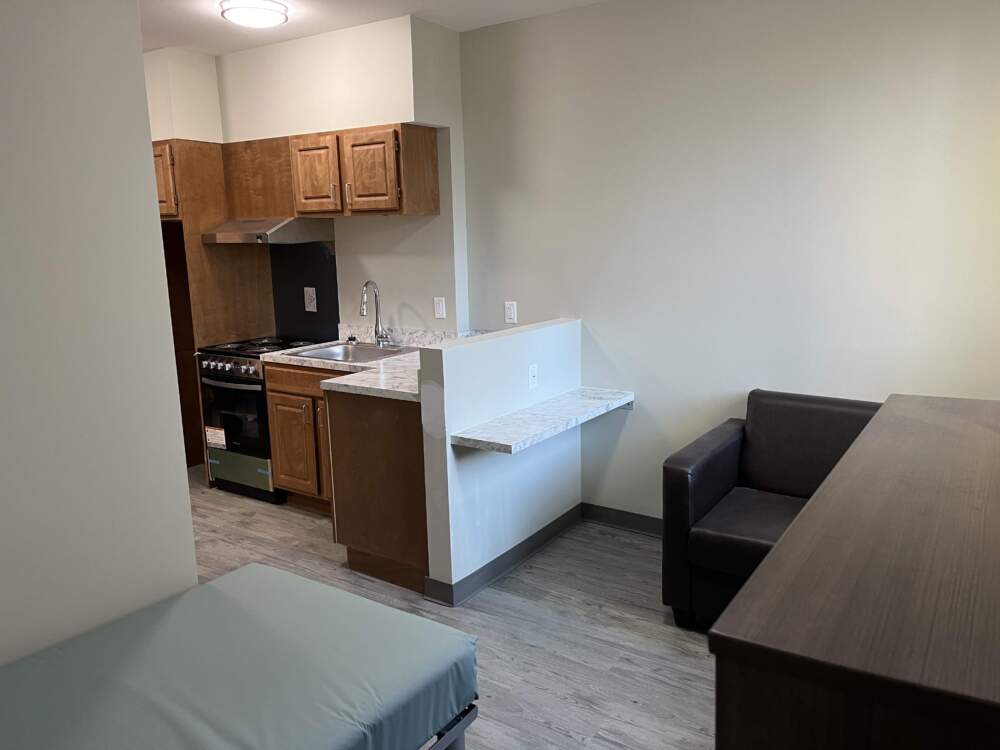 Richard Gonzalez, a recovery coach who works for Worcester's Department of Health and Human Services, said the need for more supportive housing is highlighted by losses in the city just in the last few days.
Two women he had been trying to help, both of whom were living in tents and were struggling with addiction, died of overdoses, Gonzalez said.
"It's very hard — even when they had the desire to get up and stay clean — living in a tent with the condition of loneliness, all the things you're lacking in life. All that affects emotions," Gonzalez said. "I've got my phone full of pictures of a lot of homeless people that have died ... and the pain is a reality. ... We need housing."
Corrales has been consulting other housing authorities in the region who've asked for more information on how they might explore developing permanent supportive housing on land they own.
Joe Finn, president of the Massachusetts Housing & Shelter Alliance, applauded the move.
"Imagine for a moment ... if we were able to engage all of our local housing authorities across the commonwealth to create this type of housing with these services and these resources," said Finn, who helped spearhead the Worcester project. "We would certainly be well on our way to ending the reality of chronic homelessness."
The housing and shelter alliance is part of a coalition of advocates, social service providers, developers and philanthropists that's been analyzing homelessness data and developing a proposal to scale up affordable housing in Massachusetts. According to the group, 10,000 additional units of permanent supportive housing are needed by 2030.
But securing funding for such projects is often a long, arduous process. Officials in Worcester had to apply for funding from the state multiple times as the project got delayed and costs rose.
Augustus, the state housing secretary and former Worcester city manager, said he hopes the Healey administration's $4 billion Affordable Homes Act will become law and make such projects easier to develop.
"One of the things we're doing is trying to have more money so we can not have to wait [through] multiple rounds of funding. And that's what happens [currently]. A lot of the times you can't fund 100% of the project," Augustus said.
The first tenants are expected to move into the new building in about a month. Agencies and outreach workers in Worcester who provide services to people who are chronically homeless are identifying potential applicants for the units.