The Best Pictures From MLB's Playoffs (So Far)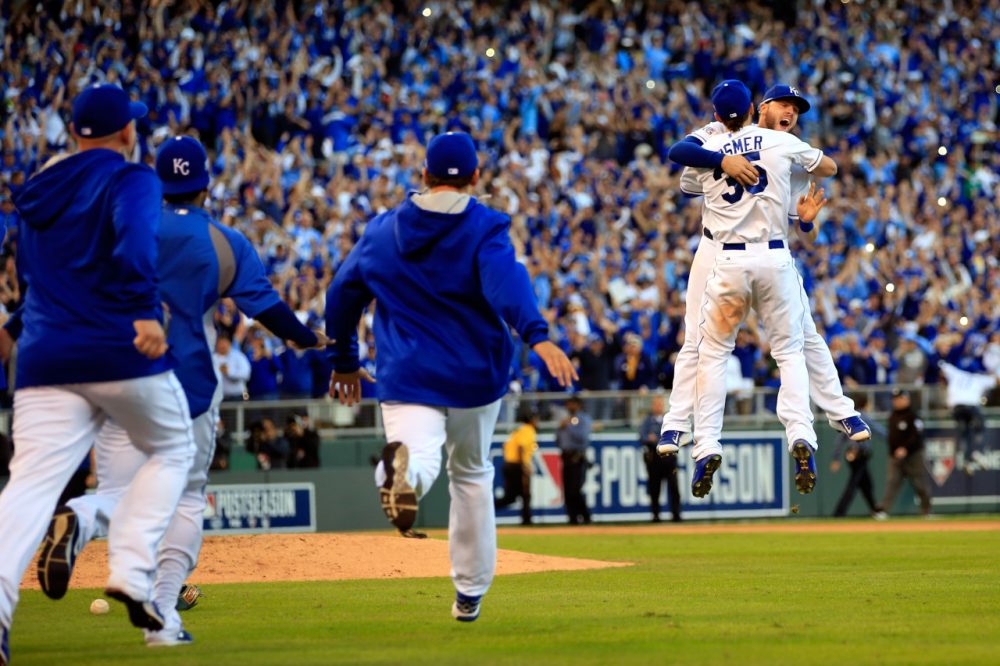 This article is more than 6 years old.
Major League Baseball's postseason can be counted on to provide original drama, unexpected heroics and a surprise upset or two. This year has been no exception. Here's our photo-centric recap of the action thus far:
Wild Card Games
In the American League, the Kansas City Royals hosted the Oakland A's. The A's were trying to recover from a second-half meltdown. Meanwhile the Royals, by virtue of simply making the postseason for the first time since 1985, already had plenty to be happy about. After a wild, 12-inning game, the Royals walked off as winners.
Meanwhile, in the National League Wild Card game, the San Francisco Giants visited the Pittsburgh Pirates. The Pirates' faithful, while no doubt enthused about the team's second straight playoff appearance, had to watch the Buccos fall to Madison Bumgarner and the Giants, who won 8-0.
Divisional Series
The Royals swept the Los Angeles Angels, owners of baseball's best regular season record, while the Giants were able to eliminate the Washington Nationals — the NL's best regular season team — in four games. So much for the importance of the regular season, huh?
In the other NL divisional round matchup, the St. Louis Cardinals dispatched the Los Angeles Dodgers in four games. After that defeat, perhaps the Dodgers would agree that the Cardinals are the league's most hateable team this postseason. In the AL, the Baltimore Orioles swept the Detroit Tigers, ensuring that Detroit's 30-year championship drought will not end this autumn.
Championship Series
After sweeping Baltimore in the ALCS, the Royals are attempting to become only the sixth wild-card team to win the World Series since the playoffs were expanded in 1995. The Royals have yet to lose a game in the playoffs: they won their wild card game and then took seven straight from the Angels and Orioles.
What's more, Royals skipper Ned Yost is now the first manager in baseball history to win his first eight postseason games. Perhaps the only thing that can stunt Kansas City's momentum is the wait for the World Series to begin — the Royals will host Game 1 on Oct. 21.
In the NLCS, an unstoppable force (the Giants, recent playoff behemoths in even-numbered years) meets an immovable object (the Cardinals, appearing in their fourth consecutive NLCS). Bill Littlefield spoke with ESPN's Tim Kurkjian last week to preview the series.
More MLB Playoff Coverage: