Rule 7.13: Baseball's Crash Course On Eliminating Home-Plate Collisions
Resume
This season Major League Baseball took a crash course in how to eliminate collisions at home plate. In its first year, Rule 7.13 has been celebrated and criticized. But even with the rule in place, a much bigger injury risk is still in play for catchers.
Another Era
The most famous home-plate collision in baseball history happened in the 12th inning of the 1970 All-Star Game at Riverfront Stadium in Cincinnati. Reds outfielder Pete Rose was on second base. On a single to centerfield, Rose came racing around third. Waiting for him at the plate was Cleveland catcher Ray Fosse.
"Pete just knocked him right over. Shoulder to shoulder, knee to knee," said Kostya Kennedy, author of Pete Rose: An American Dilemma. "Fosse literally flipped over on the ground and just kind of came up dazed. And Fosse's career, although it wasn't immediately ended, was never quite the same after that."
Rose scored and the National League won. The man who would go on to set baseball's hits record was already known as Charlie Hustle, but Kennedy says the play brought Rose another level of stardom.
"This was such a watched game on a national level that it raised Pete's profile tremendously. It became this iconic play in the lore of Pete Rose," Kennedy said.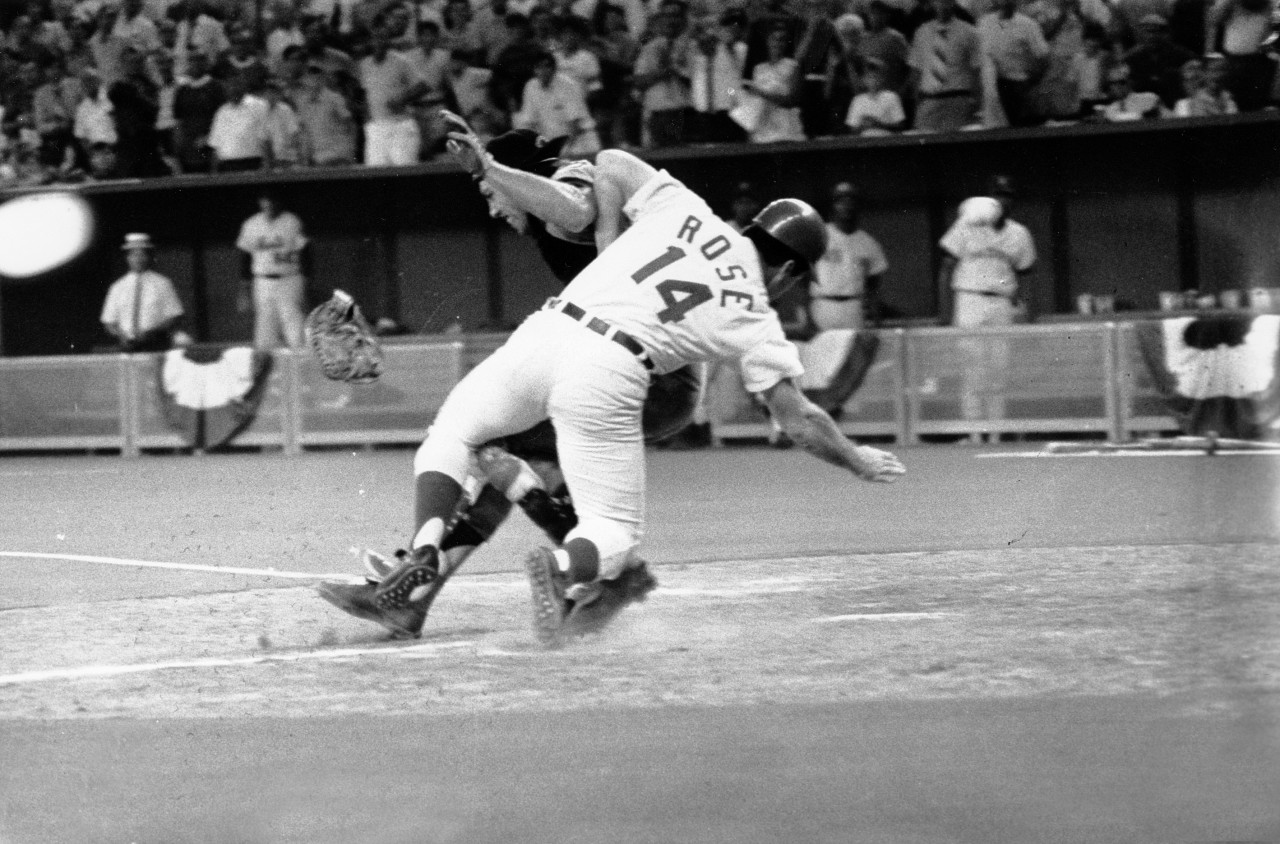 A New Approach
Flash forward more than four decades, and baseball is about to finish its first season with rule 7.13, the measure designed to eliminate not all, but most home-plate collisions. Under the new guideline, runners cannot deviate from their path in order to hit the catcher and jar the ball loose. Catchers cannot block the plate unless they have the ball or are in the process of catching it.
Rose and other baseball purists have criticized the change, but Hall of Fame catcher Johnny Bench is all for it.
"If anybody doesn't like it, I want them to stand at home plate and get run over and see what they think," Bench told Only A Game.
"If anybody doesn't like it, I want them to stand at home plate and get run over and see what they think."

Hall of Famer Johnny Bench
"You don't run over shortstops and second basemen," he said. "Just because they're not wearing a little shin guard and a chest protector? You ruin careers. And I think you have to have the protection [of the rule] and I think it's done very wisely."
Rob Neyer, senior baseball editor for FoxSports.com, says eliminating injuries is a priority for MLB.
"That's sort of the holy grail in baseball, has been for years, is how do we keep guys from getting hurt as often," Neyer said. "Most of it's really complicated. Still nobody knows how to keep pitchers from getting hurt. And guys continue to pull hamstrings every day. But if you can make a mechanical change that by definition is going to keep guys from getting hurt then why wouldn't you want to do that?"
On that front, the new rule has been a success. This season collisions — and the related injuries to catchers — have been essentially eliminated. The genesis of Rule 7.13 can be traced to 2011 when San Francisco catcher Buster Posey suffered a broken leg and damage to tendons in his ankle during a crash at the plate. But these days the injuries getting the most attention are concussions. And catchers sustain more of them than players at any other position. According to a Grantland report citing Baseball Prospectus, last year's reported total was 10 catchers with at least one.
"I see a lot of players from around Major League Baseball," said Dr. Micky Collins, a clinical psychologist who runs the sports medicine concussion program at the University of Pittsburgh Medical Center. "I see a lot of catchers, and a lot of the catchers I've seen have been injured by home-plate collisions. And this year I didn't see a single one. Prevention is powerful, especially in a position where you're also exposed to foul tips."
A Bigger Source Of Catcher Injuries
[sidebar title="MLB Concussions" width="630" align="right"]To learn more about concussions in baseball and MLB's efforts to reduce them, read Ben Lindbergh's comprehensive Grantland article, "The Year of Living Less Dangerously."[/sidebar]And that's the thing the new rule can't fix: foul tips that smash into masks cause the vast majority of catchers' concussions. A foul-tip concussion in 2013 led Twins catcher Joe Mauer to become a first baseman. This month Tigers catcher Alex Avila suffered what's believed to be his third concussion of the year after a foul tip in the American League Division Series against Baltimore.
Collins knows it would be difficult to adjust the rules to address foul tips, but he's part of a group researching the subject.
"Looking at video analysis in baseball of all the foul tips and where was the catcher positioned? Where was the batter positioned? What type of pitch? What type of foul tip? There's a lot of things that can be done to better understand the problem and then perhaps there can be effective change for the problem," Collins said.
Issues With Rule 7.13
That's all to say the new rule on collisions is another step in sorting out preventable injuries. But that does not mean Rule 7.13 is all sorted out.
"The tricky part is we want to protect our catchers, but we also want them to be able to tag out a runner with two outs in the ninth inning of the World Series," said Tim Kurkjian, ESPN senior baseball writer and OAG analyst. "We want to protect our base runners from sliding into the plate when they're not necessarily used to doing that, but we also don't want them targeting a catcher."
After months of confusion and controversial calls, MLB Executive Vice President Joe Torre sent a memo to teams in September to clarify things. Kurkjian expects more tweaks during the offseason.
"There is still, I believe, quite a bit of work and clarification on this before everyone's gonna be happy and we simply aren't there yet," Kurkjian said.
Of course, there's an easy way to avoid collisions and controversial calls at home plate in the Fall Classic. Just do what Giants outfielder Travis Ishikawa did in the National League Championship Series: hit a walk-off home run.
Related: 
This segment aired on October 18, 2014.