'Baseball's Flawed Genius' Chronicles Billy Martin's Unpredictable Life
Resume
Billy Martin set the record for most times managing the Yankees. He was hired for the job five times and five times he was fired. If he hadn't died in an accident in 1989, there is every reason to suppose he'd have had a sixth opportunity, courtesy of Yankees owner George Steinbrenner.
Bill Pennington's biography is titled "Billy Martin: Baseball's Flawed Genius." The author joined Bill Littlefield.
---
Highlights From Bill's Conversation With Bill Pennington
BL: You have written that Billy Martin was "one of the most magnetic, entertaining, sensitive, humane, brilliant, generous, insecure, paranoid, dangerous, irrational and unhinged people" that you have ever known. Tell us about the context in which you came to know him.
BP: When I was a young reporter in the mid-1980s, the late '80s, I was a Yankee beat writer. The first season I was on the team, I had Yogi Berra, actually, as the manager. And he only lasted 16 games and then came Billy Martin, which was quite a shock and an experience for me. It just — I never forgot the guy. He just — he was unforgettable.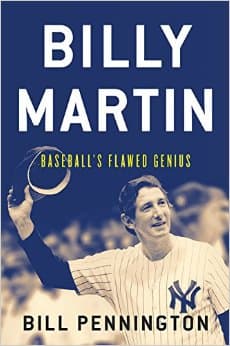 BL: As a player and later as the on-again-off-again manager of the Yankees and four other teams, Martin was unpredictable in the dugout, where unpredictability sometimes qualified as brilliance. What were some of the specific ways in which he defied baseball's hallowed wisdom? 
BP: Oh, he just smashed the traditional way of doing things. I mean, when he first managed the Twins in 1969, he started doing triple steals. Almost no one had ever seen — with the bases loaded, all three guys would run on the pitch. But Billy's teams did it. The other thing that made him standout, and he was a master at this, was stealing signs. He could steal anybody's signs and he did it by watching body language.
BL: Unpredictable as he was in the dugout, Martin seems to me to have been discouragingly predictable off the field. He got into fights, some of them instigated by others, some not; he was drunk a lot, he died in a drunk driving accident. Would it be wrong to suggest he was self-destructive?
BP: No, it wouldn't. He had — his son told me that even when things were going good, he almost had to stir it up and make things not going so good. He was a very, sort of, insecure, paranoid guy. You could be sitting with him somewhere at a bar and if somebody across the bar started laughing, he would say, "they're laughing at my ears; they're laughing at my nose." He had a big nose and kind of oversized ears. Mickey Mantle said, "Billy Martin is the only guy who can hear someone give him the finger."
BL: Tony La Russa, who is in the Hall of Fame as a manager, has said that Martin was the most brilliant manager he knew, and that his genius was not properly understood. Is that assessment widely shared among baseball people?
[sidebar title="'Gil Hodges: A Hall of Fame Life'" width="630" align="right"]Former player and manager Gil Hodges is not in the Baseball Hall of Fame. Mort Zachter, author of a Hodges' biography, makes his case for Hodges' enshrinement.[/sidebar]BP: La Russa's generation, I would say absolutely. Yes. There's a number of Hall of Fame managers who think he should be in the Hall of Fame. La Russa told me, he says, "I wasn't as good a manager as he was ... I was no match for him." And this is a guy who many think is one of the best ever.
Yeah, those guys really think he was special. The modern-day managers, I think they sort of do. They've heard that he was special, but they didn't actually experience it, so they don't have the same opinion.
---
Bill's Thoughts On 'Billy Martin: Baseball's Flawed Genius'
Bill Pennington's biography of Billy Martin is exhaustive. There are detailed accounts of games in which he played and games in which he managed. Baseball fans will love this, especially if they are Yankees fans.
The biography is also exhausting. Reading about Billy Martin is tough. As some of the people with whom Pennington spoke maintained, when things were going especially well in Billy Martin's life, you could be sure that somehow he'd sabotage himself. Reading about a guy who is constantly getting fired, mugged, or falling-down drunk, sometimes all in the same evening, will wear out lots of readers.
Happily, there are interludes where we learn about Martin's fascinating relationship with Casey Stengel. Reading about that is more fun than reading about his often poisonous and apparently inextricable link to George Steinbrenner.
Martin was by almost all accounts a very smart manager who never hesitated to try something that lots of baseball purists would consider nuts. But reading this biography, it's hard to avoid the conclusion that Martin went through life with an outsized chip on his shoulder. He may not have picked all the fights in which he engaged, but he never seems to have walked away from an opportunity to trade insults or fists.
This segment aired on April 4, 2015.