Notre Dame's Muffet McGraw On Final Four, Airport Triathlons And Spiders
Resume
Notre Dame women's basketball coach Muffet McGraw has led her team to the Final Four for five straight years. Her teams have made the title game three of the last four years, and they will try to do so again this weekend.
I suspect McGraw is hoping for a different outcome in that final game. Before we start, we'll get an obvious question out of the way: yes, Coach McGraw was, in fact, named for Little Miss Muffet.
BL: Muffet McGraw, welcome back to Only A Game.
MM: I'm scarred from that Wait Wait Don't Tell Me episode. So I'm trying to get over that. But it's true.
BL: And just to clarify this for our listeners: of course, the question came from Charlie Pierce, who's also a regular on our show. You declined to answer whether you would rather have been named Tuffet or Spider, but now you've had some time to think about that, so ... .
MM: You know, Spider kind of could be a good basketball defensive type of player.
[sidebar title="Duke Freshman Trained With WNBA Stars" width="630" align="right"]Duke's Tyus Jones is a freshman, but he's well prepared for Final Four pressure. In high school, Jones practiced against a WNBA team.[/sidebar]BL: I gather from the success that you've had with Notre Dame, especially over the past few years, this is not one of those occasions where you're saying, "We're just happy to be here."
MM: It's funny. We lost so many good players from last year's team — two first round draft picks in the WNBA; three seniors started. We have no seniors in our starting lineup this year — so we didn't really come into this season thinking, "This is the championship team." So we're never "just happy to be there," but I feel like we've overachieved to get here.
BL: I admire the way you've kept your sense of humor, even in the tense days on the road. I understand you've tweeted about ways that people can take care of themselves even when they're on the move in the airport. Tell us a little about those tweets and your fitness suggestions.
MM: Well, we often have to run from gate to gate, and we've been delayed and have a hard time getting connections, so we do it as a little bit of a triathlon. You've got to leap over some luggage, you've got to pass people — we keep track of who's winning and we're having fun with it.
BL: Well, I thought the best one was the "resistance" training that you did by passing up Cinnabon. 
MM: And that was the toughest one. Absolutely the toughest one. And I hope I have something to show for it later on.
BL: I'm gonna ask you the question that you're probably most tired of hearing but I can't get away from it. Is it a good thing or a bad thing that the Final Four is made up entirely of No. 1 seeds — a good thing or a bad thing for women's basketball in general. 
MM: You know, I thought this year we had the most parity of any other year. And you know it's only the third time that's happened that all four No. 1 seeds made it. One of them was back in the 1990s so we've only had two in our recent history. But I think we do have the four best teams, so I think it is good for women's basketball. You're going to see a great product on the floor. But I think it's time for another team to win. Maybe Notre Dame.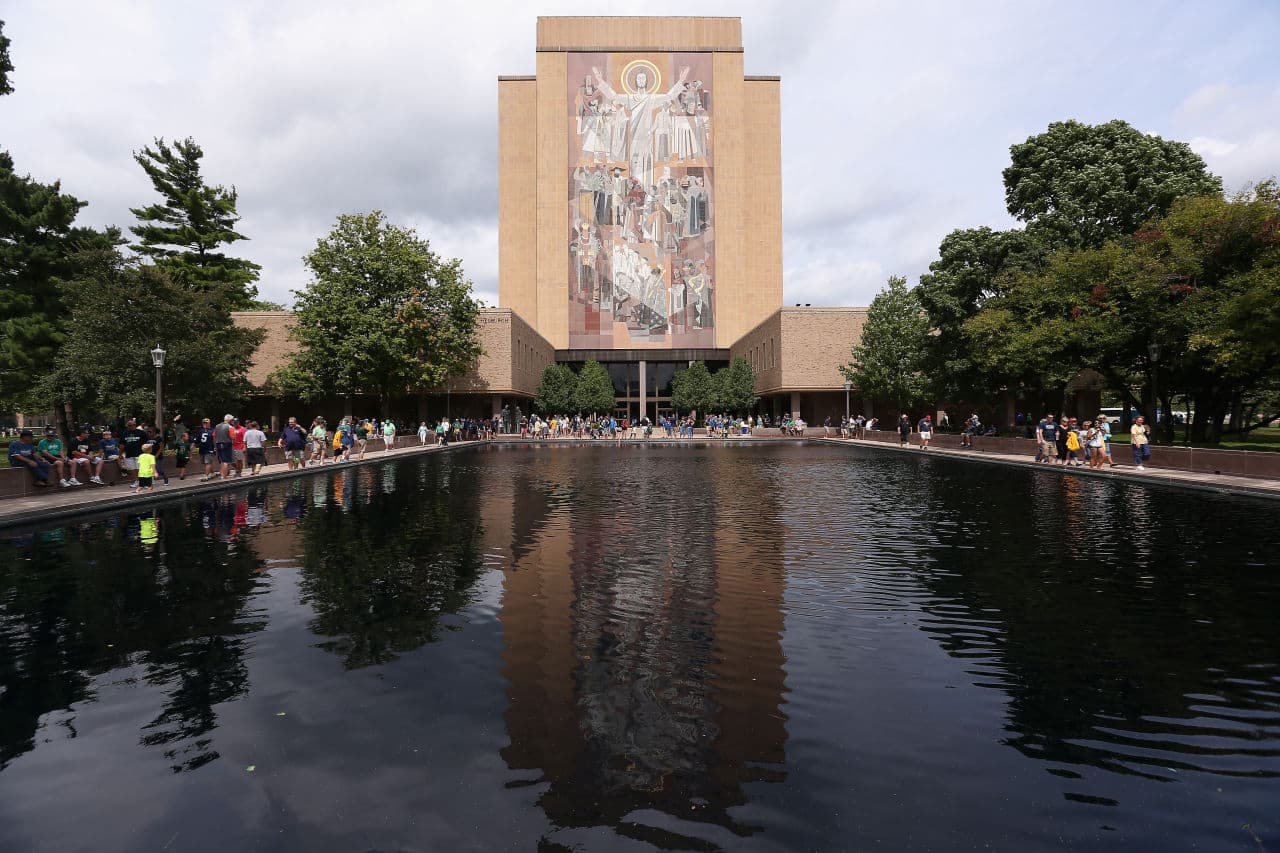 BL: When you return to South Bend after this tournament is over, one of the things that you will see looming on the horizon is the famous "Touchdown Jesus" — the iconic football statue, or at least associated with Notre Dame football. Maybe it's time for a basketball statue in South Bend.
MM: Well, you know, he's "Three-Point Jesus" during the basketball season.
I think we do have the four best teams, so I think it is good for women's basketball. ... But I think it's time for another team to win. Maybe Notre Dame.

Muffet McGraw, Notre Dame women's basketball coach
MM: Exactly. He goes both ways. So he can do the football and the three-pointer. But what we want is that No. 1 sign that we put up when any team wins a national championship. That would be nice.
BL: The women's Final Four, of course, this year is in Tampa while the men's Final Four is in Indianapolis. Given the recent wrangling over Indiana's so-called "religious freedom" law, have you and your players discussed that situation?
MM: We have a video from the athletic department that some of the girls are in, and we've just released that. The university came out with a statement, and we're disappointed because the women's Final Four is set to be there next year, and I think there's going to be some talk about whether or not we want to go back there.
BL: Are you just as happy not to be playing in Indianapolis this time around even though it would be sort of a home game?
MM: It would be a nice little home game. Just a little bus trip down Rt. 31. But with all of the distractions, I think it's kind of nice to be out of town in a nice warm spot.
This segment aired on April 4, 2015.