Home Run Balls: To Keep Or Not To Keep, That Is The Question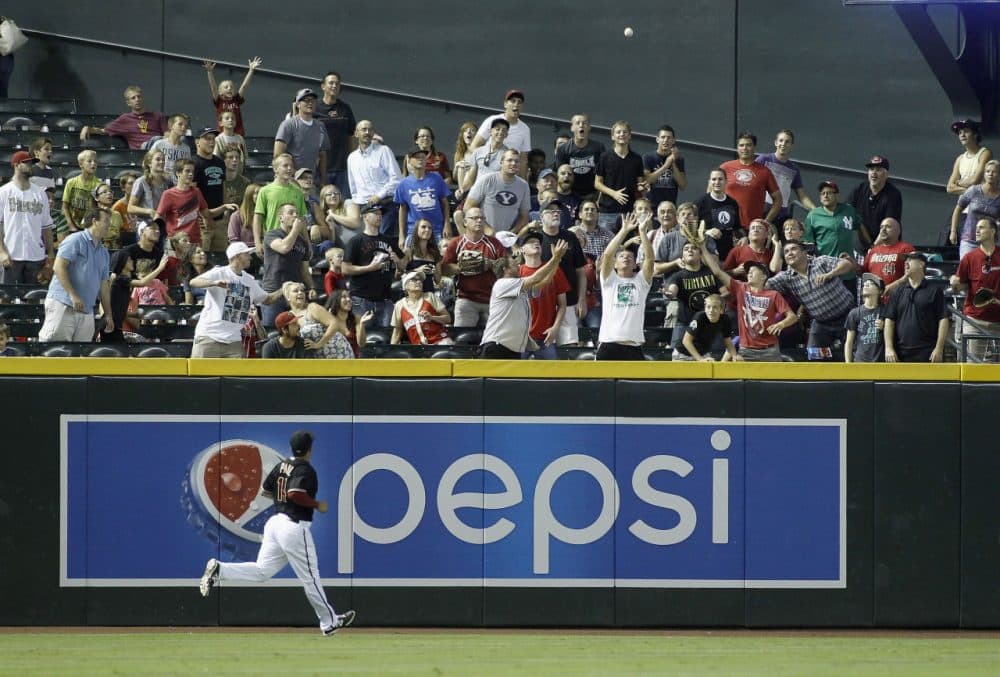 This article is more than 7 years old.
When a baseball is launched into the stands, it's up for grabs. Fans have been known to use their bare hands, a glove, a hat or even a beer cup to catch the flying sphere.
But it's not always fans who end up taking ownership of the balls, as was the case a week ago when Cleveland Indians outfielder Brandon Moss smashed his 100th career home run into his team's bullpen.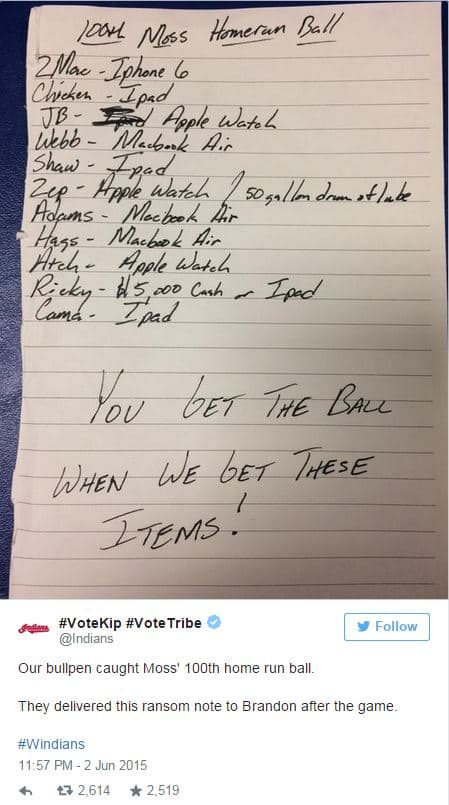 Cleveland's bullpen seemed to be in dire need of electronics, as every player requested something from Apple.
The total tab? "Like $10 grand worth of stuff," Moss told Cleveland.com.
But Apple CEO Tim Cook has stepped in. Speaking at Apple's annual developers conference in San Francisco on Monday, Cook said:
Brandon would have had to raid an Apple Store to get that ball back. That didn't seem quite right to us. And, so, what we're gonna do, is we're gonna pay the ransom.
Brandon Moss is making $6.5 million this season, so paying $10,000 to get his home run ball back wouldn't have been too much of a problem.
But there have been times when home run balls are never given back, lost or sold for millions.
Mike Shuster, the Red Sox fan who caught Yankees' third baseman Alex Rodriguez's 660th home run, isn't planning on giving it back to the slugger. After both the Sox and Yankees approached him, Shuster declined and said he may instead post a video of him exploding the ball on YouTube.
The Rhode Island native even created a Twitter account for the ball that asks followers,"What would you do if you caught the ball?" Shuster has yet to make a decision on the future of the ball, which is estimated to be worth about $50,000.
Toy company founder Todd McFarlane paid even more for another record-breaking ball. In 1999, he dropped $3 million on Mark McGwire's 70th home run ball, the most money ever paid for a sports artifact. McFarlane has also dished out $500,000 for Barry Bond's 73rd homer in 2003, which broke McGwire's single-season record.

Another Bonds' blast, his 756th career home run, was sold to fashion designer Marc Ecko for more than $750,000. After creating a website for fans to vote on the ball's fate, Ecko branded it with an asterisk and then sent it to the Hall of Fame. (The asterisk is meant to suggest that Bonds' career home run record is tainted by his steroid use. Bonds admitted to unknowingly taking performance-enhancing drugs in 2011.)
Instead of selling off their catch to toy company founders or fashion designers, other fans have simply returned the balls.
Zack Hample, who claims to have caught more than 8,000 major league baseballs since 1990 (and who has written books about his successes), gave back Angels center fielder Mike Trout's first career home run ball.
The LA Times reported that Hample "caught Trout's homer on the fly after running about 20 feet, climbing over a row of seats and lunging to his left." He was "'pretty pleased with [his] performance.'"
Hample has kept other historic balls, including the last home run hit at Shea Stadium, Bonds' 724th blast and Derek Jeter's 3,262 hit. He doesn't plan on selling any of the thousands of baseballs he has caught.

When Derek Jeter knocked his 3,000th career hit out of the park in 2011, the ball landed in the hands of a 23-year-old cellphone salesman Christian Lopez. Lopez gave the ball, estimated to be worth between $250,000 and $300,000, back to the Yankees shortstop.
Although Lopez passed up on an estimated quarter-million dollars, ESPN reported that he received a king's ransom for his act of kindness. The New York native got his own Topps baseball card, a 2009 World Series ring, at least $50,000 toward his student loans, luxury box tickets for the rest of the season and signed memorabilia from Jeter.
The most notable home run ball that has not been sold, given back or put in the Hall of Fame is Kirk Gibson's dramatic game-winning blast from Game 1 of the 1988 World Series. In what SB Nation called "the greatest single moment in L.A. Dodger history," the ball sailed into the right field stands, never to be seen again.