'Little Victories' And The (Many) Rules Of Touch Football
Play
This article is more than 7 years old.
Jason Gay's new book, "Little Victories: Perfect Rules For Imperfect Living," includes tips for those who play family football on Thanksgiving Day. Actually, they're not "tips" at all. They're rules.
Jason Gay joined Bill Littlefield.
---
BL: Jason, were you inspired to codify the rules of Thanksgiving Day family football because without such rules, chaos would reign?
JG: Yes, we had way too many lawless, family Thanksgiving touch football games in my household, Bill.
BL: OK, so it's all out of first-person experience.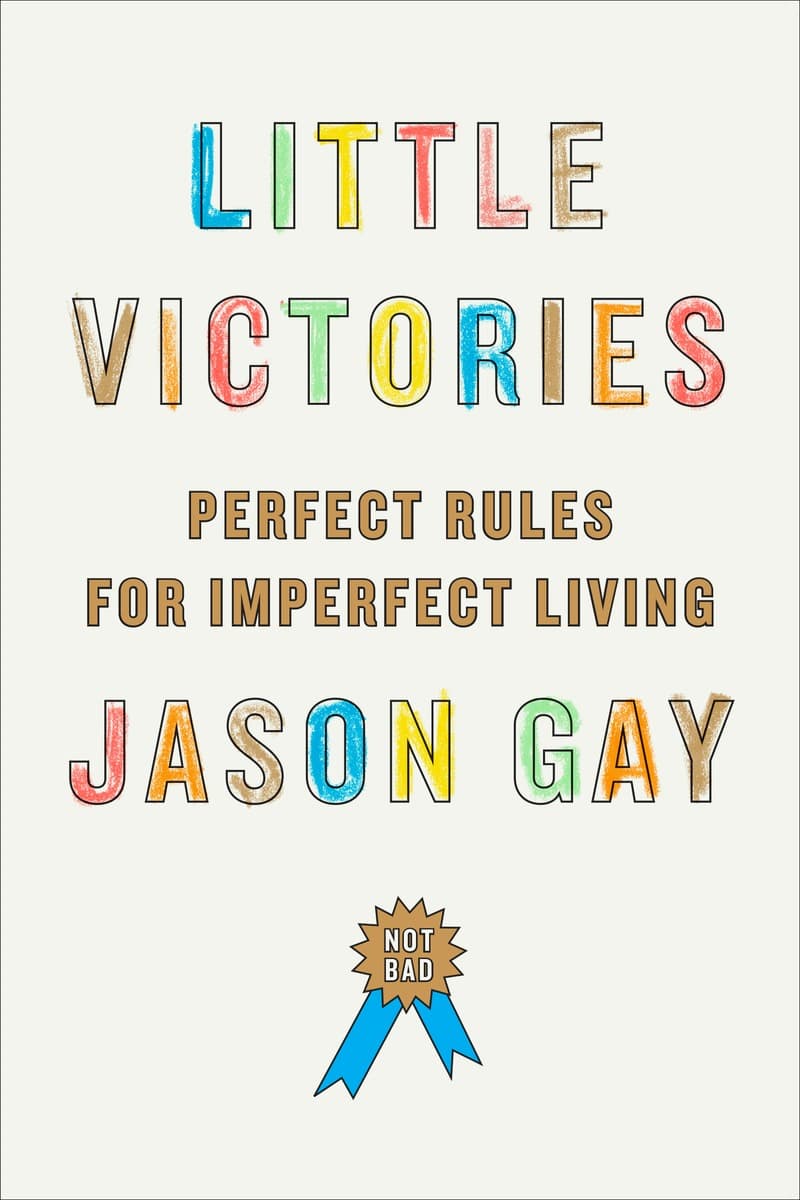 JG: The sports was on the verge of extinction. It was getting so lawless that people were beginning to quit, so we wanted to put some rules out there. And we started doing this with my column at the Wall Street Journal I guess now about five years ago.
And now, if you can believe this, when we publish this column in the Wall Street Journal, people send in photographs. They send in the score from their Thanksgiving family touch football game, Bill.  We have saved the sport, Bill.
BL: Well, I guess I should say thank you for that. Among the rules is the suggestion that if you make a bunch of good plays — you know, catch three touchdown passes, for example — then you should follow that up with a couple of fumbles, maybe even — I don't know — run the ball into the wrong end zone. Why is that?
JG: To be specific, this rule is for first-timers at somebody else's Thanksgiving. So, for example, if you are attending as the new boyfriend or the new girlfriend, you don't want to show up and be too good. Play to the best of your abilities for a little while, but if you really start to rack up the stats and the yardage, you might want to bring it down to earth. And I don't want to say that I'm advocating for crooked or fixed family touch football, but you might want to let a few go off your hands.
BL: You know, Jason, I had never thought about a half-time show being part of a family touch football on Thanksgiving, but you've got one in mind?
JG: Yes. Like halftime shows at my family's Thanksgiving touch football game were more like my dad sitting outside and complaining about my neighbor who hung up his Christmas lights three weeks before Halloween.
BL: In an entertaining way, I hope.
JG: In an entertaining way. Just as Beyonce could do 12 minutes at halftime at the Superdome, my dad could do an easy 12 minutes on that.
BL: And that's all you'd need to catch your breath and be out there on the gridiron.
JG: That's right.
I don't want to say that I'm advocating for crooked or fixed family touch football, but you might want to let a few go off your hands.

Jason Gay, Wall Street Journal
BL: Although, it'd be a small gridiron as I understand it.
JG: Yes, I'm glad you bring that up, Bill. Because the last thing you want to do is get out there and put a regulation field.
BL: Who has a regulation field in their backyard?
JG: Listen, there are some agrarian people out there. Full farm houses and acreage. But what I mean really, Bill, is don't pack up the car and go down to the high school. You have to keep in mind, Bill, the Thanksgiving touch football game is the first exercise most of the people in your family have had since last year's Thanksgiving touch football game. You want people to be able to do two completions for a touchdown.
BL: Now, Jason, as you mentioned, you actually began this feature, this list of Thanksgiving Day family touch football rules, some years back. Have your readers written in with new rules? Rules that you should have put in and now have included?
JG: It wouldn't be a Thanksgiving touch football column without a few complains that I've missed something. And now, Bill, we're up to 100-plus rules. We've got to roll out rules upon rules with this column each and every year. But I remember the first year that I did it, I forgot probably the most essential rule of all and I was a little embarrassed. And that is, "Suckers walk." Suckers walk. Do you know this rule?
BL: Of course, I remember it from — never having to do it, of course, because we always won, but, yeah, the losers have to go back and receive on the other end.
JG: That's right. Losers have to huff and puff back across the field after giving up a touchdown. That is probably the bread and butter rule of all touch football games. I missed it that year. I have not recuperated from the shame.
BL: You know, it strikes me: there really is an advantage to having so many rules — up to 100 rules, as you say — because once all the players had sat down and become familiar with the rules,  it would in fact be time to eat dinner and you wouldn't actually have to play.
JG: Are you calling for streamlining of my rules, Bill?
BL: No, I'm calling for fewer games.
JG: I'm trying to sell books and I'm trying to create a franchise here, Bill. You know?
This story was produced as part of Only A Game's "Celebration of Home."
---
Bill's Thoughts On 'Little Victories: Perfect Rules For Imperfect Living'
"Thanksgiving and the Touch Football Game" is the title of one chapter of Jason Gay's new book, "Little Victories."
[sidebar title="An Excerpt From 'Little Victories'" align="right"]Read an excerpt from "Little Victories" by Jason Gay.[/sidebar]
A couple of the other chapters ("Only A Game – But Not Really" and "Gyms Are the Same") also have to do with sports. Sort of.
No matter. The book's fun. Jason's a clever guy, and he's no stranger to self-deprecation. Check out the graphic on the front of the book that looks sort of like the kind of ribbon that might be awarded to someone who'd won something. It reads: "Not Bad."
This segment aired on November 28, 2015.