Super Bowl Haiku XXII
Play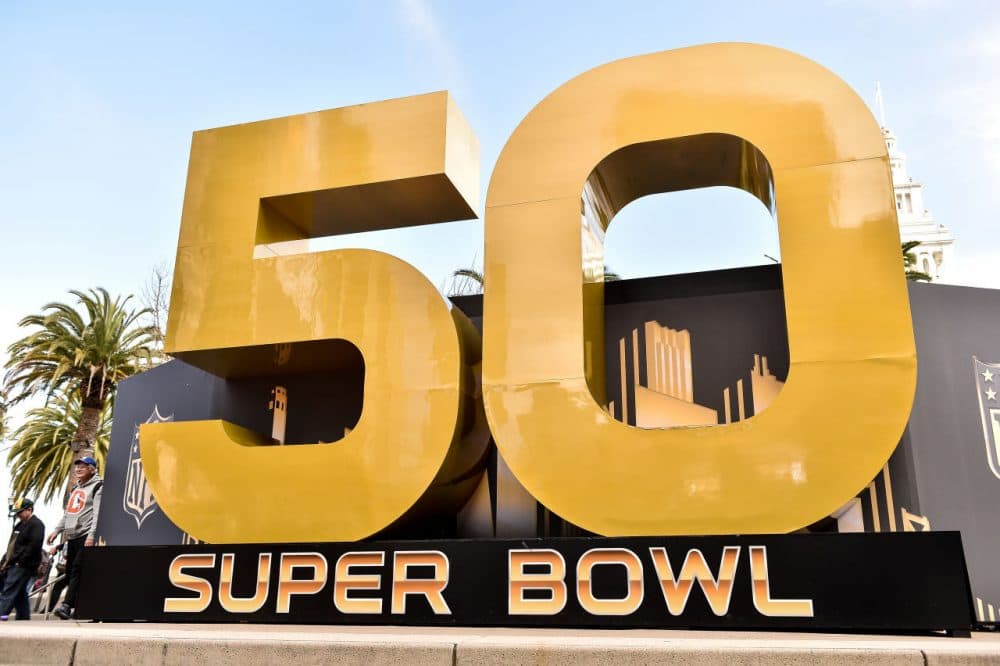 This article is more than 7 years old.
You know the drill, right? Three lines. Five syllables, then seven, then five again. For 22 years, Only A Game has been using the ancient art of haiku to describe the savagery and spectacle of the Super Bowl.
We received a record number of haiku from listeners this year. Those, plus my humble offerings, challenged the Only A Game Hut Hut Haiku Players like they've never been challenged before.
We'll include the text below. But please, don't spoil the fun. Click on the listen link above.
Iowa caucus;
ISIL; market plunge; migrants.
Time out: Super Bowl.
-- Craig Willis
To Hell with the L
The media chiefs pondered,
Just play game fifty.
-- Tim McCusker
Super Bowl 50
Concussions bound to abound
Why do we still cheer?
-- Adam Hartzell, San Francisco
Dreamy Cam Newton
I'm no football fan and yet
I may watch this time
-- Lauri Berkenkamp
How I love Peyton!
Omaha! Omaha! O!
Bring the ring Broncos!
-- Denise Olson
Broncos' brave staff works
To reassemble Manning
For just one more game…
Manning his station,
The old guy hopes to defy
Newton's gravity.
-- Otis Stroup
Devout head coach prays…
"Lord, keep them safe from all harm.
Until the game starts."
You're a pro. You're there.
You're going in now. It's time.
You're going. — So, go!
-- Dylan, Grade 4

Its fiftieth year
sponsored by AARP
and Metimucil!
-- Scott Suma
Super Bowl is to
Football as F16 jet
Is to paper plane.
Wave of sound crests, fades.
All the crowd breathes, waits a beat,
And the roaring comes.
Rumble, bumble, and
A fumble. Stumble? Humble
Haiku shouldn't rhyme…
Bears played there. Falcons.
Dolphins, too, and Unicorns.
Nah. Not Unicorns.
I don't want to hear
Phil Simms' incoherent thoughts
While I watch the game
-- Alanbau
I think Cam can I
think Cam can I think Cam can
Manning less convinced
-- Lipophile

Super Bowl again
classic movie channel has
Oh drat the Gipper
-- Barb Miller
Oh no it's that time!
Big piles of men fall down - ouch!
Can't wait til baseball ....
-- Beth Galston
Ligaments tearing
Brain tissue springing off bone
Ah, 'Merica's game
-- Darren
Of the Super Bowl,
Guy said: "Wouldn't bet on it."
Huh. A Commu-nist…
Long pass pauses time…
Or almost does… or seems to…
'Til someone drops it.
Bowie would not live
To see another halftime
Could not stand Coldplay
-- JAD

Super Bowl Sunday
More encephalopathy
I'll have a Bud Lite.
-- Meyer Family
"Super adjective,
Dude! Came from a bouncing ball?
Dude! No way!" "Yeah, way."
Deep man, poised, shifts feet,
Thinks: "fair catch? No! There's some room!"
He's wrong. Oh, he's wrong…
"Footsteps. Behind me?
To the left? Right? I mean, right…
I hear the ocean."
Great plays! Awesome game!
Everyone will remember
Except the players
-- Barry Taylor
Tiny bird circles,
Her bird thoughts: "What snacks are there!
Slobs drop everything!"
This segment aired on February 6, 2016.