With One Season Down, Women's Pro Hockey Looks To Expand
04:54
Play
This article is more than 5 years old.
When the women's professional hockey team in Buffalo was born in 2015, somebody felt it should be called the Beauts. And so it was. And now we've gotten that out of the way.
Buffalo's roster, like those of the three other teams involved in the recently concluded inaugural season of the National Women's Hockey League, is populated by players who see themselves as pioneers.
"The market for women's hockey is becoming more and more popular in the United States," says U.S. national team star Megan Bozek. She jumped to the Buffalo club after a year with the Toronto Furies of the nine-year-old Canadian Women's Hockey League.
"It's a soap opera that I never imagined I would be covering at this point."

Jen Neale, Puck Daddy editor
"A lot of us have played in the Canadian Women's Hockey League, and it's a great league," Bozek says, "but there's nothing better than to write that history book with you as a part of it.
Many of the Olympians who have represented the U.S. and Canada, the top two women's national teams, play in the CWHL or the new U.S. league, so in each the quality of play has been excellent and enthusiasm among the players has run high. But that "market for women's hockey" is another matter. At the games in Boston I've attended, "crowds" might be charitably described as disappointing, and less charitably as easily tabulated.
Especially considering the paucity of paid customers, what has made the NWHL historical?
The Makings Of A Pro League
"I think just playing professional hockey in general for women is awesome, so then to get a paycheck on top of that is just kind of over the top," Buffalo goalie Brianne McLaughlin explains,
There are no paychecks in the CWHL. The ones in the U.S. league range from $9,000 to $25,000 per season, so lots of the players coach or have other jobs. But the existence of those checks means that, like Hunter S. Thompson, Bozek, McLaughlin and the rest of the players in the NWHL can say, "We are, after all, professionals."
McLaughlin lives in Pittsburgh. She drives three and a half hours to Buffalo on Friday for a practice, then drives three and a half hours back home after a Sunday game. So as she suggested in the audio diary she recorded for Only A Game early this season, "professional" hasn't meant pampered:
"I've been just kind of finding a place to take a quick nap and then finish my drive later on in the day, so by the time I get home, I'm always so sleepy, and I'm not normally a napping person, but it's been kind of taking its toll." — Brianne McLaughlin 
Hence the naps. And hence the challenge of building team coherence, because even when you've got some of the world's best female hockey players on the roster, how well are they going to play together with only a couple of practices a week?
"I know a lot of us practice elsewhere," Bozek says, "but we have to find that chemistry off the ice and on the ice when we are with each other. We have to make the most of the three hours that we see each other on a Wednesday and a Friday."
Or maybe just on a Friday.
No matter.
For Buffalo, at the end of the first NWHL season last weekend, it looked as if it might all work out:
"We arrived in Newark, New Jersey yesterday for the Isobel Cup Finals. We are playing where the New Jersey Devils practice because New Jersey Devils are on a road trip and actually the circus is in town. So if we want to look out our hotel window, it's elephants." — Megan Bozek
Buffalo might have been better off if the elephants hadn't gotten out of the way. They lost that final series to the Boston Pride.
History has been made #ThePack #14Strong #FirstChampions pic.twitter.com/gJ6JHBnxUi

— NWHL (@NWHL) March 13, 2016
NWHL Vs. CWHL
"When you're talking about women's sports, Digit Murphy is happy," says Digit Murphy.
Murphy is a veteran women's hockey coach who's now working to create a women's pro lacrosse league, and her happiness is tinged with a larger concern about where women's hockey goes from here. She worries that the Canadian league, already damaged by defections, and the NWHL will engage in competition that might hurt the larger cause.
"Let's face it, women's sports are a small world, anyways," Murphy says. "And if you start trying to compete instead of collaborate, I think you're in for a setback. I just do. I don't think we've even stretched, you know, our imaginations to see women as women in sports."
On the actual rather than the imaginary level, even as the Boston Pride was accepting the NWHL's championship trophy, the U.S. league was making noises about expanding into Montreal and Toronto next season, thereby threatening the existence of the Canadian women's league.
"It's a soap opera that I never imagined I would be covering at this point," says Jen Neale, who edits Yahoo's Puck Daddy hockey blog. "I wrote it up for Puck Daddy as almost a declaration of war, like, 'We're coming for you.' It just shows that this has gone from a plucky little startup to an actual competitive league. And this declaration by the NWHL really just says, like, 'We're not here to work with you.'"
Would it be a stretch to say that though there was little suspense in the NWHL's final series, which Boston won in two straight, the season ended in a cliff-hanger?
This segment aired on March 19, 2016.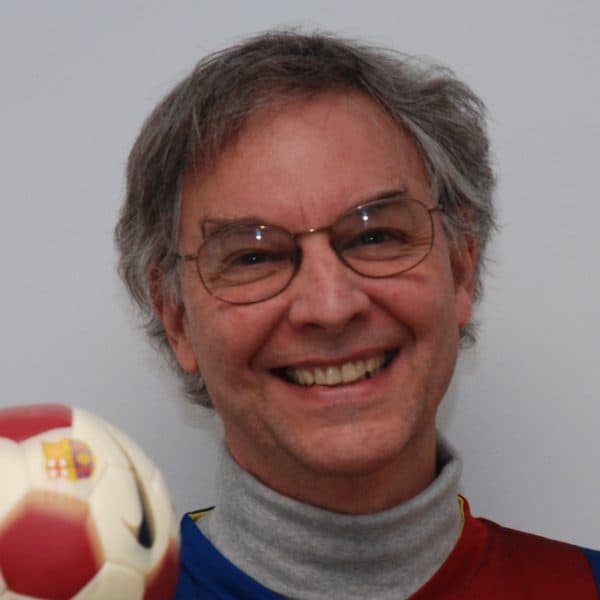 Bill Littlefield Host, Only A Game
Bill Littlefield was the host of Only A Game from 1993 until 2018.