Littlefield: Why I'm Impatient For The NBA Finals
Play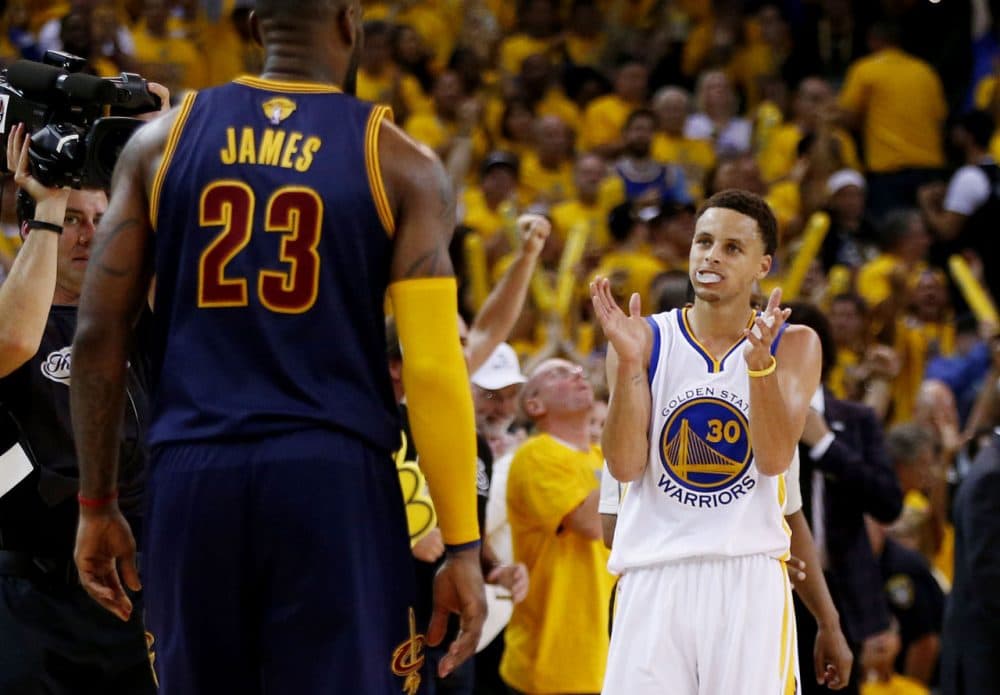 This article is more than 6 years old.
When the NBA Playoffs begin each year, I root for every series to last at least six games. This is long enough for subplots to develop within the series. Seven games is better.
I also root for team basketball to prevail over outstanding individual performances.
I'm impatient for the Finals, and I don't care how we get there.
But this year, I've been distracted from that approach. I'm impatient for the Finals, and I don't care how we get there, as long as it's Cleveland and Golden State.
Who won't be disappointed if LeBron James and Stephen Curry don't face each other in June? Maybe the odd fan of whichever team falls to Cleveland or Golden State in the conference finals. Maybe.
I've been conditioned feel this way. So have you. LeBron James and Stephen Curry represent two of the most energetically marketed personas in our culture. Ignore that if you can. I can't.
The matchup would be a natural, even without the corporate massaging: One protagonist is large and powerful, but also clever and adroit enough to compliment the talents of his less-celebrated teammates.
The other is so small by NBA standards that he's almost small by other standards. He shoots well enough to have earned consecutive MVP awards, the second of which was announced Tuesday.
You remember MVP Awards. LeBron James has won four of them.
And there are more subplots, some of which began taking shape well before the playoffs. The Cavaliers were hobbled by injuries during last year's finals. Then their 2015-16 regular season featured some less-than-dazzling stretches. But LeBron has created a springtime "brotherhood." It has been fearsome in May.
And the Warriors? They built a ridiculously successful regular season — the best ever. They survived an injury to Curry during the playoffs — hello, subplot — and appear to be as well-prepared as anyone can be to face a healthy team led by LeBron James.
Maybe you are a fan of the one of the teams still standing in the way of the Cavaliers or the Warriors, and if so, maybe you are thinking: "That's the most arbitrary, superficial analysis of the NBA postseason I've ever heard." But maybe not. Maybe you're smiling a little and thinking, "Yeah, if it isn't the big guy with Cleveland on his back against the little fellow who can throw it in from anywhere for all the marbles, the Finals won't be as much fun as they might have been."
This segment aired on May 11, 2016.