Littlefield: The Stephen Curry Illusion
Play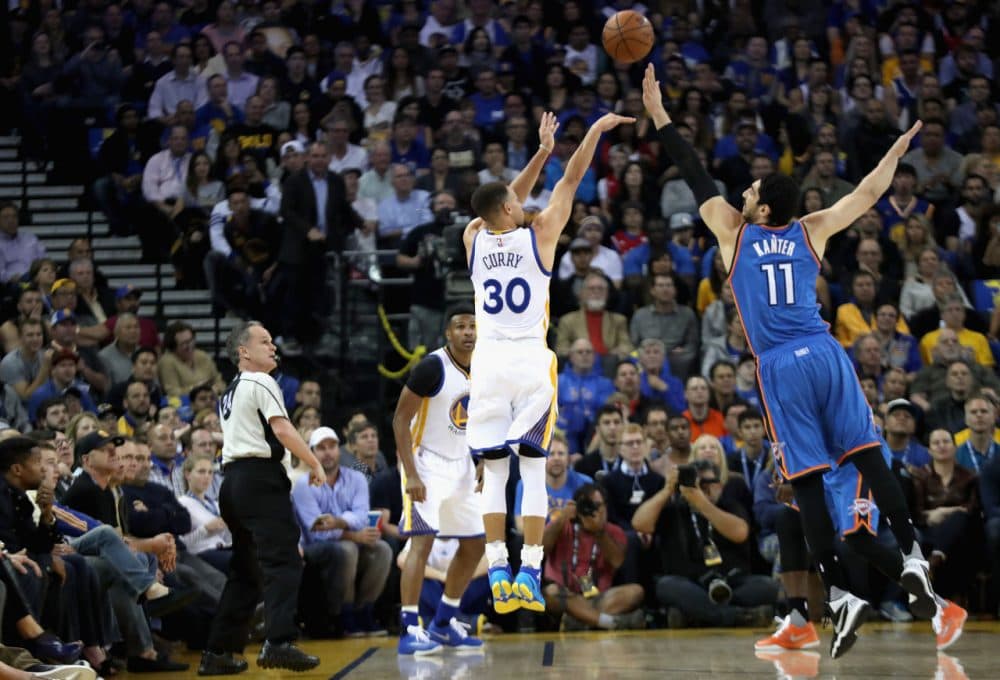 This article is more than 6 years old.
Sometimes, just after Stephen Curry has released the ball from beyond the three-point arc, he turns his back on the shot and starts jogging back to play defense.
Then the ball drops through the net.
This may come as a surprise to various people in the building, including the opposing player who thinks he's been defending Curry reasonably well.
That the ball drops through the net does not appear to surprise Stephen Curry, who never seems to doubt that it will happen, no matter how many times it doesn't. He appears blasé. He chews his mouth guard meditatively, rather than nervously.
Stephen Curry has created a sequence of movements that appear to ensure -- inevitably -- a perfect result.
Basketball is not the only sport that offers us moments in which an athlete can appear to be completely sure of himself or herself, but right now it's the one on display.
Of course it's an illusion. Sometimes Stephen Curry misses. Sometimes somebody from the opposing team gets a hand in the way of his shot. Sometimes the buzzer goes off just before the ball leaves his hand, and even if it goes in, it doesn't count.
But the image of that moment of absolute certainty endures. Maybe that's because we need it.
There is so little of which we can be sure. Probably that's even true of Stephen Curry. Maybe one day he walks out to his garage and the car he really wants to drive that morning has a flat tire. Unlikely, I know. Probably somebody's paid to make sure that won't happen.
But that illusion of certainty is the point. By combining natural gifts, hard, hard work, and a level of confidence that is probably exceptionally rare even in the NBA, Stephen Curry has created a sequence of movements that appear to ensure — inevitably — a perfect result.
Maybe that's the bedrock reason some of us watch. In gymnastics, it's the perfect 10. In baseball, it's the picture swing that drives a fastball 400 feet. But we're watching basketball now, and we'll be watching basketball until either Curry's Warriors or LeBron's Cavaliers lift the championship trophy. That achievement will result from a combination of all the components of basketball: rebounding, hustling after the loose ball, finding the open teammate who's moved intelligently without the ball, wise substitution, and so on. And there will be turnovers, fumbled passes, missed free throws, stupid fouls, and bad calls. And somewhere in the middle of what is random or lucky, probably over and over again, there will be Curry's shot, and the illusion that it will never hit anything but net.