Where Has The Historic Lefty Advantage In Tennis Gone?
Resume
Wimbledon, the grand dame of tennis tournaments, is temporarily distracting Brits from the confusion wrought by their collective decision to leave the European Union. Some of those embracing that distraction may have noticed that perhaps left-handed players are not faring as well as they did in the days when such sinister-siders as Rod Laver and Martina Navratilova not only ruled but created the impression that being left-handed constituted a considerable advantage on the courts.
Is it true? Was it ever?
Looking Back
"Well, my dad says if I wasn't left handed I wouldn't have been a professional tennis player," former pro Tim Wilkison says. "So when your dad says that, probably something to it."
During his professional tennis career from 1977 to 1993, Wilkison used a move favored by many left-handed players: the swinging serve. When serving from the left side of the court, Wilkison would hit a spinning shot aimed at a right-hander's relatively weaker, one-handed backhand.
"And that one-handed return of serve was going to come back not that fast," Wilkison says. "And that's why a lot of guys would run up to the net and play the volley off that shot because you were going to have a play at it."
Wilkison, once the 23rd best male player in the world, reached the quarterfinals of the US Open in 1986.
Other lefty players have used the serve-and-volley to get considerably further.
Lefty John McEnroe won seven Grand Slam singles titles from '79 to '84. Rod Laver won 11 from '60 to '69. On the women's side, Martina Navratilova won 18 Grand Slam singles titles from '78 to '90.
"Lefties were big winners of some of the biggest titles in the game," says long-time tennis writer Douglas Robson, who recently explored the history of the lefty advantage.
"There are lots and lots of claims that left-handed people might be different, have different attributes, than right-handed people. ... We couldn't find any evidence that they actually have any kind of neurological or innate advantage that predisposes them to be better at sport."
The advantage was so significant that lefties dreaded playing other lefties.
"Well, I hated it," Tim Wilkison says. "I hated it. Because all of my best shots, that swinging lefty serve was right into their forehand now."
"It becomes a little difficult for us," says lefty and former pro Dianne Fromholtz Balestrat, who played on the women's tour from 1973 to 1990. "When you come up against a left-hander, well then you've gotta reverse your game as well, so it becomes a little bit tricky."
A Neurological Difference?
And forcing an opponent to reverse her game wasn't the only advantage lefties were thought to have during Fromholtz Balestrat's pro career.
Research in the mid-80s suggested lefties had innate neurological advantages in sports due to better "spatio-motor skills."
"I've got two sons who are left-handed, so I was imagining fantastic sporting careers for them," says John Aggleton, a professor of cognitive neuroscience at Cardiff University in Wales. "There are lots and lots of claims that left-handed people might be different, have different attributes, than right-handed people, that there might be differences in the ways in which their brain somehow is organized."
But in 1989, Aggleton, the hopeful father of left-handers, co-published research that went some distance toward dashing  his dreams.
"There's no evidence that left-handers are any better than right-handers," he says. "So there are very clear strategic reasons, there's very clear reasons why in some sports you really want to mix your left and right-handers, but for purely sort of skill, ballistic movement — we looked at things like darts and we looked snooker — we couldn't find any evidence that they actually have any kind of neurological or innate advantage that predisposes them to be better at sport, per se."
Perhaps coincidentally, at about the same time that Aggleton published his research, the strategic advantage in tennis was starting to decline.
"I specifically remember toward the tail end of my career -- I started off losing to Arthur Ashe and Stan Smith, and I finished up losing to Andre Agassi and Michael Chang and those guys, Jim Courier. But it was a definite difference when all of a sudden you're hitting your swinging left-handed serve into a huge two-handed backhand," Wilkison says. "So that was a dramatic difference."
The rise of the more powerful two-handed backhand has countered the advantage of that swinging lefty serve.
"And you'll see with a lot of the best players today that their backhands are no longer liabilities or even attackable — they're great assets and weapons," Robson says.
The two-handed backhand has helped propel Novak Djokovic to No. 1 in the world.
But it's not only the two-handed backhand that's been chipping away at the lefty's advantage. Douglas Robson believes that improved rackets and strings, plus more homogeneous court surfaces, have made other lefty tactics — such as the slice shot — less effective.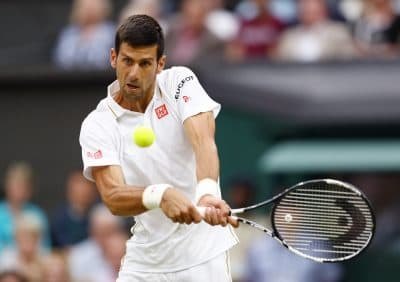 "The overall feeling is that lefties aren't what they used to be," Robson says.
A Future For Lefties? 
But is that lefty advantage gone forever? Maybe not — at least if Dianne Fromholtz Balestrat has her way.
The former pro and current coach has been watching the ongoing Wimbledon tournament — which, notably, is missing star lefty Rafael Nadal, who's out with injury — and she thinks some of the remaining lefties just aren't using some of the moves that used to work so well.
"The public, if you notice, they like to clap the little angle shots and the drop shots. They like to see that," Fromholtz Balestrat says. "But at the moment, all they're getting is hard and fast hitting. And the left-handers are just doing the same thing, whereas they should be developing all these little intricate shots and finesses."
Fromholtz Balestrat thinks that some of the problem is that lefties are being taught by coaches who don't fully grasp the players' potential, because the coaches are righties.
"I see other coaches come on with juniors. And they're not teaching them to turn their shoulders well enough. Or they're not teaching them to toss the ball out to the left on their serve," Fromholtz Balestrat says. "So there's little intricacies that make up good players that is not taught to the left-handers."
Maybe one day coaches will try to get lefties back into their advantageous slide and spin of things.
But for the time being, Douglas Robson says lefties aren't intimidating opponents as they once did.
"Most of the righties that I spoke to described left-handedness, facing a left-handed opponent as mildly inconvenient or disruptive," he says. "But not a big deal."
And so our investigation of the left-hander's advantage ends not with a bang, but with, well, not with a whimper… with a shrug, I guess, or perhaps more accurately with the muffled pop, pop, pop of right-handers successfully returning the shots of left-handers, and vice-versa, as attributes other than handedness determine who'll move into Wimbledon's later rounds.
This segment aired on July 2, 2016.