Three Stars Of Wimbledon's Rain-Soaked First Week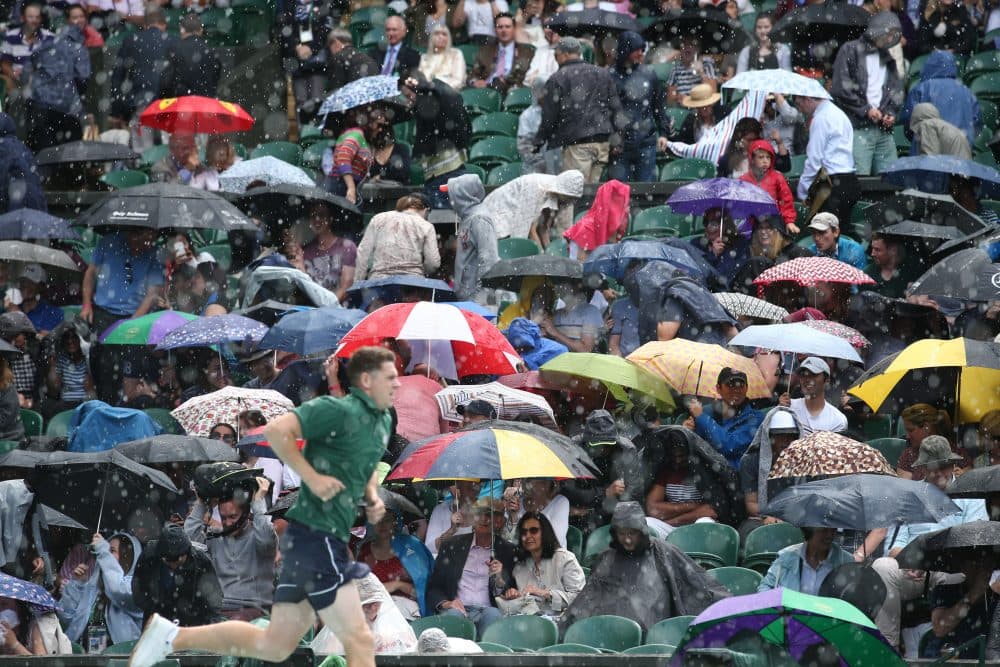 This article is more than 6 years old.
The weather's been a little better at Wimbledon recently. That's good news, because things were getting wacky last week as players, fans, umpires and officials found themselves at the mercy of a less-than-ideal English summer (i.e: a ton of rain).
The weather disrupted early-round play across multiple days and led to a decrease in ticket sales. Players didn't totally know what to say in response. Serena Williams made some heat-of-the-moment remarks that she later took back (Gilles Simon was slightly more serious about threatening legal action), Venus Williams said it reminded her of the movies, Agnieszka Radwanska suggested that Wimbledon call their go-to roofers and Sam Querrey couldn't quite tell if four rain delays in his match against Novak Djokovic helped or hurt him on the way to a massive upset.
So there was a fair amount of disruption and not a little griping and groaning. But the (slightly) unusual circumstances did bring out a few stars, and we're here to honor them, before they fade.
1. The Grounds Crew
There's nothing quite like a procession of uniformed, green-clad folks upstaging elite athletes. That's what happened in countless matches last week when the rain began to fall, including on four occasions in Djokovic vs. Querrey and at match point in Williams vs. Kasatkina.
Twitter's taken to them.
They've also taken to Twitter.
2. Wimbledon.com
"Into every Wimbledon Fortnight a little drizzle must fall, but there is still plenty to do at the All England Club."
So begins an article published to Wimbledon.com on Wednesday, June 29, a day when very little tennis was played thanks to the fickle English skies. More than anything else, the article, titled, "Bright ideas to fill time when it rains," serves as a reminder that Wimbledon is a rather charmed place to be. It instructs fans to "arm yourself with a summery Pimm's or a mini-bottle of Champagne Lanson in a bright yellow tennis ball jacket," and includes suggestions like, "under the shelter of your umbrella, take time to absorb the history of The Championships," "admire the garden sculptures" and "return to the Shop, which boasts an enormous variety of towels."
And Wimbledon's positive attitude appears to have kept everyone good spirits, at least according to this:
3. Allis Moss
Wimbledon's new P.A. announcer has had a busier few weeks than she expected. She has now mastered the art of the rain delay announcement. Due to her ubiquity in the ears of Wimbledon-goers, Moss gained a cult following on Twitter. She has also been keeping all of us pleased and informed through her light-hearted blog on the Wimbledon website, called Here Is An Announcement.
From a USA Today's profile:
"I always like to feel like I'm one with people," she says in an interview, having handed over a lozenge to sample. "I'm in it with them. The weather is the weather, but we do use words that are essentially apologies when it's been going on a long time and we want to thank people for their patience."

There was a lot to apologize for in week one. Rain delays wreaked havoc for much of it, frustrations building as umbrellas were popped, time and time again. On Wednesday, Moss made 10 weather-related announcements, which she was told is a record.

"I'm sorry to say that further showers are expected," she said over the speakers at one point, her voice earnest.

Then, later: "The referee has decided there will be no further play. Thank you for your patience on what has been a somewhat trying day."
So, don't forget about the stars who embraced the Wimbledon rain, one way or another.
And, for good measure, let's look at a star of past rain-soaked Wimbledons that, for better or worse, did not steal the show this year.
The People…?
Because of the rain, tennis was played on Wimbledon's middle Sunday — typically a day for rest. (In fact, only four times in the tournament's long existence has middle Sunday featured matches.) In the past, matches on middle Sunday have drawn new fans, supposedly of a "different" demographic, to the stadium, thanks to the need to sell tickets STAT.
This garnered the occasion the dubious nickname the "People's Sunday," after it first occurred in 1991.
Jimmy Connors was into it. From the Telegraph:
"What's the matter?" he asked the crowd, mischievously, when they started counting strokes in his warm-up. "Can't you count past 10?" More accustomed to the beer and boisterousness of Flushing Meadows, where he had won five US Open titles, Connors relished seeing Wimbledon go rogue for once. "They were my kind of crowd," he said. "Where had they been the past 20 years?"
So "the people" should have been stars of this year's rainy Wimbledon, too. But past hallmarks of the occasion — long queues, large, raucous crowds — were notably absent this year. Many news outlets, including the Guardian, have been critical.
The morning after the People's Sunday before and Wimbledon did not feel that much different. Monday's sun was blazing, people milled around the pristine pathways here with restrained anticipation and come 11.30 am the tennis was under way everywhere except Centre Court and No 1 Court. It was as if the much hyped, much talked‑about unwashed hurricane had not swept through here 24 hours previously. That's because it hadn't.
The main gripes were that the tickets were too expensive and sold online, which did not leave Wimbledon with the folksy hangover it expected after an influx of the masses. "The people" who were to make it special couldn't get in.