Gino Marchetti: From The Battle Of The Bulge To The 'Greatest Game Ever Played'
Play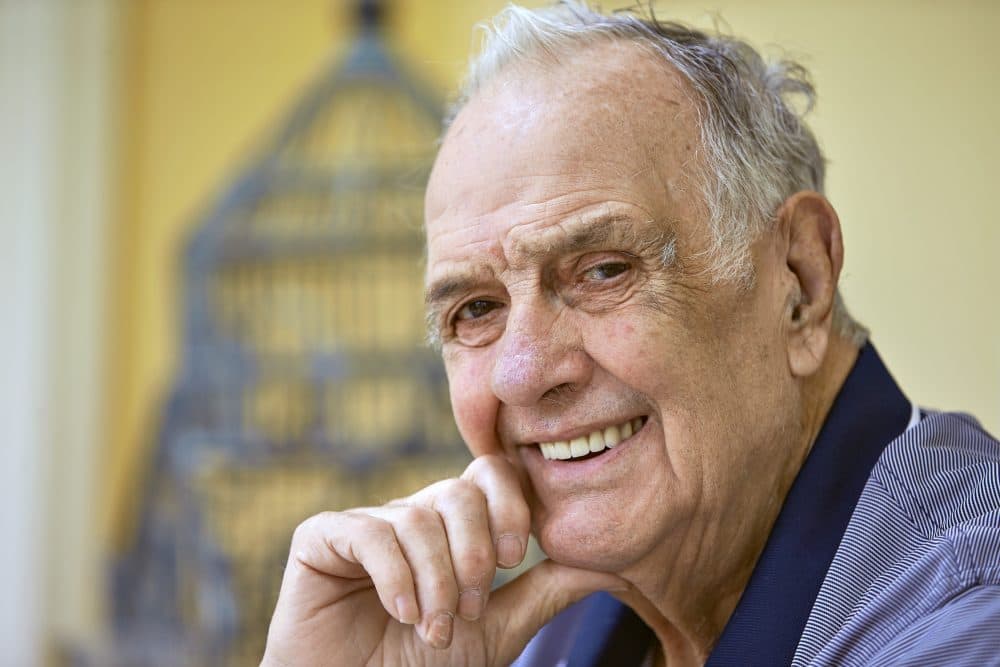 This article is more than 6 years old.
This story is part of a collaboration with Sports Illustrated for the 2016 Where Are They Now series.
Let's start with this, Gino Marchetti doesn't think you should believe everything that's been said about the 1958 NFL Championship Game.
"I don't think it was the best game ever played," Marchetti said. "It was actually a little sloppy. I've always said this: It was the most important game ever played."
Marchetti is 89 now. He's been in the Pro Football Hall of Fame for longer than I've been alive. He lives outside Philadelphia with his wife, Joan, and likes to tell old football stories to public radio reporters who call him up out of the blue.
"I enjoy talking about football. I don't do that much anymore, 'cause most of my buddies are gone."
For a guy who'd end up in the Hall of Fame, Marchetti's football career at Antioch High School, an hour inland from San Francisco, didn't start very well.
"As a freshman, I went out for the football team. They cut me," he said. "They said I wasn't big enough, I wasn't strong enough. We need the uniform for somebody else. They only had 24 uniforms, but I still wanted to play. So I go to the equipment manager who's a friend of mine, and we dug into the garbage and we found enough uniforms to dress me up. They were kind of old and raggedy, but anyway, I got permission from the coach to practice with them. So when I was sophomore, I tried out again, and this time I made it. I played three years at Antioch High School, and I was not a very good football player."
In the spring of 1944, as his high school days were coming to an end, Marchetti made a decision. It was a decision that would change the entire course of his life. But if you ask him about it now, he can't even tell you why he did it.
"I don't know why I joined the Army. It wasn't like I was gonna fight for my country or something," Marchetti said. "But one day, I left the high school, picked up my girl, we were riding down the street, and I just said, 'I'm gonna join the Army.' I was 17, I think, and she says 'Well, let's go tell your folks.' I said, 'No, I'll go join. I'll tell 'em when get I home.' So I signed up and 30 days later I left for the U.S. Army.
Marchetti went to Europe with the 69th infantry. He carried a machine gun through France, Belgium and Germany. He fought in the Battle of the Bulge. But the story he likes to tell never made it into the history books.
"My buddy and I were on a machine gun protecting the north flank of our regiment," he said. "We were having a good time. You hear these shells go over and you can tell how far they're going by the sound of the wind behind them. And we'd sit there and say, 'That one's way over there.'
"A group wanted to relieve us, and we say, 'Nah, go back in the box. We're OK.' About 10 minutes later, we hear a noise that was the worst noise I've ever heard. It was an 88, and it was coming at us. You could tell because of the whistling of the bomb, was just terrible. Probably only took 10 seconds. And I thought everything that I had done badly with my mother, particularly one instance when she got mad at me and threw something at me, and it hit her brand new refrigerator. And all she can do is touch that little nick, 'My new box! My new box!' And she was crying. I thought of that, and I thought, you know, when I get home, I'm going to make up for all the things I did, or didn't do. You get a second chance, you gotta make it work. It's the only life you got, you gotta make it work.

"Joining the Army was the best thing I ever done because without that kind of discipline that they teach you, I wouldn't have been able to play football, I think."
After the war, Marchetti played football for the undefeated 1951 University of San Francisco Dons and was drafted in the second round by the New York Yanks — yes, that used to be the name of an NFL team. The Yanks moved to Dallas, where they became the Texans and went bankrupt halfway through the season. Marchetti says the team became nomads — vagabonds.
"You know, we had no home no nothing," Marchetti said. "And that's when I scored my first touchdown as an NFL player.
"We had lost six straight or whatever, so a tight end got hurt, and the old veterans on the team, they were hiding. They didn't want to go in. So the coach looked around, 'Who can play tight end?' I raised my hand. And it was about a 35-yard pass, and I caught it and scored a touchdown. And then the gun went off to end the first half, and, jeez, I really felt proud and good, first touchdown, until I heard the announcer say, 'Rams 46. Dallas 6.' That was at halftime."
After that season, things started looking up for Marchetti and his team. They moved to Baltimore and became the Colts. Fast forward to 1958, and a 31-year-old Gino Marchetti is lining up for Baltimore on a balmy day in New York City for what would become known as the Greatest Game Ever Played.
"I got involved in the biggest play," Marchetti said. "They were leading with 1:30 to go. And they had yard-and-a-half to go for a first down. So if they make the first down, the game's over.
"Frank Gifford carried the ball, and I made the tackle. As I made the tackle, Big Daddy, he dived on, and somehow my leg got twisted and he broke it. But he didn't get the first down.
"If I wasn't an old Army veteran, I probably would've cried. But I didn't, nah, nah. My reaction was, I wanted to see the end of the game."
The Giants punted. Johnny Unitas led the Colts down the field for a touchdown with just seven seconds left in the 4th quarter. When the clock ran out, the score was 17-17.
By this point, the game already had all the elements of a classic: a charismatic quarterback, an enthusiastic crowd in the stadium — and a national TV audience back home, not to mention the lasting controversy over whether Frank Gifford really did get that first down.
But there was one more thing. See, back then, the NFL allowed regular season games to end in a tie, but no title game had ever ended that way. This sudden death playoff would be the first in pro football history.

But Marchetti, who had been watching the game from a stretcher on the sidelines, wouldn't get to see it. Officials were worried that he'd get trampled by fans rushing the field, so they sent him down to the locker room.
"The locker room was as quiet as you could be," Marchetti said. "You didn't know who was winning, who was losing. And you had no radio, you had nothing. But then I think it was Bill Pellington who busted into the locker room yelling, 'Hey, we're champs!'
"So then we started celebrating. We all had Coca-Colas. They wouldn't give us beer or nothing. We had Coca-Colas. Frank Gifford, he always said, 'You know, Gino, I made that first down.' I says, 'Frank, let me tell you something. Who's got the ring? I got the ring. So we won the game. That's all that counts.'
"How lucky can a guy be? Everything I did was the right thing to do and it all come because one day, at Antioch High School, I decided I was going to join the Army."
Head to SI.com/WATN for more from Sports Illustrated and Only A Game.
This segment aired on July 23, 2016.