NBA's Ray Allen: Learning — And Teaching Others — About The Holocaust
Resume
Ray Allen first learned about the Holocaust when he was in middle school.
"We read Anne Frank's diary," he says. "I didn't know if it was just a story that people told. I didn't realize it was an actual event until I watched "Schindler's List" in 1993."
When "Schindler's List" opened in movie theaters, Ray Allen was a rising star at the University of Connecticut. The Milwaukee Bucks chose him with the fifth pick in the 1996 NBA draft. While the Bucks were on an East Coast road trip in 1998, team owner Herb Kohl invited Allen to join him on a tour of the United States Holocaust Memorial Museum in Washington, D.C.
"And it was scary," Allen says. "The room with the hair, the room with the shoes, it was human. You see the real human side of it. This wasn't just a museum of wax figures or ideas, it was something that belonged to real people. They were annihilated."
Soon, Ray Allen would encourage his teammates to join him on tours of the Holocaust Museum whenever the Bucks were in Washington to play the Wizards. When he was traded to the Seattle Supersonics, and later to the Boston Celtics, he did the same. Andres Abril, who works with the U.S. Holocaust Museum, remembers meeting Allen almost 10 years ago. He remembers Allen's quiet intensity.
"He doesn't say a lot," Abril says. "He wanted his teammates to have an experience that was meaningful for them. And so I think he knew that letting it happen was the way to do it."
The Celtics would go on to win the 2008 NBA title. By this time, Allen had established himself as one of the greatest shooters of all time. He picked up another title with the Miami Heat and retired from basketball in 2014.
That meant more time for family and for charity work. And for playing an occasional round of golf with President Obama, who appointed Allen to the United States Holocaust Memorial Council in 2016. Allen wanted to learn about the Holocaust in depth and up close.
"To see and to feel what these people went through," he says. "To put my feet on those grounds."
Trip To Poland
Rabbi Simon Taylor hadn't even known who Ray Allen was until they met at a fundraiser. But after he heard Allen speak about the Holocaust, Taylor told him he had to go to Poland to learn more in person. Taylor had been to Poland several times. His family on his paternal grandfather's side had lived there before the war. Most of them were murdered in the Holocaust.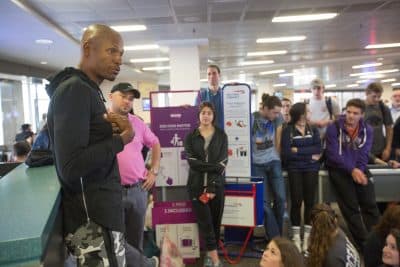 On April 30, 2017, Taylor and Allen bumped into a large group of school kids who were also traveling to Poland to learn about the Holocaust.
"We got all the kids together in the airport terminal, and Ray spoke to them about how important it is to go to Poland," Taylor says. "And he hadn't even been himself yet. And then, of course, he fielded a bunch of other questions about basketball as well."
The small delegation consisted of Taylor, Ray Allen and two of his friends. They landed in Poland on May 1. They had planned a three-day trip, and Allen wanted to see all he could. They began at Warsaw ghetto sites. They met nuns at a nearby monastery where hundreds of Jews had been saved from the Nazis. Allen even got to meet a Holocaust survivor.
Moshe Tirosh is the last survivor of the Warsaw Zoo. As a 6-year-old boy, Tirosh and his sister were hidden for weeks in the basement of zookeepers Jan and Antonina Żabiński, who saved hundreds of Jews during the Nazi occupation.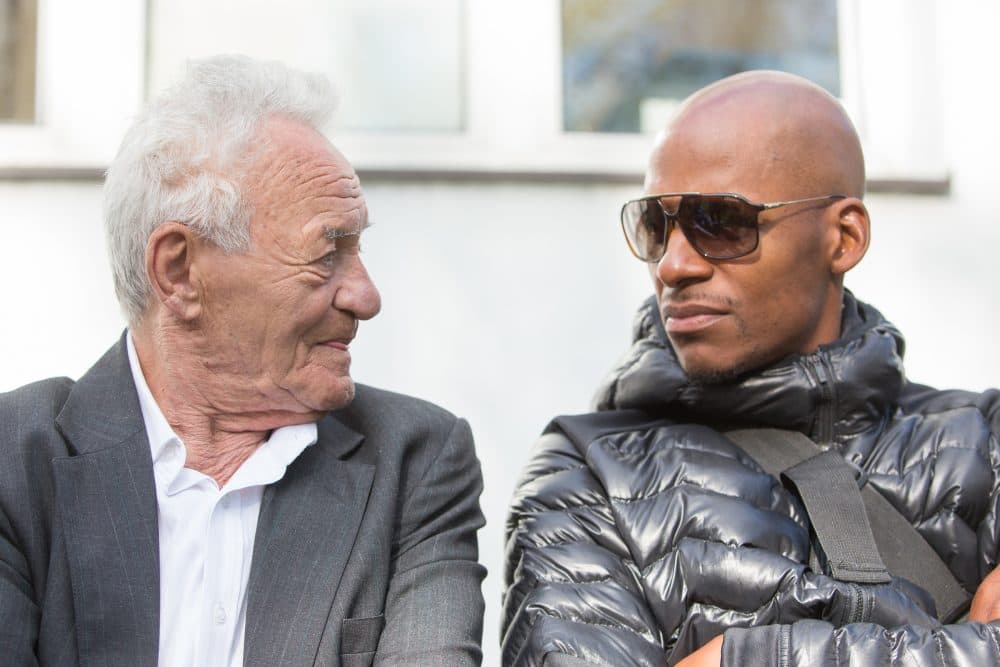 "And Moshe got to show Ray all around the Zoo — the house, exactly where he hid, the crazy conditions — and explain to him the really gruesome stories of things that he saw and what he went through to survive," Taylor says. "To watch Ray revere this Holocaust survivor, as him being the hero, and to eat up every word that he had to say, reliving his memories from hiding in the Zoo, it was very special."
Visiting Auschwitz
The next day, the group headed to Auschwitz, where over a million Jews were murdered.
"It was freezing," Allen says. "I was dressed from top to bottom, warm, and I can only imagine what the people in the camps felt like wearing only pajamas, and some of them with no shoes and no socks. And people slept on straw. And if you slept on the bottom bunk, you were sleeping on the ground.
"There's nowhere that you can hide. You're stripped of any humanity. You could tell how it just would break everybody down."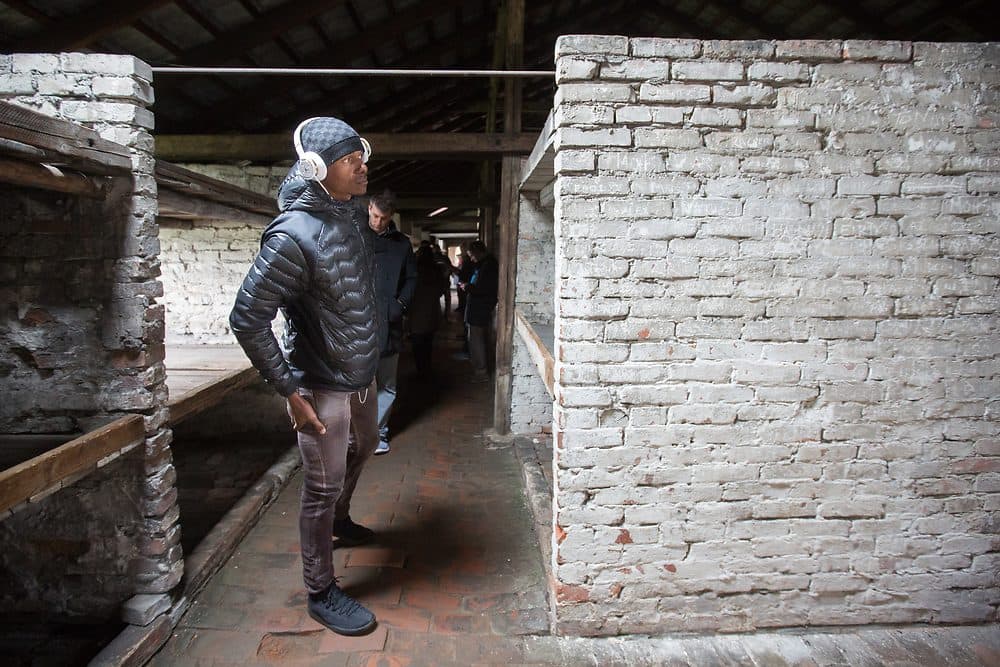 "Ray came out of Auschwitz very moved," Taylor says, "and felt a connection to Auschwitz and the Holocaust that he never had before, however much he had read, and however many museums he'd been to. Standing in those places and seeing with your own eyes, and hearing the stories in the places where they actually happened, is a completely different experience."
"I think it's a trip that every person should make," Allen adds.
But the trip wasn't over yet.
"There was a family from this small town that were excavating to extend their house," Taylor says. "And it turned out that part of the foundation of their house was built using Jewish tombstones."
"There's nowhere that you can hide. You're stripped of any humanity. You could tell how it just would break everybody down."

Ray Allen on Auschwitz
During World War II, Jewish headstones were stolen and used as construction materials. Allen and Taylor met up with a group of descendants of Holocaust survivors who rescue the desecrated stones.
"We went and studied the tombstones to see who did these tombstones belong to? What type of people, what age? Where do they come from?" Taylor says. "Ray, being a 6-foot-6 athlete, was far more useful at schlepping these stones than me. And we went straight to the Jewish cemetery where I actually had the privilege to lead the ceremony where we returned the Jewish tombstones to a Jewish cemetery where they belong.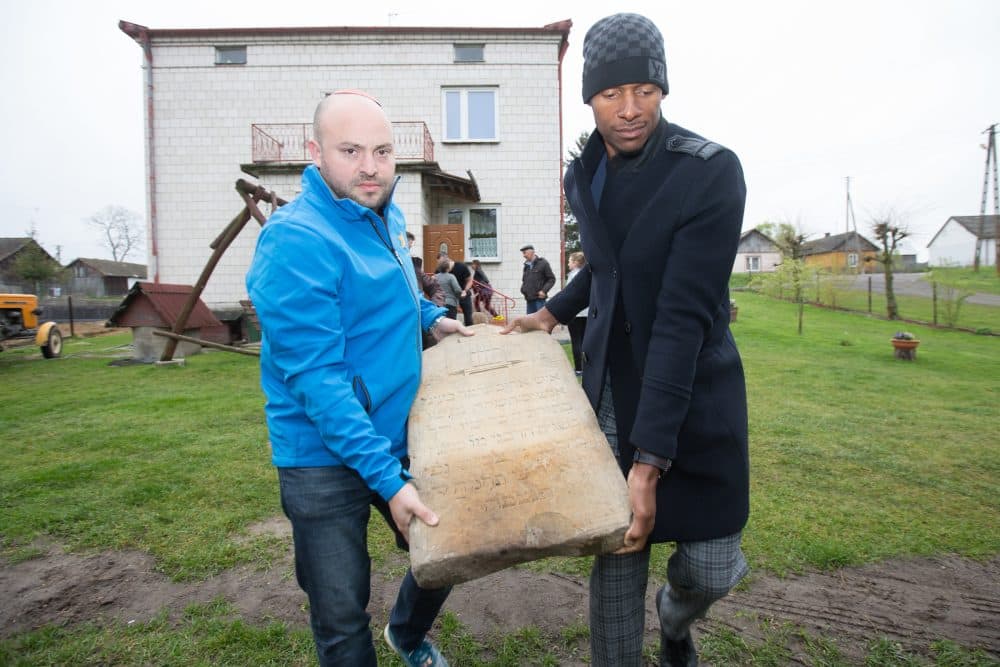 "And the family that returned them felt like they'd done the right thing. Ray felt like he'd done a great thing. And, of course, me being the Rabbi, was delighted to have these tombstones where they belong, in the Jewish cemetery."
"So we did that, and then we went to another home where a family actually hid six Jews in their kitchen floor," Allen says.
That was in the small Polish town of Ciepielów. At the beginning of the Nazi occupation, a Polish family of 10 lived in that house.
"A very, very modest, small cottage that still stands," Taylor says. "It has a floorboard in the kitchen that you can remove and see a very dark, cramped basement."
"And we actually went down into the hole," Allen says. "And the walls were wet, they were sweating down there. It was cold down there. Somebody in the town told the Nazis that they were hiding a Jewish family down there. And the Nazis came over there."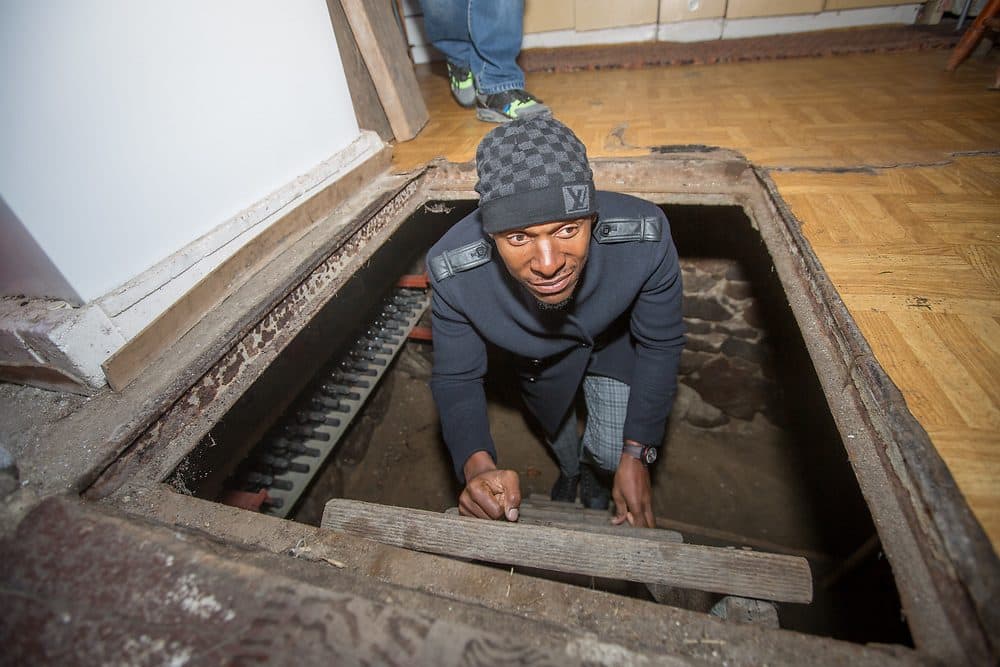 The Nazis didn't find any Jews hiding in the house. But the punishment for hiding Jews was a death sentence for an entire family. Ten family members lived in the house, but one of their little boys wasn't home. The Nazis had to make their quota of  10. So they took another little boy from the house next door.
"And they killed everybody in the house," Allen says. "And the little boy who wasn't present, he came home to learn that everybody was executed in his barn."
That little boy grew up and raised a family of his own. Ray Allen and the delegation met his grandson, who now lives in the house.
Social Media Pushback
Ray wanted to share that experience in Poland with his friends and family. He Snapchatted at each stop during his three days there. That opened him up to some criticism.
"Ray was getting a lot of pushback from friends and a lot of people on social media," Taylor says, "saying, 'Ray, why is this such a big priority for you? You're a black man who's not Jewish. Why are you focusing so much on this and doing a whole trip to Poland?' Each person that he received a message from on social media, and each person he got a call from, he took on that battle to tell them why they were wrong, and why this is absolutely what he should be doing, and why everybody needs to be learning about the Holocaust."
"Ray was getting a lot of pushback from friends and a lot of people on social media ... he took on that battle to tell them why they were wrong and why this is absolutely what he should be doing."

Rabbi Simon Taylor
After returning home, Allen wrote an essay for The Players' Tribune. In it, he said, "I didn't go to Poland as a black person, a white person, a Christian person or a Jewish person — I went as a human being". But, as a black man, he sees a connection to the Holocaust.
"Looking at this country, and looking at the tragedies that have taken place in this country and in the history of this country for black people, we're still fighting for acceptance," Allen says. "We're still fighting for equality. And I just ask that people have empathy. Even a successful black man in this country, I still get treated unfairly. I still ... there's racism toward me every single day."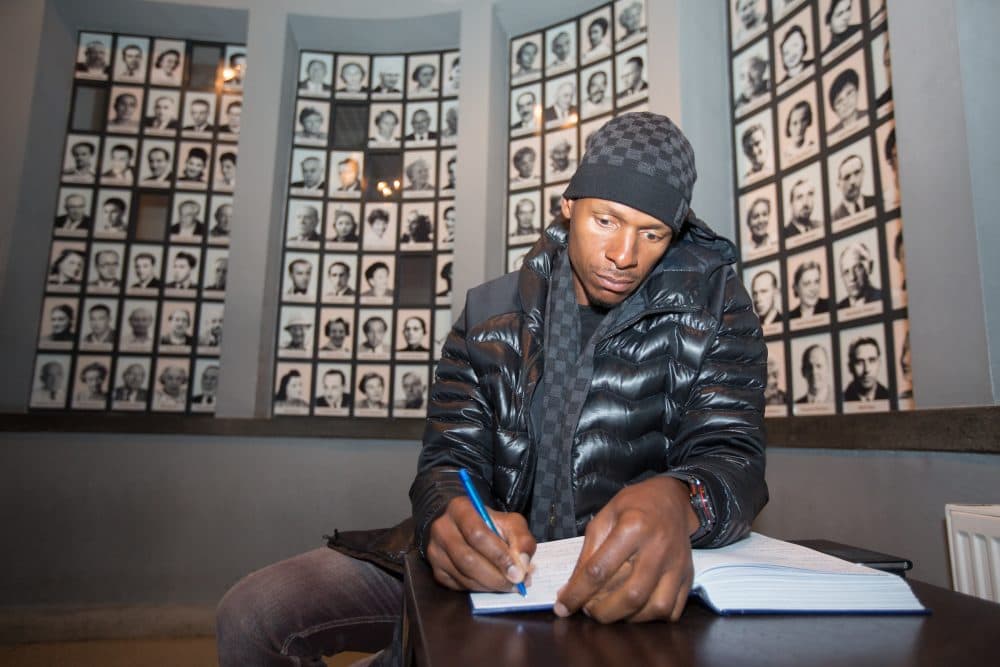 'He's So Committed To It'
Allen says he'll continue to refute those who deny and distort the Holocaust. And he wants to educate more children about it. Abril says Allen is the right man for the job.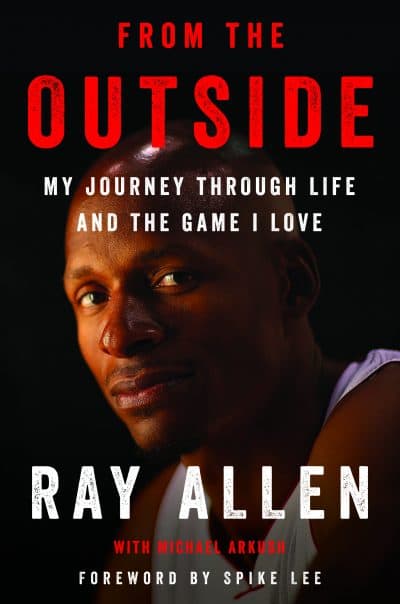 "He's a different kind of personality than most of the other people who are appointed to the Council," Abril says. "He's not the first non-Jew, by any stretch. He most decidedly is the very first NBA player to be appointed. I think he brings a power of a different voice. He brings a legitimizing perspective."
"He is an amazing guy," Taylor adds. "A well-known, famous athlete who is using his time to educate others and promote such important causes to change the world and make a difference. And he's so committed to it."
Allen also wants to go to Israel and back to Poland to learn even more about the Holocaust. And he wants to visit Robben Island in South Africa, where Nelson Mandela was imprisoned for 18 years.
"We learn what we need to do to move forward so we can make sure that certain things don't happen in this world ever again," he says.
Read more about Ray Allen's basketball career in his new book, "From the Outside".
This segment aired on June 16, 2018.