Learning To Swim With 7-Foot-5 Celtic Tacko Fall
Play
This article is more than 3 years old.
This story was re-broadcast on 9/5/2020 as part of The Best Of Only A Game.  It originally aired on Nov. 16, 2019.
Colby Cahill is the aquatics director at the Boys & Girls Clubs of Boston's Charlestown Club. She teaches kids at the club how to swim.
"We have them do bobs," she says. "We try to teach them how to float."
Colby says her students typically range in height from about 3 feet to 4 feet, 10 inches.
But a few weeks ago, Colby learned from her boss, Derek Gallagher, that she was getting a new student.
"So Derek actually came up to me, and he was like, 'We have a Celtics player who wants to come in.' And, at first, I thought they just wanted to, like, help out with the swim lesson. I didn't know that they didn't actually know how to swim until someone told me.
"So, when he came in, I literally looked all the way up. And I was like, 'Oh, my goodness. How am I gonna do this?' "
Colby's new student wasn't just any Celtics player. It was rookie Tacko Fall.
From Senegal To Boston
Tacko Fall is listed on the Celtics roster at 7 feet 5 inches. And, since signing with Boston last July as an undrafted free agent, Tacko has been more than a Celtics fan-favorite; he's become one of the most closely followed — and cheered for — basketball players in the world.
A couple weeks ago, ESPN's Jackie MacMullan wrote that "Fall's on-court appearances [at the NBA Summer League] were greeted with the same enthusiasm as the coronation of the king."
Tacko Fall is 23 years old. He grew up in Dakar, Senegal.
"Dakar is a very small city, but it's a lot of people," Tacko says. "I was right by the water. It's not an island, but it's like — I would say Dakar was like 60 to 70% surrounded by water."
Tacko says if other houses weren't in the way, he could've seen the water from his home.
Growing up his friends would go swimming.
"Oh, yeah. All the time. All the time. But my mom wouldn't — she never really let me do it," he says. "Everywhere she went, I went with her. Like, she would never let me leave her sight."
"She was just sort of worried about you? Or wanted to watch out for you?" I ask.
"Yeah," Tacko answers.
So Tacko didn't go to the beach with his friends. He never learned to swim.
But when Tacko was a teenager, he did leave his mom — to go to the United States to pursue basketball. He ended up at a high school in Florida, where he scored in the 95th percentile on the SAT and reportedly drew interest from the Harvard and Princeton basketball teams.
Tacko signed on to play basketball at the University of Central Florida in Orlando — about an hour from Daytona Beach.
His friends knew he couldn't swim.
"I never really had a shame saying I couldn't swim," he says.
Back in high school, Tacko Fall said he'd rather grow up to be Steve Jobs than LeBron James — and maybe someday he'll still work in tech.
But after graduating from UCF in May, Tacko Fall signed with the Celtics.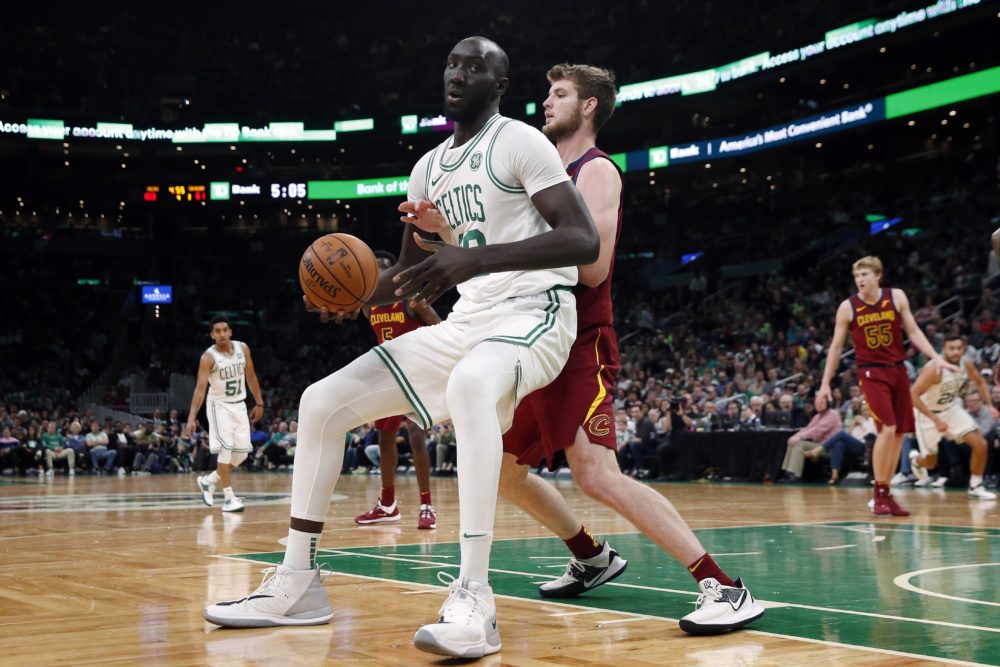 That's how he got to know Celtics Vice President of Public Relations Heather Walker — who used to work as a lifeguard.
When the two were talking before the season, she learned that Tacko had never learned to swim.
"And she said, 'I'm gonna make a commitment to get you to learn how to swim,' " Tacko says. "I said, 'Sure, I'll do it.' And that's how it started."
Raising Awareness
The Boys & Girls Clubs of Boston's Charlestown Club is located just across the Charles River from the Celtics' home arena, the TD Garden.
"You can look out one of our windows and you can see the Garden from where we are," says Gallagher, the executive director of the Charlestown Club.
Derek grew up in a housing development down the street from the club in the '70s and '80s. He made it to a lot of Celtics games.
"But I'm gonna be honest with you," Derek says. "There was a building across the street where, if you went up — a guy from Charlestown worked on the elevator — you went across, like, a little walkway, and the bull gang who sets the floor and stuff, they're all from Charlestown. So you just walked in. You had to find a seat, but we got in the building whenever we wanted. So, for years and years and years, that's what me and my friends did. So I probably owe the Celtics a few dollars."
Derek grew up going to the Charlestown Club. That's where he got good enough at swimming to become a lifeguard.
He worked his way up through the organization — going from junior staff to athletic director to program director.
And he says about 15 years ago the Boys & Girls Clubs of Boston came up with a goal: every kid in the club would learn to swim.
"Doesn't mean you're going to be doing the 400 IM on the swim team," Derek says, "but you're going to learn enough where, if you were to fall in the water, get caught in a riptide ...  you're able to swim, tread water, be able to get yourself to safety. Because that, to us, it's a life skill."
According to the Centers for Disease Control and Prevention, in 2017, drowning was the second-leading cause of injury death for children ages 5 through 9 across the U.S., and the fifth-leading cause for children 10 to 14.
And children who grow up in cities or in poorer communities usually have less access to swimming lessons and pools.
So, every day, Cahill, the Charlestown Club's aquatics director, is giving lessons.
And that presented an opportunity for Tacko Fall and the Celtics: Tacko could go to the Charlestown Club to learn to swim — and to raise awareness about drowning risk.
So, in late September, Colby's new student showed up.
'No Matter Where He Is, It's The Shallow End'
"The kids were going crazy," Colby says. "At first, they were like, 'Oh, my God. Who is this guy?' And then, once they realized who it was, they were going, 'Oh, my God. Get in the water! Come on.' "
But getting in the water wasn't so easy for Tacko Fall.
"I did not want to let go of the side of the — I was a little bit scared to drown," he says.
"Well, how deep was the pool?" I ask. "Because it would have to be pretty deep for you to drown."
"I stayed on, like, the 5-, 6-feet end," he says.
But Tacko got more and more comfortable.
"He was awesome," Colby says. "He was one of my best students, honestly."
Tacko and the kids worked on holding their breath under water, floating, paddling.
"[When] our kids see an NBA player who's looking to learn how to swim, of course they're going to want to learn how to swim," Derek says. "So, to us, this makes our job easier."
But one lesson wasn't going to be enough. So, a few weeks later, Tacko Fall returned to the pool.
Kata, an 8-year-old on the Charlestown Club's swim team, was there.
"I've never seen, like, a really tall person," she says. "No matter where he is, it's the shallow end — and it's up to his ribs. And he needed five kickboards in a stack so he can float."
Kata and her older brother, Zoltan, were happy to help Tacko out.
"He said, 'How do you swim that fast?' And, 'How can you breathe?' " Kata recalls.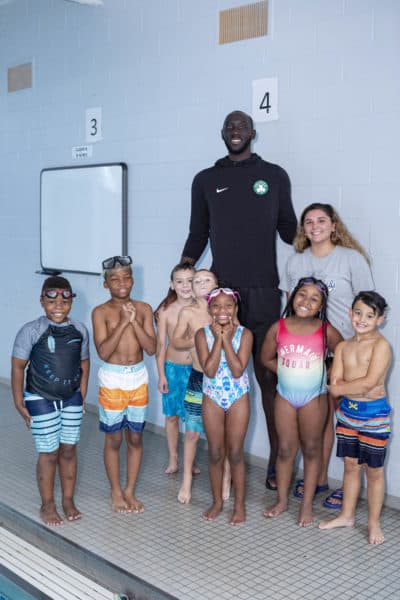 "And I told him to try pushing off the wall a little harder," Zoltan says.
Tacko says this time, for his second lesson, he was no longer scared of drowning. And he brought along two of his teammates: Grant Williams and Semi Ojeleye.
"Grant did really good," Tacko says. "Semi and I were — I did better than Semi, I think."
Colby could notice a difference in her tallest student.
"The second time, he was like jumping in," she says. "He was showing Grant and Semi what to do. And he showed Grant how to do a bob properly. And so, instead of the kids wanting to demonstrate, he was actually demonstrating for his friends."
"I think it's cool to go to the pool and not have to just sit on the side," Tacko says. "And it actually feels really relaxing. Semi and I were talking about it: last time we went to the pool, we had practice that morning. I was really sore. I'm sure he was sore, too. But, as soon as we got out, our joints and everything, I felt really good."
About a week after Tacko's second trip to the pool, the Celtics were in New York to play the Knicks. Late in the game, with the Celtics in control, Tacko made his NBA debut.
In four minutes, Tacko scored four points.
"What he's doing right now, it looks a lot better," Celtics announcer Brian Scalabrine said after Tacko's first basket. "He looks a lot better."
Could it be the swimming?
Probably not. But either way, Tacko Fall isn't going to stop now. His next swimming lesson is already on the calendar.
"I think some people are afraid to say that they can't swim," Tacko says, "but don't be afraid. Go out there and try it."
This segment aired on November 16, 2019.