Stories Of Life With Cancer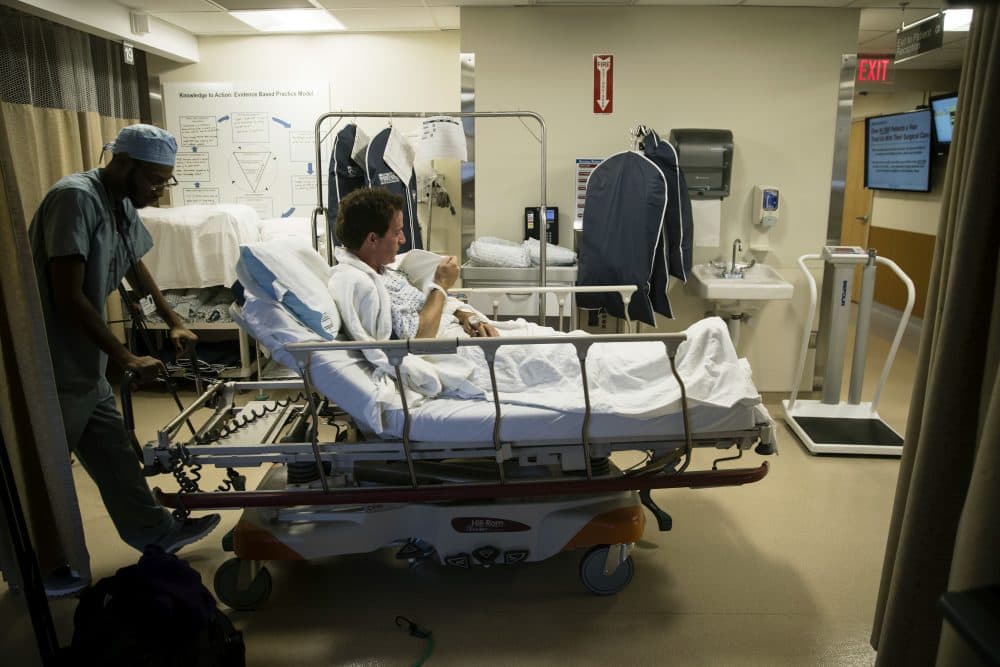 This article is more than 4 years old.
It's not a stretch to say that everyone knows somebody who has been affected by cancer. In 2018 alone, the National Cancer Institute estimates over 1.5 million new cases of cancer will be diagnosed in the United States.
Dr. David Scadden's "medical memoir" is a close-up look at this disease that's impacted so many. "Cancerland" chronicles loss, hope and life with the disease from the vantage point of someone who has treated the disease and watched his parents battle it.
"As my mother was getting a diagnosis, I was, at that point in my training, really just learning how to be an oncologist," Scadden says. "And she entered the door of the Dana-Farber Cancer Institute, her life changed utterly and, really, forever. And I realized through that how really a different reality it is for people."
Scadden shares his knowledge and experience with the disease, diagnosis and life before and after treatment. Of course, there's still much unknown about treating cancer.
"I think the problem is we still don't understand all of the reasons that cancers break through certain treatments," says Franziska Michor, professor of computational biology at the Dana-Farber Cancer Institute and a professor at Harvard University. "We don't understand why certain treatments work in some patients and not in others. And I think there's a lot of research still ahead of us that needs to delineate how we treat, in a patient-specific way, even when we have access to everything that's out there currently."
Asking questions and sharing personal experience are also part of building the collective knowledge required to continue the search for a cure. Here are some of those stories that came from Monday's second hour of On Point.
Marcia, On Point listener
"My treatment at Dana-Farber for early-stage breast cancer ended a year ago. Lumpectomy, chemo, radiation. The worst day was when I was told I was done — 'See you in 6 months!!' However, I have had access to the social work team and their wonderful support.
"I have been fortunate to be able to participate in a research trial for the use of stress reduction and mindfulness to reduce the fear of recurrence of my cancer. I learned many techniques for mindful living, stress reduction, meditation that have been hugely helpful.
"The Dana-Farber has a wonderful course for patients that also teaches mindfulness and meditation. It is a marvelous tool, and helped to focus my attention on healing. I highly recommend using integrative tools in healing and dealing with this disease."
Mike, On Point listener
"I had muscle-invasive bladder cancer, and was referred to a major cancer center for treatment a little over sox years ago. My research surgeon enrolled me in a clinical trial to see which of two surgical strategies works better. Several hundred patients needed to be treated, and the researcher has to wait for several years before he knows whether or not the new treatment works. So it often takes seven to eight years before we know if a new treatment is better. All I know is it worked for me."
Jason, On Point listener
"When I was diagnosed at a local hospital and relapsed, I wanted to go into Dana-Farber. And they kind of suggested they're going to do the same thing for you there, at Dana-Farber, that we do here at the local hospital. But I finally went to Dana-Farber, and they took a totally different approach, did a bone scan, found out I had metastasis and I've been treated since 2016 at Dana-Farber with great results.
"Going through the journey, I was alone. No one really urged me to get a second opinion, which I regret, because I would have gone to Dana-Farber earlier. And secondly, why does it take so long for the cutting-edge technology that I received at Dana-Farber to get to the local hospitals?"
Mary, On Point listener
"It's funny, I was just listening to the radio as I was leaving my six-month oncology appointment. I had breast cancer last year. Thank goodness I'm cancer-free as of May this year. But the thing that struck me with the whole experience the most was I really thought I had a strong group of friends surrounding me through the process. I was struck that a lot of people didn't know how to react. I'm probably on the younger side of most cancer diagnoses, and none of my contemporaries had ever had anybody that had cancer before. And I still have some friends that definitely came to the aid and were there, but I still have one or two friends that didn't react very well, thought I was making a big deal out of nothing, and we're still not friends to this day. And these are friends I had for 40 years."
Mary Ann, On Point listener
"I am a mentor for ABCD (After Breast Cancer Diagnosis). After training mentors, ABCD matches a mentor with a client/patient who has asked for a mentor. Matches are made based on same or similar diagnosis, hobbies, family, etc. I have mentored two women, and it is extremely rewarding for all of us. They get to talk with someone who has gone through the same thing they are facing, or are in the middle of. It's great support from someone who truly understands. Sometimes even the wonderful nurses and doctors don't "get it" because they have not experienced treatment themselves."