On The Open Letter Calling For U.S. Bishops To Resign Amid Catholic Sex Abuse Scandal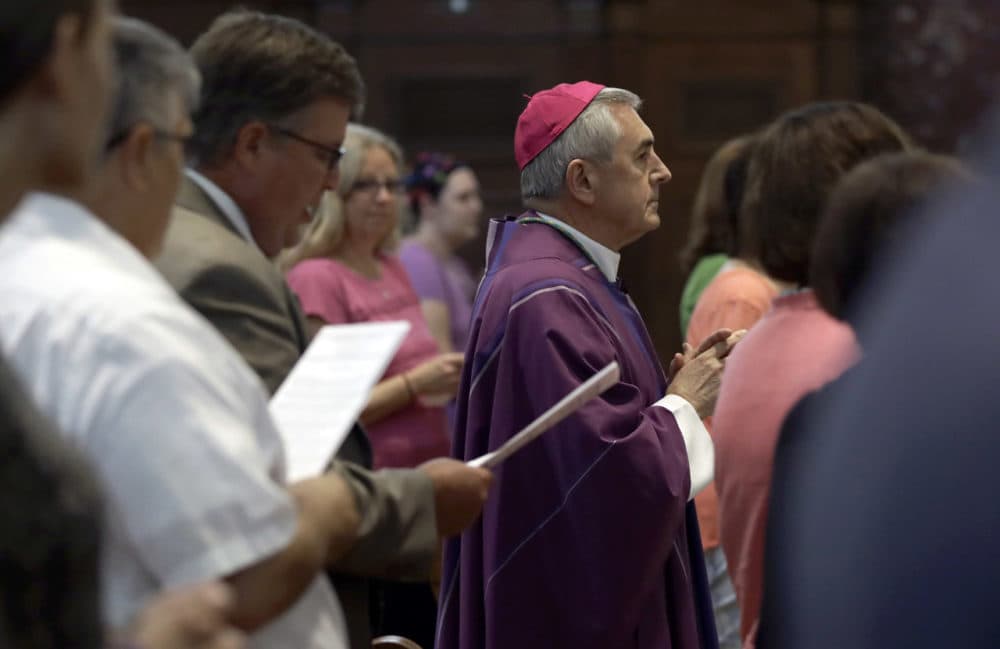 This article is more than 2 years old.
Last week, Pennsylvania Attorney General Josh Shapiro released a grand jury report documenting the sexual abuse of over 1,000 children by 301 priests across six Pennsylvania dioceses.
Susan Reynolds, professor of Catholic studies at Emory University's Candler School of Theology, is the lead author of a statement signed by more than 3,000 diverse Catholics around the world calling for "Catholic bishops of the United States to prayerfully and genuinely consider submitting to Pope Francis their collective resignation as a public act of repentance and lamentation before God and God's People."
In effect, that would mean the resignation of hundreds of bishops in the U.S., which would essentially crater the American Catholic Church.
Tuesday, On Point, Reynolds elaborated on the letter's message.
"The letter is first and foremost, I should say, a statement of solidarity with the victims and with their families," Reynolds said. "And, to the U.S. Catholic bishops, an urgent call to prayer and action."
She says U.S. bishops would be following the model of those in Chile who in May offered a mass resignation over sexual abuse cover-up.
"There's no expectation necessarily that every single resignation would be accepted, but what it would show, and what it showed in Chile, is the sense of collective culpability and responsibility to which Pope Francis points in that powerful letter that he released yesterday," Reynolds said.
As Pope Francis calls for collective accountability, Reynolds says everyone in the Catholic Church "must do their part in making sure this never happens again." However, she says, we cannot ignore how power works within the structure of the church, and that Pope Francis' letter missed the mark when it comes to acknowledging this.
"The way in which power is held, the way in which power operates, particularly in this very clericalist paradigm that we're operating under, unfortunately, in the Catholic Church at this moment calls us to recognize that power among certain groups of people, particularly those in positions of ordained power, particularly bishops, is wielded in a very pronounced way," Reynolds said.
A question that a lot of people are asking themselves in wake of this scandal, Reynolds says, is at what point do you leave the church?
"Those of us who have remained Catholic in the wake of these horrors, I think, are propelled by this recognition that the church, at its essence, is the people of God," she said. "And what the church is called to do at this moment, if the Catholic Church is going to continue to be in any way a life-giving institution, is to throw open the windows and doors and to empower laypeople in a way that is structural and important and significant."