Serena Williams And The Inherent Politics Of Tennis
Can we separate politics from sports? With what identities is the sport of tennis traditionally associated? Wednesday, On Point, we discussed race, gender and tradition in tennis in light of recent news about Serena Williams and her "catsuit" outfit from the French Open earlier this year.
Just last week, days before the start of play at the U.S. Open, the president of the French Tennis Federation, Bernard Giudicelli, said in an interview that Williams' catsuit would be banned at Roland-Garros in future years as part of a new dress code because "one must respect the game and place."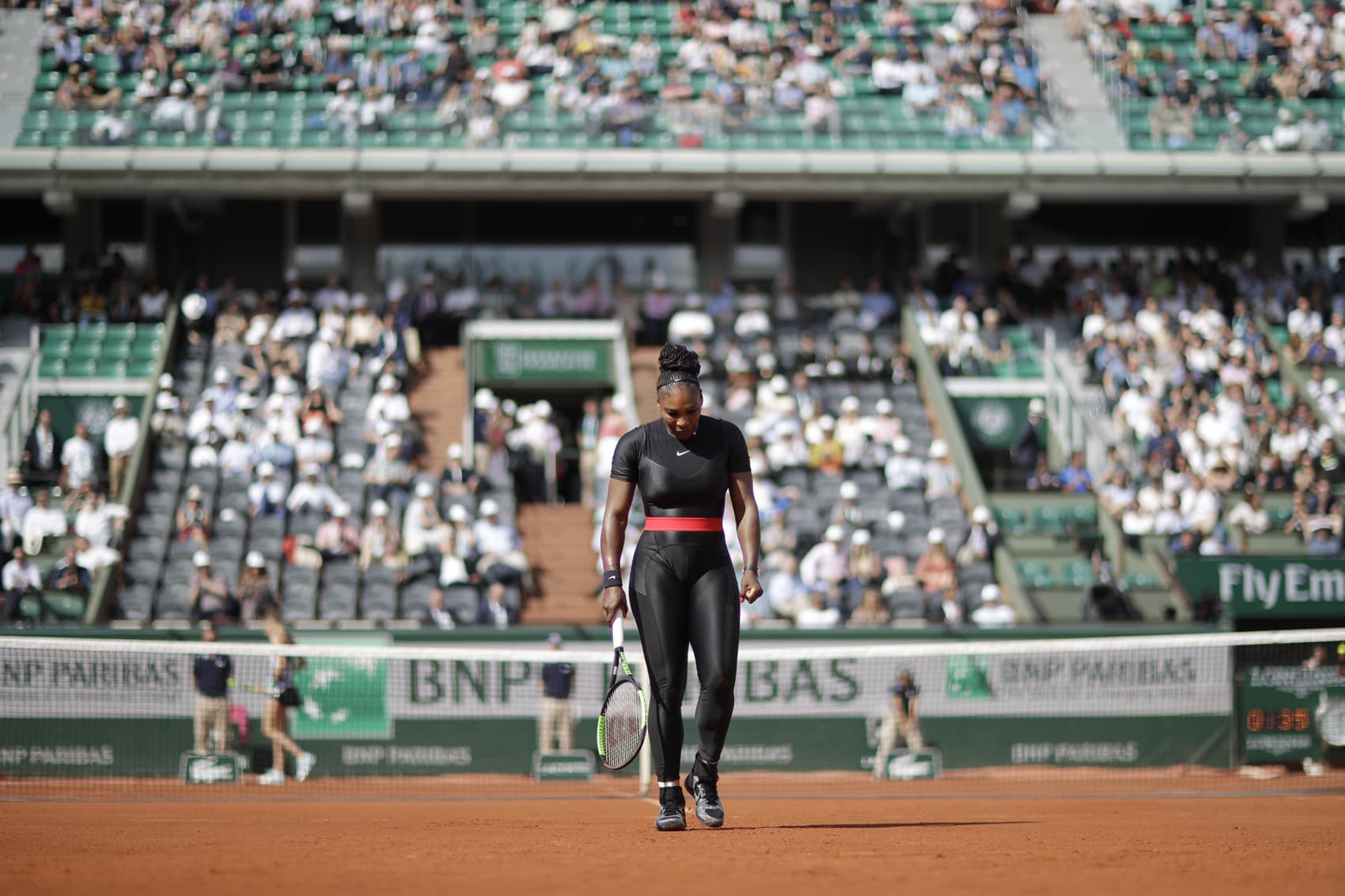 Williams wore the catsuit, she says, because of serious health reasons, to help with blood clots. Williams has had to deal with the medical issues following the birth of her daughter.
The French Tennis Federation did not give any further explanation about exactly why the outfit was banned. When contacted by On Point, the federation declined an interview and issued a statement:
"We at the French Tennis Federation are concerned that this topic is getting overexposed during the US Open. This fortnight should be all about the tennis and the US Open, specifically, and we'd like to avoid creating distractions at the moment."
The ban has opened up speculation from people around the world: Is this racism? Is this sexism? Or is it a defense of certain traditions in tennis?
"You have Venus and Serena, or myself, coming and kind of shaking things up — it makes people nervous. I mean, point blank."

Zina Garrison
Retired professional tennis player Zina Garrison put this controversy in context.
"It's always been a country club sport, basically," she said of tennis. "And so someone like myself, came from a public park here in Houston, Texas, it was just kind of unheard of for a public park person — even though Billie Jean King came out of a public park and also Chris Evert. But for a black tennis player to come, and all of the sudden you're beating all of these country club [players], where it's an elite sport and it's only supposed to be played by the elite people, and how dare someone come in?
"So you have Venus and Serena, or myself, coming and kind of shaking things up — it makes people nervous. I mean, point blank."
Katrina Adams, president and CEO of the United States Tennis Association (USTA), also spoke to the experience of black tennis players, describing the sense of responsibility she and others bear following in the footsteps of players like Althea Gibson, who broke the international color barrier in the sport, and Arthur Ashe.
"Every time we step on the court, we are carrying the weight of an entire society of people and trying to accomplish things," Adams said. "Talking about breaking the glass ceilings, any time that we are trying to accomplish or achieve anything, we have to work twice as hard."
It's for reasons like these that sports cannot be separated from politics, argues Sarah Jackson, professor of communication studies at Northeastern University.
"It simply is not possible for something that's sort of based in all kinds of tradition," she told On Point. "And when people use the word 'tradition,' they mean the status quo. Somebody built and made that tradition, and often the people who created the rules of the tradition were the top of whatever the social hierarchy in that particular sport or society was.
"And so when a black player like Althea Gibson or Arthur Ashe or Serena Williams becomes dominant, that in and of itself is political. They might not themselves be intentionally making a political statement. But there's no way to avoid the fact that what they're doing balks the norms of race and racism of the sport and of the society."
An interesting point about breaking the status quo in the case of Venus and Serena Williams: The sisters were pulled out of the junior circuit at young ages and did a bulk of their development outside of the USTA system.
"I used to get phone calls at 6 o'clock in the morning from Richard Williams all the time when I was on the circuit," Garrison told On Point. "And he would ask me questions. They weren't playing junior tournaments or anything, and he kept asking me if they should play or not. And I was one of those people that said, 'No. [Venus] shouldn't play. She needs to keep working on her fundamentals.' She was already good enough. When she came out with that first tournament in Oakland and she won her first match, it just proved that — you know, everybody's a little different, but in that respect I knew all of the things that she was going to have to go through, and sometimes going through 'the system' brings along other things that will take away their confidence.
"Sometimes you have to look at the kid, you have to look at the situation, you have to look at the culture that they come from. In that particular situation, is was the right choice for them because, when I first saw them from 7 and 8, you knew that they were going to be great."