An Unbridgeable Divide? Pennsylvania's (Ongoing) Story Of Gerrymandering And Redistricting
Pennsylvania is key to American politics. It's a state that helps pick presidents, of course, and it's a microcosm that reflects the country as a whole. It's populous with a mix of urban and rural voters. The electorate is evenly split between Republicans and Democrats. President Trump won Pennsylvania by less than 45,000 votes out of the 6 million ballots cast here in 2016.
So it would make sense to expect that same even split in the state's Congressional delegation — half Democrat, half Republican. But that's not the case. The GOP held 13 out of Pennsylvania's 18 congressional seats after the 2016 election cycle. It was one of the most gerrymandered states in the country.
That changed this year. The state supreme court struck down the old district map and made a new one. It wipes away the 13-5 GOP advantage. Suddenly, more than a half-dozen of Pennsylvania's congressional races are newly competitive. That could mean major change in the midterm elections.
To analyze Pennsylvania's adventures in redistricting, and its impact on American politics, we started in the state's old 7th District, at a parking lot, in King of Prussia, Pennsylvania.
"This district was known as Goofy kicking Donald Duck," said Kate Doyle, Montgomery County lead for Fair Districts Pennsylvania, a nonpartisan group that's pushing for permanent change in the state's districting rules.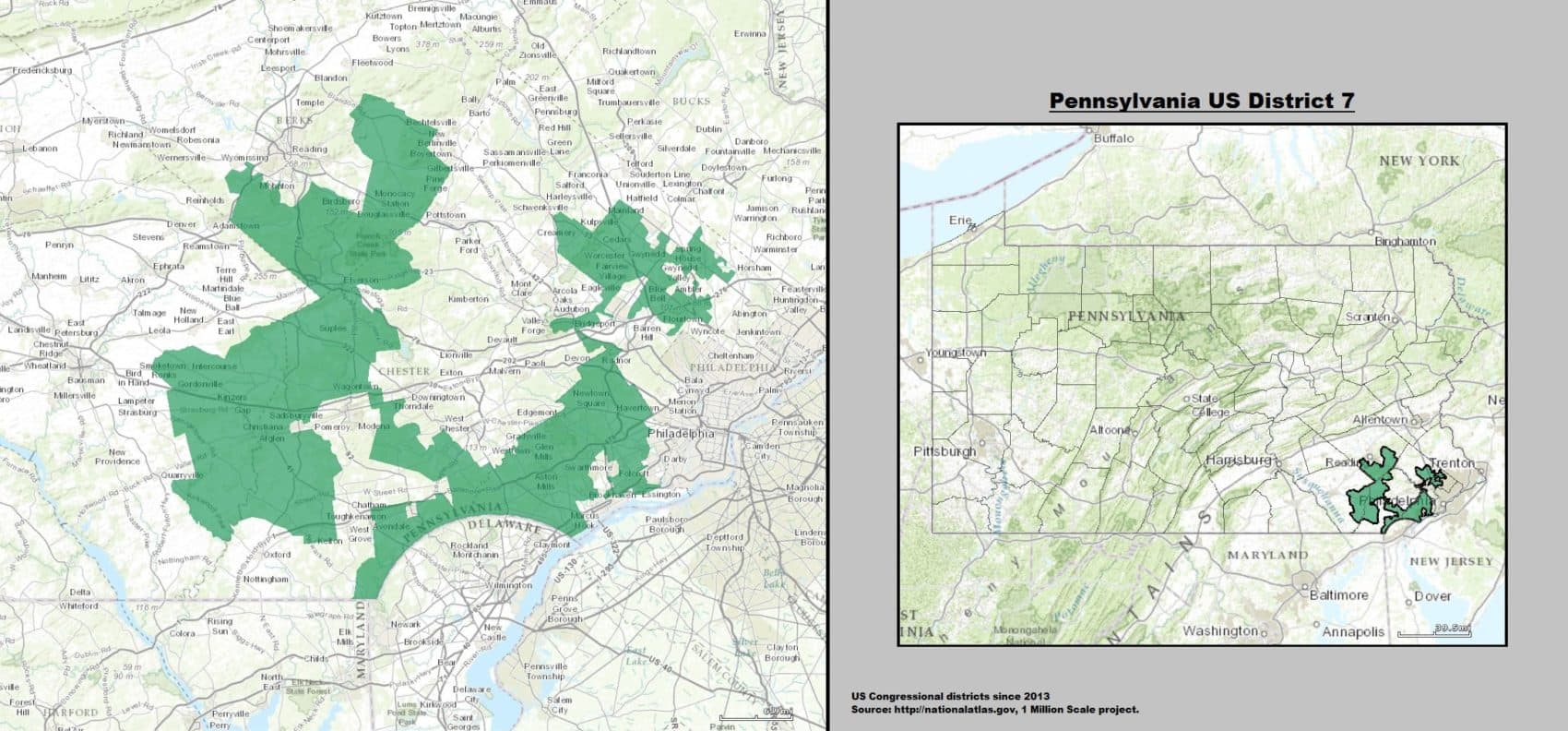 A strange name, but that's what the extreme gerrymandered shape of the old 7th looked like. A Disney brawl.
The parking lot in question is outside Creed's Seafood & Steaks, squeezed between the Pennsylvania Turnpike and County Line Expressway.
"Well, this parking lot is a little infamous, when it comes to the previous district of Pennsylvania," Doyle said. "It is a connecting point. It is approximately 170 meters long."
That's about 550 feet. The old 7th spread along contorted twists and turns, stretching 50 miles from the Philadelphia suburbs west past Reading, Pennsylvania. But at this pinch point, Usain Bolt could cross the 7th District in about 16 seconds.
Doyle said legislators drew the map this way because the districts have to be contiguous.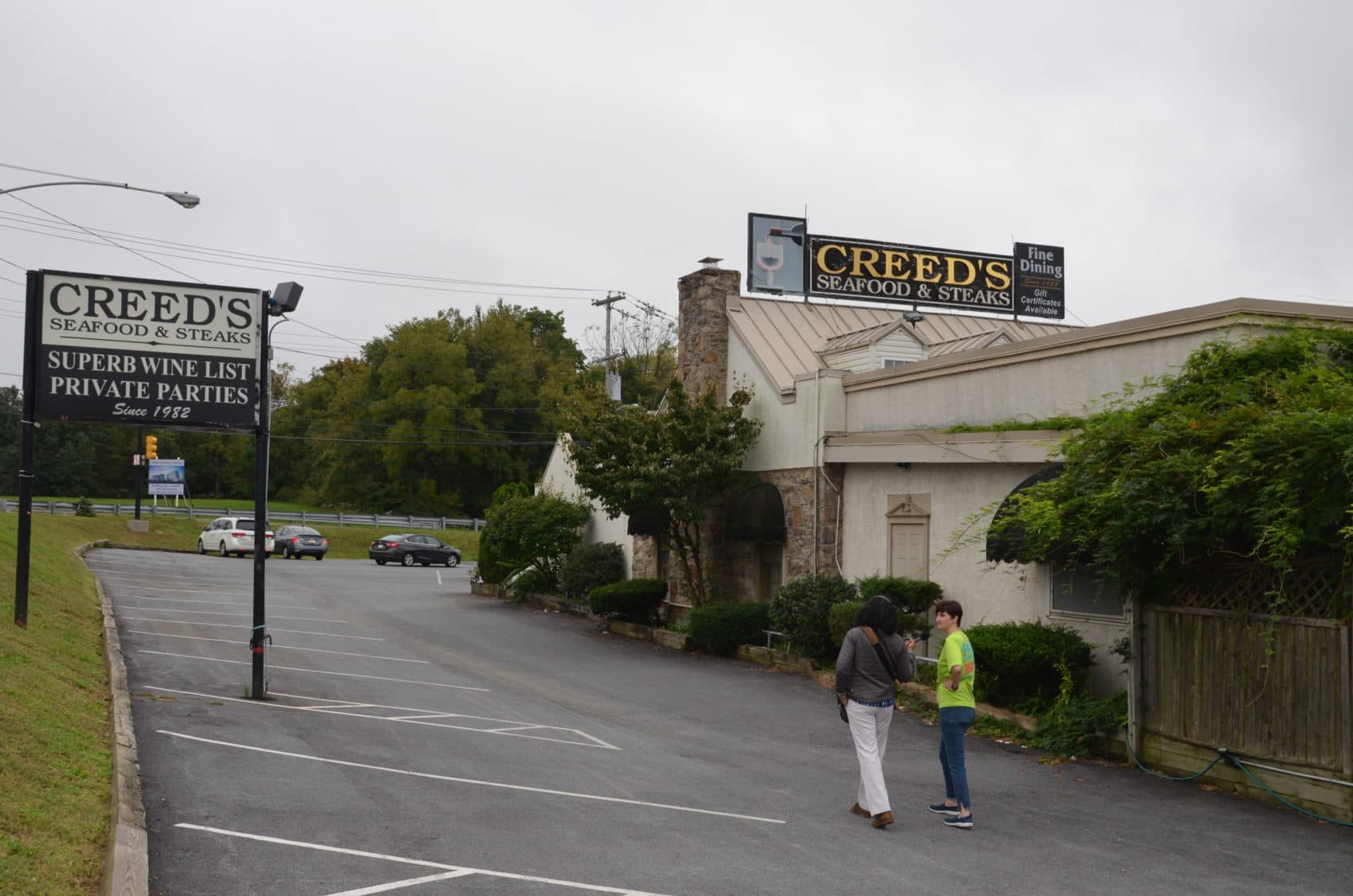 In other words, no matter how strange the shape, the district has to be a single unit. That has been a long-standing rule in Pennsylvania, said Fair District PA's Rich Rafferty. Rafferty and Doyle both emphasize that gerrymandering has been a practice beloved by both parties, but the huge difference now — the availability of voter records and vast amounts of consumer information. Rafferty says the combination of big data and sophisticated mapping technology allows district lines to zigzag from house to house, making certain seats so safe, the opposition falls away.
"57 1/2 percent of all elections offered one choice," Rafferty said. "These are general elections, not primaries."
"There's no one, except for a handful of legislators, who say, 'Hey that's great! Let's not do a thing. I think this process is working.' "

Kate Doyle, Fair Districts PA
"So why would you allow a legislator to pick their voters?" Doyle asked. "And that's what we talk about. We don't get to pick our legislators."
Earlier this year the Pennsylvania State Supreme Court struck down the old 2011 congressional map, and put a temporary new map in its place. Temporary because the court's ruling didn't alter the rules around how districts can be mapped in the future. Doyle said that means the new more competitive districts could disappear after the 2020 census.
"There's no one, except for a handful of legislators, who say, 'Hey that's great! Let's not do a thing. I think this process is working,' " she said.
And Doyle says unless Pennsylvania law is changed, gerrymandering remains a threat to the health of Pennsylvania's democracy.
"The dysfunction we have in our government at both the state and federal level occurs because of gerrymandering," she said. "No matter what your topic of interest is, if you can't get your bill passed, if legislators are preselecting their voters with the intent of knowing how that district is going to go, then I have no voice. And it needs to change."
To The New PA-07 In Lehigh Valley
Gerrymandering isn't the only driver of America's hyper-polarized politics. But it does drown out the influence of moderate voters. Could new voices of moderation speak louder in Pennsylvania's new districts? Here's what voters told us in the Lehigh Valley, north of Philadelphia.
There was pumpkin pastry and pulled pork on the table at the Chapman Quarries United Methodist Church. It's in Pennsylvania's brand new 7th District in the Lehigh Valley. On this day, there's a meet and greet for Republican candidate Marty Nothstein. A bulletin board hangs on one of the wood paneled walls, reminding members to keep Jesus at their core. In the middle of the room, a volunteer has set up a life sized cut out of President Trump giving a thumbs-up.
Ryan Rogers took a quick break from the meet and greet. He's is a grassroots coordinator for the Nothstein campaign.
"It's the life of a campaign staffer," Rogers said. "A lot of quick meals."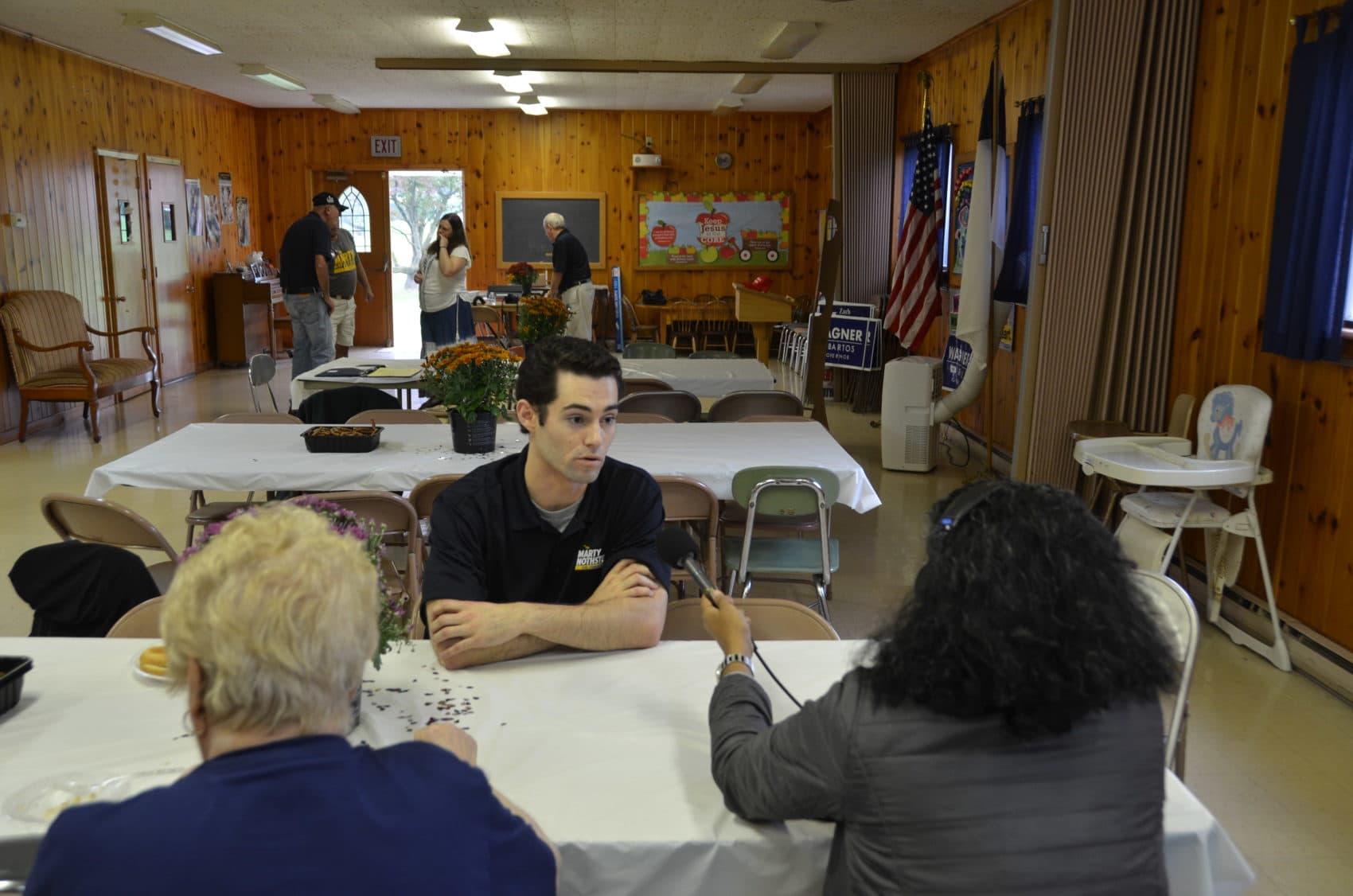 The Lehigh Valley was previously split into a long lobster shaped district that captured heavily republican areas to the west near Harrisburg. That made it safe for former Republican Congressman Charlie Dent, a moderate who never faced a serious challenge. Dent retired this year saying basic governing had become "far too difficult" in Washington.
Dent's old district voted for Donald Trump by a margin of eight points. Rogers said the newly drawn district favored Hilary Clinton by just one point, making it one of the most competitive races in this year's midterms.
"I like to think of the Lehigh Valley as a microcosm of the United States," he said. "Blue dog Democrats to Trump Republicans. Rural areas. Urban areas. Suburban. It's just going to be a battle, and we know that, and we feel excited by it."
Rogers calls Nothstein a different kind of onservative, primarily because his candidate won a cycling gold medal at the Sydney Olympics. Nothstein also advocates for strict term limits. He falls in line with the GOP on key issues — low taxes, anti-abortion, pro-Second Amendment rights, calling for an end to the Affordable Care Act. He's also a farmer and a small business owner. That's what excites Dorothy Niklos. She organized the church meet and greet.
"He's not a pie-in-the-sky conservative," she said. "There are people who are just ideologues. And he's not an ideologue. He is a working man."
So I asked Niklos a question: Does she think political compromise may be possible in her new balanced district?
"You will always have a divide there," she said. "Because you're having the patriots versus the socialists. And the globalists."
Niklos said there's another divide. She thinks Democrats are encouraging a sense of victimization in women. Other women at the table nodded in agreement.
"Poor Doctor Ford. I think she was victimized," Niklos said. "But she came across as 'poor me.' That wouldn't been our response. Not by any means. We refuse to be victims. We, we would have been angry."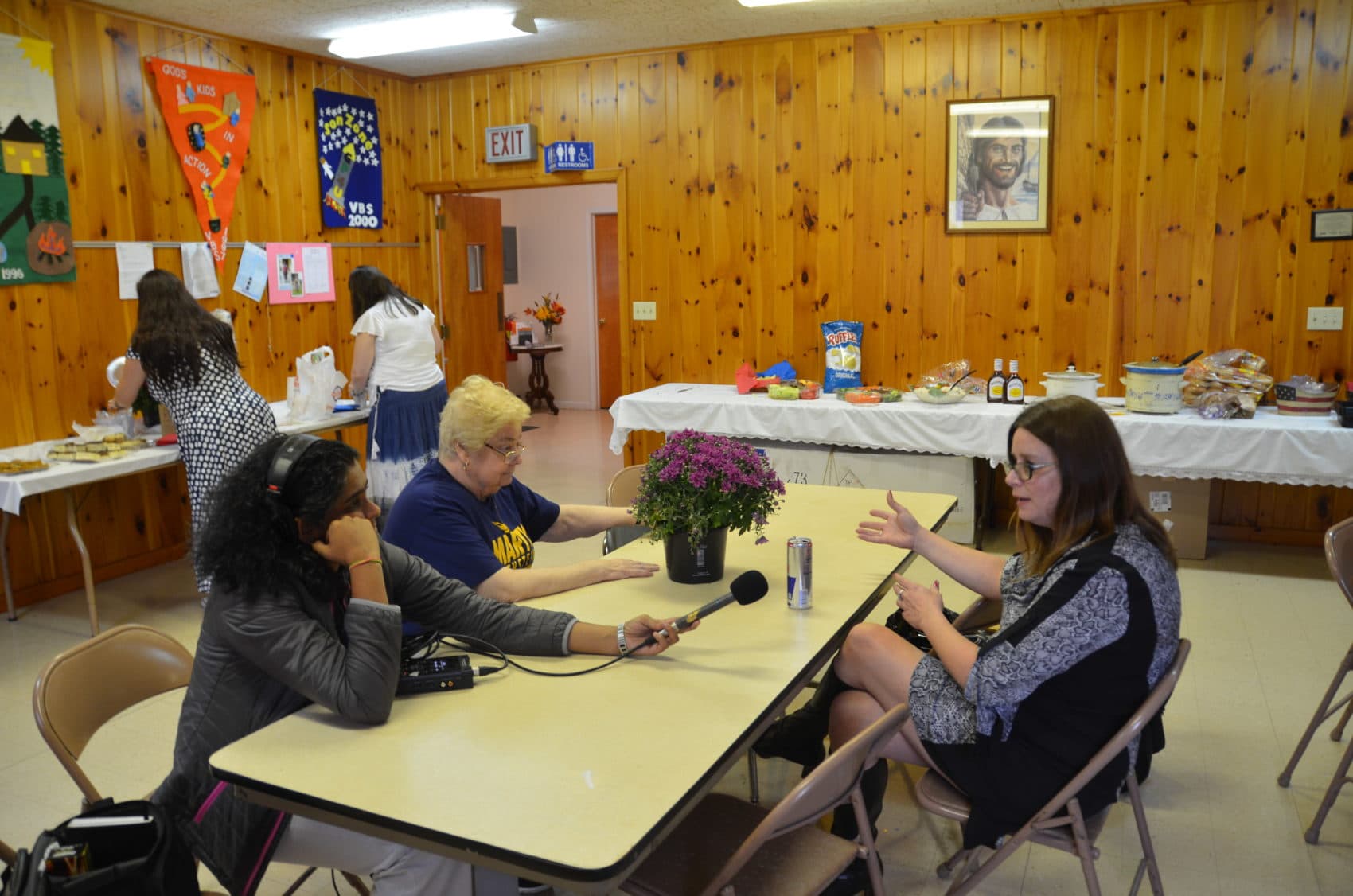 And yet, Niklos doesn't approve of the fact that millions of women, and men, are angry right now. And they're taking action. They're marching in the streets and protesting on Capitol Hill. But to Niklos, that kind of anger isn't "becoming." It's not "viable," she says.
Rogers, Nothstein's campaign staffer, put it this way.
"I think it ultimately will come down to a contrast of candidates," he said. "Our whole thing has been 'results versus resistance.' "
"Running in the streets wearing silly pink hats does not make a woman, a woman," Niklos said.
"I like to think of the Lehigh Valley as a microcosm of the United States."

Ryan Rogers, grassroots coordinator for the Marty Nothstein campaign
'It Is Time For Them To Leave'
The Lehigh Valley is a microcosm of America — of its diversity and its polarity. Because on the very same day, just 15 miles away, at the IBEW Local 375 Union Hall in Allentown, the mood was completely different.
Pennsylvania Democrats rallied for their candidate, civil litigator Susan Wild. Wild won a hard-fought primary against several men, positioning herself as the candidate to lead the district in the direction she believes the Democratic party wants to go now — left of center, pro-universal health care, pro-reproductive rights, anti-Donald Trump. The state's only black representative, Rep. Dwight Evans, D-Penn., told the crowd it matters that Wild is a woman.
"And I say that to you because we have the chance of doing something we haven't done in Pennsylvania, is electing four women in this delegation," Evans said to the attendees of the rally. "And don't take that lightly. And I say that to you because it's reflective of Pennsylvanians."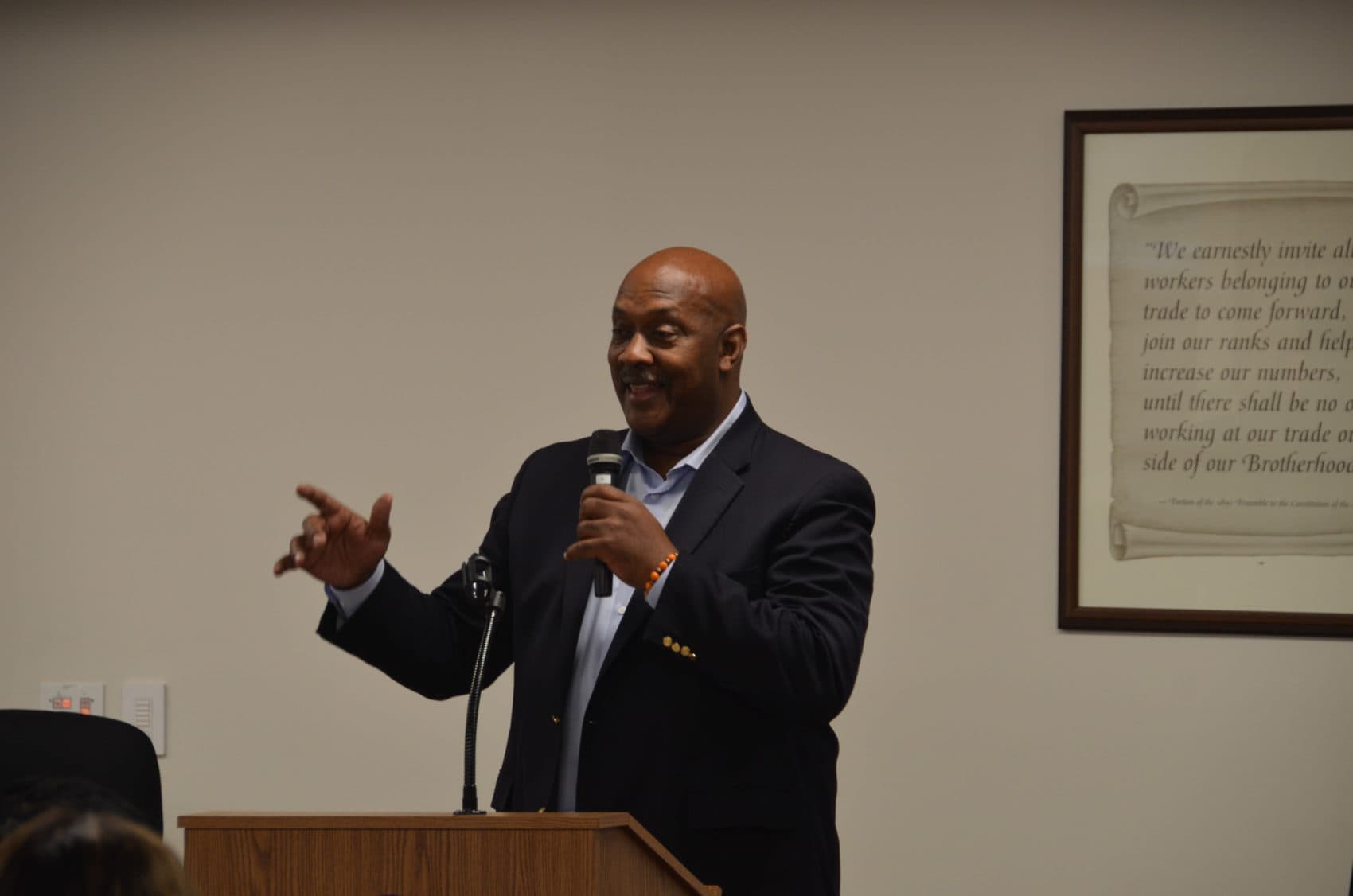 Mariska Vanaalst, a volunteer for the Wild campaign, said "it really is shocking" to have no women in the Pennsylvania delegation at the moment.
"The fact that we've never had a female governor, we've never had a female senator — I mean, it's unfathomable," she said. "And now it's been several years since we've had any female representation in Washington."
Vanaalst lives in Emmeaus. She calls it a swing town in a swing district in a swing state. And where Republican voter Dorothy Niklos believed Democratic anger was unbecoming of women, Vanaalst sees it as the only kind of viable activism right now.
"Yeah, especially with the fact that Kavanaugh was just confirmed, it's really a dangerous time for women," she said. "And I mentioned I have two girls, just the fact that won't have bodily autonomy as they get older. We need to elect democrats to be sure we can protect those rights."
But what do these women think of Niklos' view that the Democratic party is encouraging a sense of victimization among women?
"No. Women are not feeling like victims," said Danielle Shackelford, treasurer for the Lehigh County Democratic Party. "It is time for us to stand up, stop sitting in the background and go out and fight for the things that we believe in.
"We have a lot of older men who have been in their positions for many years, way too long. They have placed into policy conservative views that they have. And the country is so diverse, they don't represent us. They don't represent our values. And therefore they must go. It is time for them to leave."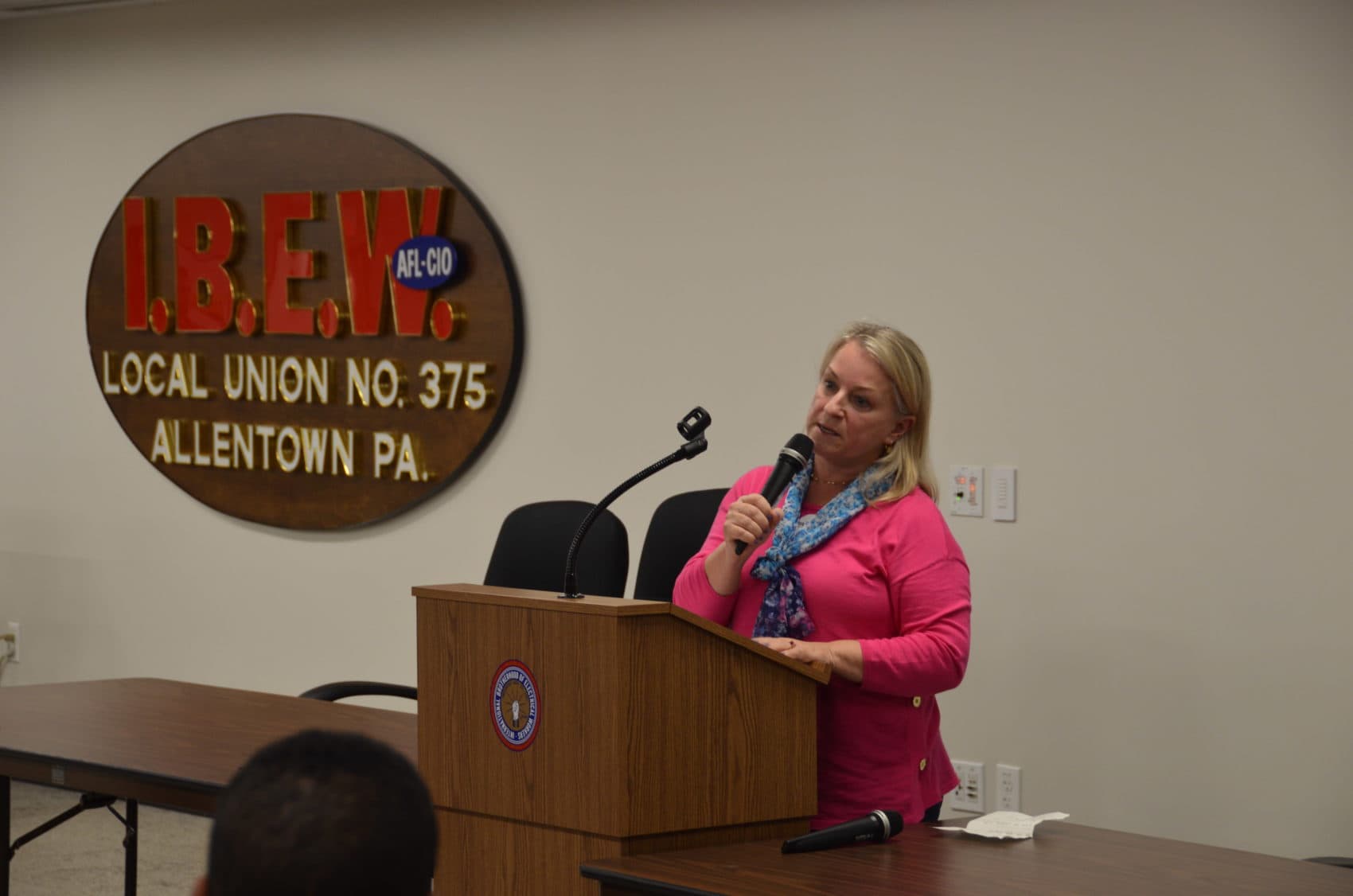 Two campaign events, two political parties, the same day. Just 15 miles apart — showing that even in one of Pennsylvania's most politically balanced districts, neighbors in the Lehigh Valley may still be living across an unbridgeable divide.
This segment aired on October 8, 2018. The audio for this segment is not available.