Week In The News: National Emergency, Parkland, Amazon New York And More
46:42
Play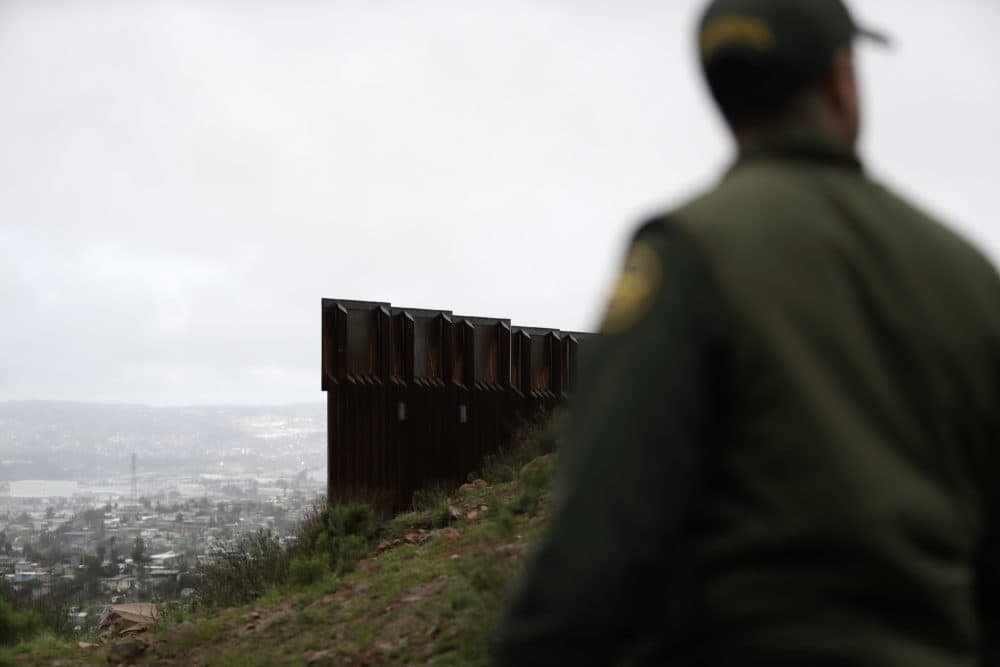 This article is more than 2 years old.
"'President Trump will sign the government funding bill, and as he has stated before, he will also take other executive action — including a national emergency — to ensure we stop the national security and humanitarian crisis at the border,' White House press secretary Sarah Huckabee Sanders said in a statement. It came before the Senate passed a measure to keep the government open past a midnight Friday deadline.
"'The President is once again delivering on his promise to build the wall, protect the border, and secure our great country,' she added, as Trump prepared to approve legislation allocating about a quarter of the money he sought for barriers on the U.S.-Mexico border.
"If Trump follows through, lawmakers and the White House would dodge their second partial shutdown since December, sparing about 800,000 federal workers from more financial pain. But the emergency declaration could quickly spark lawsuits challenging the president's authority, creating yet another fight over his key campaign promise."
NPR: "Amazon Drops Plans For New York Headquarters" — "Amazon will no longer build new headquarters in New York City after weeks of local politicians, union leaders and community organizers protesting the financial incentives promised to one of the world's most valuable companies.
"The decision to abandon the planned New York HQ is a big reversal of its much-hyped decision to build a campus in Queens after a highly publicized nationwide search that lasted over a year.
"On Thursday, an Amazon spokeswoman told NPR that the company plans no further negotiations with city and state officials in New York, where the firm has faced scathing criticism in recent City Council hearings. One key issue was the almost $3 billion in state and city tax incentives Amazon was slated to receive in exchange for creating some 25,000 jobs."
New York Times: "McCabe Says Justice Dept. Officials Had Discussions About Pushing Trump Out" — "Andrew G. McCabe, the former deputy F.B.I. director, said in an interview aired on Thursday that top Justice Department officials became so alarmed by President Trump's decision in May 2017 to fire James B. Comey, the bureau's director, that they discussed whether to recruit cabinet members to invoke the 25th Amendment to remove Mr. Trump from office.
"The dire concerns about the president's actions also prompted Mr. McCabe to order the bureau's team investigating Russia's election interference to look into whether Mr. Trump had obstructed justice by firing Mr. Comey. The F.B.I. also began examining whether Mr. Trump had been working on behalf of Russia against American interests.
"Mr. McCabe's explosive remarks were made in an interview with "60 Minutes" scheduled to air in full on Sunday. He was promoting his memoir, 'The Threat: How the F.B.I. Protects America in the Age of Terror and Trump,' which will be released next week."
The Herald Sun: "Trump and Colombian president huddle on how to get aid to Venezuelans" — "President Donald Trump and his Colombian counterpart — the two Western Hemisphere leaders with the most at stake in ousting Nicolás Maduro — huddled Wednesday at the White House to search for a way to get millions of dollars worth of humanitarian aid into Venezuela.
"According to a senior administration official and people familiar with the discussions, Trump and Iván Duque talked about how to enlist regional leaders to break the military blockade stopping the aid and turn Maduro's loyal generals against him.
"They also discussed how the United States can continue supporting Colombia, which is Washington's most important ally in the fight and faces the brunt of the humanitarian crisis that is spilling out of Venezuela."
Tania Ralli produced this hour for broadcast.
This program aired on February 15, 2019.