Parkland, 1 Year Later: Gun Violence Continues To Plague Young U.S. Population
Play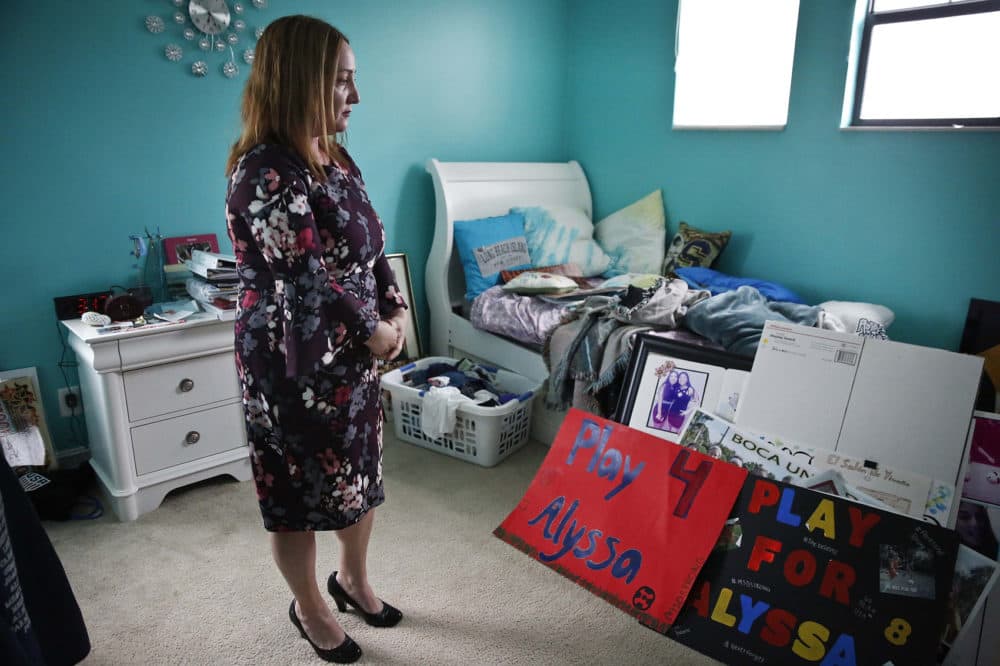 This article is more than 3 years old.
With Meghna Chakrabarti
In one year since Parkland, more than 1,000 young people have died in gun violence. We talk to the reporters who counted the numbers and tell the stories.
Guests
Caitie Switalski, Broward County reporter for NPR affiliate WLRN in Miami. (@caitielee0917)
Caitlin Ostroff, data reporter for the Miami Herald and McClatchy. (@ceostroff)
Akoto Ofori-Atta, managing editor at The Trace. (@KO_616)
Auhjanae McGee, student at Annapolis High School in Dearborn Heights, Michigan. Editorial editor for the school's paper, the Cougar Crier. She wrote 19 obituaries for the "Since Parkland" series.
---
Want more from the show? You can get messages right from our hosts (and more opportunities to engage with the show) sent directly to your inbox with the On Point newsletter. Subscribe here.
---
'Since Parkland': A Local Journalism Collaboration
This is why local news matters
By Kristin Roberts, McClatchy East Region editor
Parkland traumatized South Florida. And for a moment, it felt like an event so heart wrenching and terrifying that it would traumatize people nationwide.
But that moment passed. Our colleagues at national news organizations moved on to other important issues and Parkland remained a story about local students and parents, local schools and teachers, local law enforcement and lawmakers.
It wasn't the only one. In cities as far apart as Boston and Macon, reporters are regularly assigned stories about local crime, and they write the sad stories of children and teens who are the victims of gun violence.
As news organizations, it's our responsibility to throw reporters, videographers and photographers at a breaking story about the safety and security of our communities. It's also our responsibility to lift up and remember that often, the story isn't only this
one horrifying event; it's the accumulation of horrifying events that is the tragedy.
That's what happened here. The 30 news organizations that together make McClatchy stretch from Miami to Charlotte, Kansas City and on to Sacramento. We work closely together — with senior editors sharing strategy and resources and beat reporters sharing ideas and even sources. And it's because of collaboration within that network that we are able to stitch all of these local deaths together to reveal a story that is relevant nationwide.
Without reporters in cities and towns around America, and without organizations that tie them together, who would know that the death in Boston of Fausto Sosa had anything in common with Jeremiah Ascencio in California or Terale Claridy-Vaught in North Carolina. And without the reach of a news company such as McClatchy, who could put these facts before this many people, simultaneously, online and in print.
That's the impact of local reporting. That's the value of local news.
From the Miami Herald to the Washington D.C. Bureau, Regional Editor Kristin Roberts is responsible for the East Region newsrooms serving millions of readers across multiple platforms owned by McClatchy.
---
Interview Highlights
On the scene in Parkland, Florida, today
Caitie Switalski: "Broward County Public Schools are hosting a day of service, and particularly at Marjory Stoneman Douglas High School, it's a half-day that's optional for service. So students that do come to school are doing things like serving first responders breakfast and volunteer projects. But it is entirely optional today and tomorrow, and a lot of families are choosing to keep their kids home and stay home together almost hunkering down.
"It's hard to put into words because it is an impossibly hard day that just culminates what has been the most difficult year this community has seen. And it's it's hard to show how difficult it really is for people here to deal with, but mental health resources are still very much needed a year later. Trauma, PTSD, healing and coping are the main focuses of this community right now. And they're doing it in all different ways, whether it's through continued activism or through quiet reflection in a community that's really been trying to come together in the face of a lot of division over the past year. It's incredibly difficult."
"There really isn't a lot of federally funded gun research."

Caitlin Ostroff
On compiling the data for the "Since Parkland" series
Caitlin Ostroff: "The Trace had started compiling this information. There's a nonprofit research group called Gun Violence Archive, and they basically take news articles and they start compiling this information of all people who have been shot or killed at any point in time. They've been doing it since at least 2014, is where we got data going back through. And so The Trace started compiling that and we started sharing this information between the two news organizations. We went through at the Herald and said, 'OK, let's start filling in gaps where we can because sometimes the name of the victim isn't initially known, maybe the age is a little bit off.' And so we started going through and saying where can we get police reports for this? Where can we confirm this information? Where can we get more and what can we pull out of this information in terms of the methods in which these happened and why they happen? Because one of the things that we went into this knowing was there really isn't a lot of federally funded gun research. And so we wanted to see what insight we could get from this data of one year in the aftermath since Parkland."
On what we learn from this series
Akoto Ofori-Atta: "One of the big takeaways is that school shootings account for a very, very small percentage of gun deaths among young people. In our set, less than 1 percent of the victims were killed in a school shooting. The other big takeaway is that kids in this country are getting caught in the crosshairs of their parents' and guardians' domestic disputes and losing their lives in domestic violence situations. Many, many kids are gaining access to unsecured weapons and killing themselves that way. Quite often, kids are killing other kids with unsecured weapons, accidentally. And then, of course, we have the gun violence that plagues neighborhoods and cities across the country, like Miami and St. Louis and Chicago and Detroit, and which ensnares many young black men and boys of color."
On the inclusion of student journalists in this project
Auhjanae McGee: "At first I was a bit nervous because, while I had written before and I had journalistic experiencem I've never written about something of this magnitude. I didn't think that I'd be able to do any of the victims justice because I wasn't really aware of what I was getting into. But The Trace and my editors were really supportive. They helped me with my guidelines. And I realized that it is something that team reporters can share and we have a voice about. And from that point on, I realized that I wanted to be a part of the project."
"One of the big takeaways is that school shootings account for a very, very small percentage of gun deaths among young people."

Akoto Ofori-Atta
From The Reading List
Miami Herald: "Since Parkland" — "Tanya Robinson sits in the 'victim's row' at the front of the courtroom, a few feet from the man charged with killing her son, struggling between anger and tears.
"It's like this every time she's here, a fight to stay calm in the face of unspeakable calamity, though it has been almost a year since her son, 14-year-old Christian Robinson, was shot in the head in the backseat of a friend's car, less than a mile from home.
"The shooting, by terrible coincidence, happened just a few hours after the slaughter of 14 children and three adults in a Parkland school about 200 miles away, one of at least 80 gun deaths — including the Parkland students — of youths 18 and under in Florida in the year since the massacre.
"His murder didn't make many headlines. If you don't live near Port Richey, north of Tampa, you probably didn't hear a word about it, especially after the shooting at Marjory Stoneman Douglas High."
---

View the full list of 1,166 victims of youth gun violence since the Parkland shooting.
---
The Kansas City Star: "More than 50 children killed in 3 years: Guns take a heavy toll in Kansas City area" — "Her 16-year-old son was simply late getting home, right?
"Rondine Taylor kept telling herself that as she drove her car through their Kansas City neighborhood, looking at every corner in hopes she'd see Jeremiah Stewart alive and laughing in the darkening summer night on June 25.
"But the yellow police tape and a swarm of lighted cop cars at a vacant house she'd passed kept drawing her back around the 3600 block of Wabash Avenue, circling like a moth.
"Her headlights plied one of the hardest-hit neighborhoods in the Kansas City region that overall has seen more than 50 children 18 and under killed by guns in the past three years."
The Modesto Bee: "Stanislaus County ranks No. 2 in California in youth gun deaths. Is it a trend?" — "Johnny Wilson was a smart man with a promising future, his grandmother says.
"The recent high school graduate had turned 18 just a few months before he became an innocent bystander in a gang-related drive-by shooting in Turlock in October.
"Wilson's grandmother Jo, who asked to be identified by only her first name for fear of retaliation, said Wilson drove a family member to a house on West Linwood Avenue, where someone who left a gang lives.
"There were people in the front yard, including two elementary-aged children, and Wilson got out of the car to talk to them, Jo said."
Reuters: "Americans Support Gun Control but Doubt Lawmakers Will Act: Reuters/Ipsos Poll" — "Most Americans want tougher gun laws but have little confidence their lawmakers will take action, according to a Reuters/Ipsos poll released on Friday ahead of the one-year anniversary of the country's deadliest high school shooting.
"The poll of more than 6,800 adults reflects widespread frustration with state and federal lawmakers after decades of mass shootings in the United States. The Feb. 14, 2018, attack at Marjory Stoneman Douglas High School in Parkland, Florida, killed 17 students and staff.
"According to the poll, 69 percent of Americans, including 85 percent of Democrats and 57 percent of Republicans, want strong or moderate restrictions placed on firearms. To stop gun violence, 55 percent said they wanted policies that make it tougher to own guns, while 10 percent said making firearm ownership easier would be better."
Stefano Kotsonis produced this hour for broadcast.
This article was originally published on February 14, 2019.
This program aired on February 14, 2019.