The Trump-Kim Summit In Vietnam: What's Next For North Korea Negotiations?
46:56
Play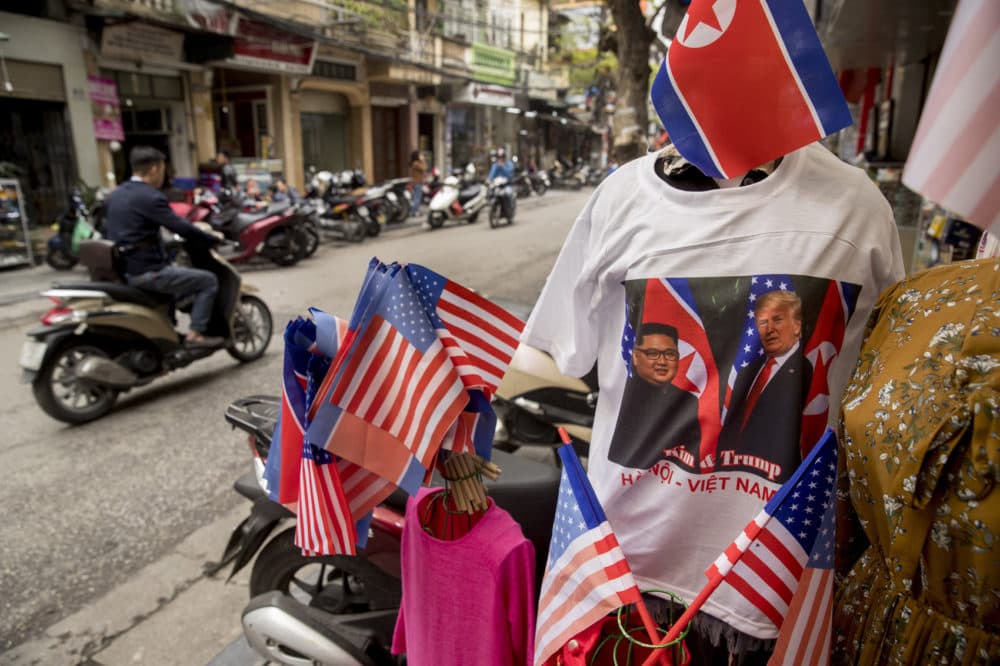 This article is more than 1 year old.
With Meghna Chakrabarti
A second summit with North Korea. We look at the high stakes and unpack the best- and worst-case scenarios.
---
Want more from the show? You can get messages right from our hosts (and more opportunities to engage with the show) sent directly to your inbox with the On Point newsletter. Subscribe here.
---
Guests
Ayesha Rascoe, NPR White House correspondent. (@ayesharascoe)
Katharine Moon, professor of Asian studies and political science at Wellesley College. Nonresident senior fellow at the Brookings Institution Center for East Asia Policy. Author of "Protesting America: Democracy and the U.S.-Korea Alliance." (@KathyHSMoon)
Victor Cha, senior adviser and Korea chair at the Center for Strategic and International Studies. Professor of government and international affairs at Georgetown University. Director for Asian Affairs at the National Security Council from 2004 to 2007. Author of "The Impossible State: North Korea, Past and Future" and "Powerplay: Origins of the American Alliance System in Asia." (@VictorDCha)
From The Reading List
NPR: "Where The U.S. Stands On North Korea Ahead Of The Trump-Kim Summit" — "President Trump will meet with North Korea's leader Kim Jong Un this week in Vietnam, as he attempts to get Pyongyang to move toward what has been an elusive goal: complete denuclearization.
"Trump has maintained that his ultimate goal is to get Kim to relinquish the regime's nuclear program. But, in the lead up to this second summit, he has repeatedly stressed that he's not setting a deadline for North Korea to act.
"'I think a lot can come from it — at least, I hope so — the denuclearization, ultimately,' Trump said at a White House event last week. 'I'm in no particular rush. The sanctions are on; the relationships are very strong, and a lot of good things have happened.' "
Bloomberg: "Opinion: Human Rights Are the Key to a North Korea Deal" — "If Donald Trump's summit with North Korean leader Kim Jong Un in Hanoi next week goes as the U.S. president hopes, the two will emerge trumpeting promises of North Korea's denuclearization, the proclamation of an end to the Korean War, and commitments by the international business community and multilateral lending institutions to transform the nation led by 'Little Rocket Man,' in Trump's words, into the 'economic rocket' of Asia.
"While there's probably a better chance of pigs flying over Pyongyang, it is important to consider the latter prospect for one important but neglected reason: Trump will never realize his dream of seeing North Korea trade its missile launch pads for beachfront condominiums and casinos unless he addresses the regime's massive human-rights abuses.
"Trump's loudest pronouncements on the North's horrific human-rights record came in 2017 after the death of Otto Warmbier, a U.S. college student detained during a tourist visit to the country. The president even invited the Warmbier family to the State of the Union speech to highlight the issue. But, since Trump met Kim in Singapore last summer, he's gone quiet on human rights."
Reuters: "Commentary: To denuclearize N. Korea, Trump should think small" — "New Year's traditions differ across the Pacific. Americans break out bottles of champagne and wake up with headaches and fuzzy memories. Koreans try to maintain sobriety in order to bow to family elders on Jan. 1 and receive blessings for the peace, prosperity, and health of their entire clan. Such cultural differences, as superficial as they might seem, might offer a lesson in foreign policy.
"On New Year's Day, North Korean leader Kim Jung Un addressed a very large political 'family,' telling members that 2019 was 'full of hope' and that all Koreans 'should make greater strides in our efforts to boost inter-Korean relations, achieve peace and prosperity and reunify the country.' South Korean citizens, for the first time able to watch his annual address on television simultaneously with their northern kin, received a similarly optimistic message from their own president, Moon Jae-in, who promised in his national greeting: 'I will make sure the peace will be irreversible.'
"The coming year indeed promises continued warming of relations between the two Koreas and efforts to pave their own paths toward peaceful cooperation while U.S. President Donald Trump tries to denuclearize Pyongyang on his own terms. However, the 2-1 lineup bodes ill for the Washington-Seoul alliance – currently under pressure over the expiry of the cost-sharing deal for the U.S. troops stationed on the peninsula and concerns over a growing gap in North Korea policy – unless the Trump administration puts other items on the negotiating table. The White House also needs to work with Seoul on reconciliation and confidence-building measures in tandem with denuclearization efforts."
Foreign Policy: "What Trump and Kim Won't Be Talking About in Hanoi" — "U.S. President Donald Trump heads off to his second high-stakes summit with North Korean leader Kim Jong Un this week amid concerns that Kim has not taken enough action to dismantle his nuclear weapons program, even as the Trump administration has been hinting at a comprehensive peace deal with Pyongyang.
"Yet in its push to make a deal with North Korea, the administration has consistently ignored Pyongyang's ongoing weapons proliferation around the world, including in the Middle East. That stands in stark contrast to its rejection of the Iran nuclear accord, which Trump denounced as a 'disaster' in part because it didn't address the Iranian regime's destabilizing activities throughout the Middle East.
"'North Korea behaves very differently. They're not destabilizing Yemen. They're not destabilizing Syria. They're not conducting enormous assassination campaigns. These countries' behaviors are different,' U.S. Secretary of State Mike Pompeo told CBS News in an interview on Feb. 13.
"But a forthcoming confidential 350-page report by a panel of United Nations experts tells a different story, one in which Syria has emerged as one of Pyongyang's largest conduits for the sale of military equipment throughout the Middle East and Africa, as well as chemical weapons materials. Operating through a Syrian arms dealer, North Korea has supplied arms to Yemen's Houthi rebels, as well as clients in Libya and Sudan, according to a diplomatic source who detailed the report's findings for Foreign Policy."
Anna Bauman and Aceel Kibbi produced this hour for broadcast.
This program aired on February 27, 2019.