Parkland, Newtown Community Suicides Prompt Dialogue On Trauma Support
Play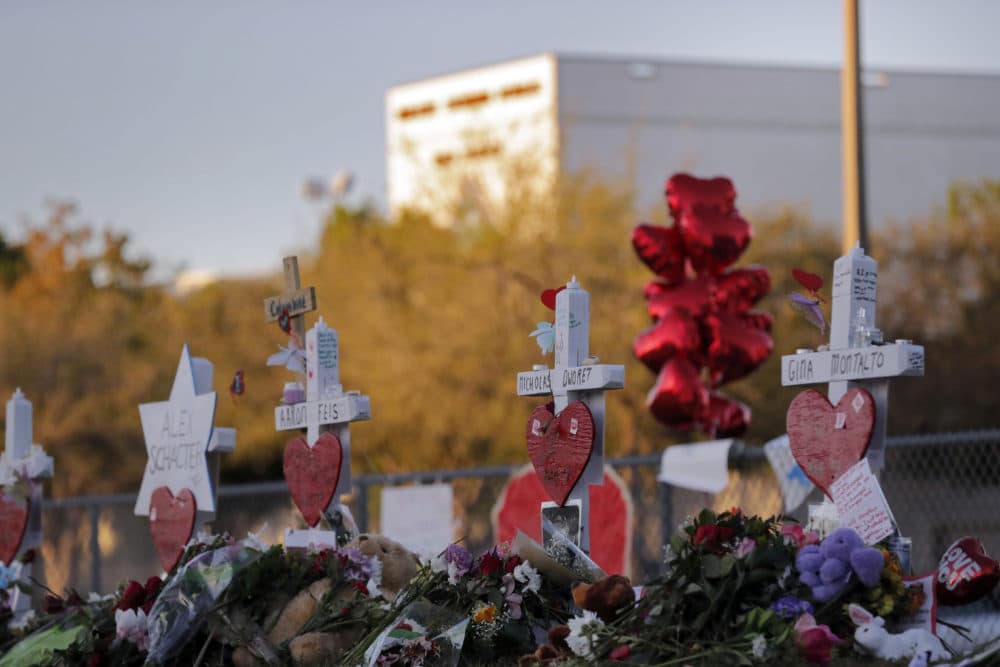 This article is more than 3 years old.
Find our buildout from this hour, featuring a partial transcription, here.
---
If you or someone you care about may be in crisis, please call the National Suicide Prevention Lifeline at 1-800-273-TALK (8255) or contact the Crisis Text Line by texting TALK to 741741.
---
With Meghna Chakrabarti
Deaths by suicide by Parkland and Newtown survivors are sparking a conversation about how to support people long-term after violent trauma. We're listening.
---
Want more from the show? You can get messages right from our hosts (and more opportunities to engage with the show) sent directly to your inbox with the On Point newsletter. Subscribe here.
---
Guests
Heather Martin, founder and chairwoman of The Rebels Project, a nonprofit that supports survivors of mass shootings. Survivor of the 1999 Columbine High School shooting. (@rebelsproject)
Shiva Ghaed, clinical psychologist who specializes in trauma and anxiety disorders. Survivor of the 2017 shooting at the Route 91 Harvest Music Festival in Las Vegas. After the shooting, she launched a free weekly support group for survivors.
From The Reading List
New York Times: "'You Can't Put It Behind You': School Shootings Leave Long Trail of Trauma" — "Kelly Plaur is still having nightmares almost every night. In the mornings, she recounts them to her mother, though the theme is usually the same: the horror she witnessed at Marjory Stoneman Douglas High School last year when a gunman opened fire in her classroom, killing two students and injuring four others.
"A few weeks ago, Ms. Plaur, 18, had to withdraw from the paramedic training program she had started after she was overcome with anxiety while transporting a gunshot victim. Even the sight of certain window blinds can put her on edge, reminding her of the bullet holes that pierced the classroom blinds on the day of the rampage.
"'Little things trigger me that I wouldn't think would trigger me,' she said.
"For young people like Ms. Plaur, more than a year after the school massacre in Parkland, Fla., that killed a total of 17 people, life remains fraught with traumatic memories, an enduring byproduct of the nation's epidemic of gun violence. For many, the worries emerged again last week when two teenagers who attended Stoneman Douglas took their own lives within a few days of each other. Then, on Monday, the father of a little girl killed in the 2012 shooting in Newtown, Conn., also died in what authorities ruled was a suicide."
The Cut: "What Happens to the Mental Health of School-Shooting Survivors?" — "In the past two weeks, we have witnessed how the devastating after-effects of a school shooting can reverberate long after the immediate trauma. In the past week, two survivors of the Parkland massacre of 2018 — a 19-year-old graduate named Sydney Aiello and an unnamed Parkland sophomore — both died in apparent suicides. And on March 25, Jeremy Richman, whose daughter Avielle was killed at Sandy Hook Elementary in 2012, was also found dead in an apparent suicide.
"This is not the first time we've seen the toll that experiencing the trauma of a school shooting can take; after the Columbine massacre of 1999 one student and the mother of a student who was severely wounded took their own lives. And as the Daily Beast reported, six students attempted suicide after a 2012 shooting in Ohio that left three schoolmates dead."
Bustle: "Survivor's Guilt Is Manageable & Treatable, According To Experts, & Here's How To Seek Help For It" — "Over the past week, news about three reported suicides involving people whose lives were affected by mass shootings sparked national conversations abut gun violence and the long-term effects of trauma. Sydney Aiello, who survived the mass shooting at Marjory Stoneman Douglas High School in Parkland, Florida, was diagnosed with post-traumatic stress disorder (PTSD) before dying by suicide, and her mother told CBS Miami that she had been struggling with survivor's guilt. Many experts have highlighted the importance of recognizing and treating these conditions, which may not necessarily present themselves immediately after a trauma.
"Survivor's guilt refers to 'the literal experience of someone surviving a man-made or natural traumatic event while the other person did not,' Paraskevi Noulas, PsyD, clinical assistant professor of psychiatry at NYU Langone Health, tells Bustle. She cites examples like surviving a car accident that was fatal for other passengers, living through a school shooting that resulted in other individuals' deaths, or surviving a natural disaster where other people died. 'The essence of survivor's guilt is a feeling of powerlessness and helplessness. It can be a feeling [of] anger, even rage towards the perpetrator(s) and/or towards oneself for not being able to do more to protect the loved one.' "
Mother Jones: "The Troubling Connection Between Mass Shootings and Suicide" — "On Monday morning, news broke that Jeremy Richman, the father of one of the 20 children killed in the 2012 Sandy Hook massacre, had been found dead in an apparent suicide. His death came on the heels of similar tragedies in another town well acquainted with school shootings: Last week, two student survivors of the 2018 massacre at Marjory Stoneman Douglas High School in Parkland, Florida, also took their own lives.
"The cluster of losses drew comparisons to the years that followed the 1999 murders at Columbine High School in Colorado, when a parent and a student survivor also took their own lives. The deaths raise questions about the lingering trauma that mass shootings have on the communities affected by them.
"Researchers haven't established a direct link between mass shootings and the likelihood of the suicides, but they have found connections between the trauma of those events and the mental health risk factors that can lead to suicide. A 2017 meta-study of research conducted in the wake of 15 mass shootings found that the survivors and community members affected by the violence showed signs of post traumatic stress disorder and depression, two prime risk factors for suicide. Those with the closest proximity to a shooting—a survivor or a family member who lost a loved one—are at greater risk for persistent, long-term mental health issues."
Anna Bauman produced this hour for broadcast.
This program aired on March 28, 2019.