With 'Homecoming,' Beyoncé Claims Pop Culture's Throne Yet Again
Play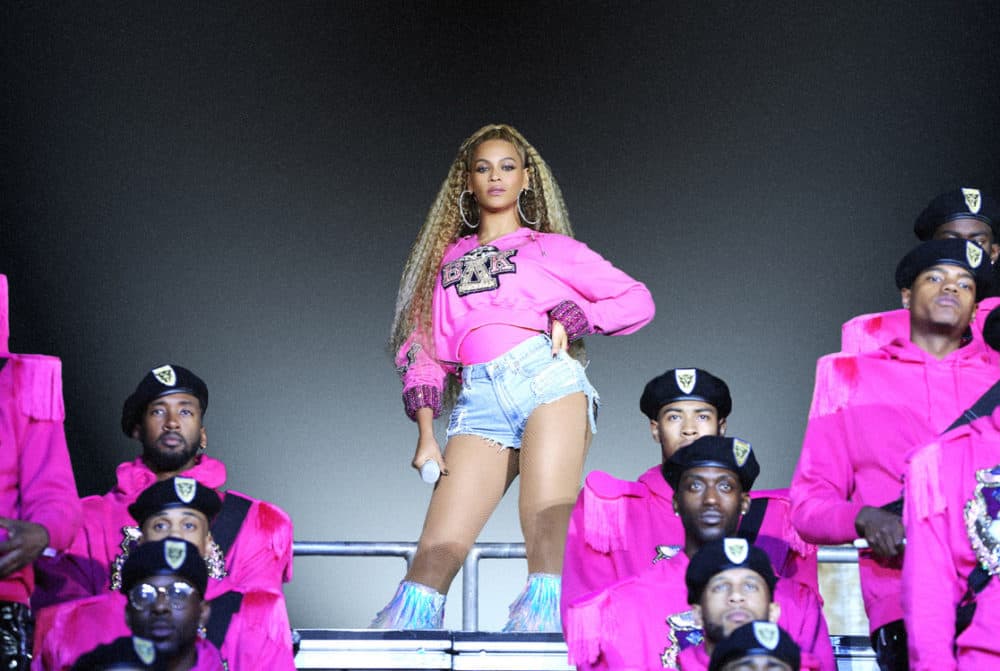 This article is more than 3 years old.
Find our buildout from this hour, featuring a conversation with Beyoncé's guitarist, here.
---
With Meghna Chakrabarti
Beyoncé's "Homecoming," and how Queen Bey masterfully uses visuals, more than music, to tell the story of black culture.
Guests
Hannah Giorgis, culture writer at The Atlantic. (@ethiopienne)
Joey Guerra, music critic and pop culture writer at the Houston Chronicle. (@joeyguerra)
Watch The 'Homecoming' Trailer
Listen to 'Homecoming'
From The Reading List
The Atlantic: "Beyoncé's Black-Intellectual Homecoming" — "The first words in Homecoming, the new Netflix documentary that expands on Beyoncé's landmark 2018 Coachella performance, come not from the singer, but from the author Toni Morrison. 'If you surrender to the air, you can ride it,' the title card reads, a slightly modified quote from Morrison's 1977 novel, Song of Solomon.
"After about 15 minutes of performance footage capped by the Lemonade surprise single 'Formation,' the documentary shifts to a glimpse into the process of pulling the Coachella performance together. The first thing that viewers hear after the final echoes of 'Formation' is the voice of the late Nina Simone, played over recordings from some of Beyoncé's Coachella rehearsals, which spanned eight months:*
"'I think what you're trying to ask is why am I so insistent upon giving out to them that blackness, that black power, that black—pushing them to identify with black culture, I think that's what you're asking. I have no choice over it in the first place. To me we are the most beautiful creatures in the whole world—black people. My job is to somehow make them curious enough, persuade them by hook or crook, to get more aware of themselves and where they came from and what they are into and what is already there, just to bring it out. This is what compels me to compel them, and I will do it by whatever means necessary.'
"For Beyoncé, Homecoming presents another opportunity to continue the boundary-shifting, semiotic work of the Coachella performance, which itself was built on the black-feminist symbolism of Lemonade and the artistic foundation she'd established for years beforehand. The singer's headlining 2018 set, which was nicknamed Beychella, was chock-full of references to black collegiate traditions—and also included a rendition of the black national anthem, 'Lift Every Voice and Sing.' Her performance served a sly dual function: For black audiences, it was a masterly celebration of familiar traditions, including social dance; for white viewers, it was an introduction and an assertion of her deeply rooted prowess. 'Instead of me pulling out my flower crown, it was more important that I brought our culture,' she says of the festival experience."
Houston Chronicle: "Beyoncé's 'Homecoming' film arrives with a surprise album and a new song" — "Beyoncé stopped the world with the overnight release of 'Homecoming,' a Netflix film chronicling her brilliant Coachella performances. Related hashtags — #Beyonce, #HOMECOMING, #Beychella, #HBCU — have been trending for hours on Twitter."
Salon: "Beyoncé's 'Homecoming' transforms the concert film into an artistic, historic moment" — "The racing heartbeat of 'Lemonade,' Beyoncé Knowles-Carter's ground-shaking 2016 visual album, is the scene in which she skips down the street in her floor-length marigold-colored dress, destroying all obstacles in her path with a baseball bat called 'Hot Sauce.'
"In 'Homecoming: A Film by Beyoncé,' which dropped Wednesday on Netflix, it is the moment when she pauses after a burst of bleacher-thundering, catwalk stomping choreography to belt out a slow, luscious version of the Black National Anthem, 'Lift Ev'ry Voice and Sing' accompanied by soaring stringed instruments.
"Beyoncé takes her time, lingering on each line, each pause signaling her dancers to undulate in unison, creating a wave of bodies moving in, yes, formation. This is a short sequence in relationship to others, but it is enough for one to feel the energy of the air expand and contract around the performers, around Beyoncé herself, in the room where the observer is bearing witness. To say it is everything barely scratches the surface.
"'Homecoming' is designed to be a deep drink of cool water in 2019 — in what feels, at times, like an endless desert burning with oppression."
Anna Bauman produced this hour for broadcast.
This program aired on May 1, 2019.