'Without Us, What Would Uber Be?': One Striking Driver On Ride-Hailing Uproar
Play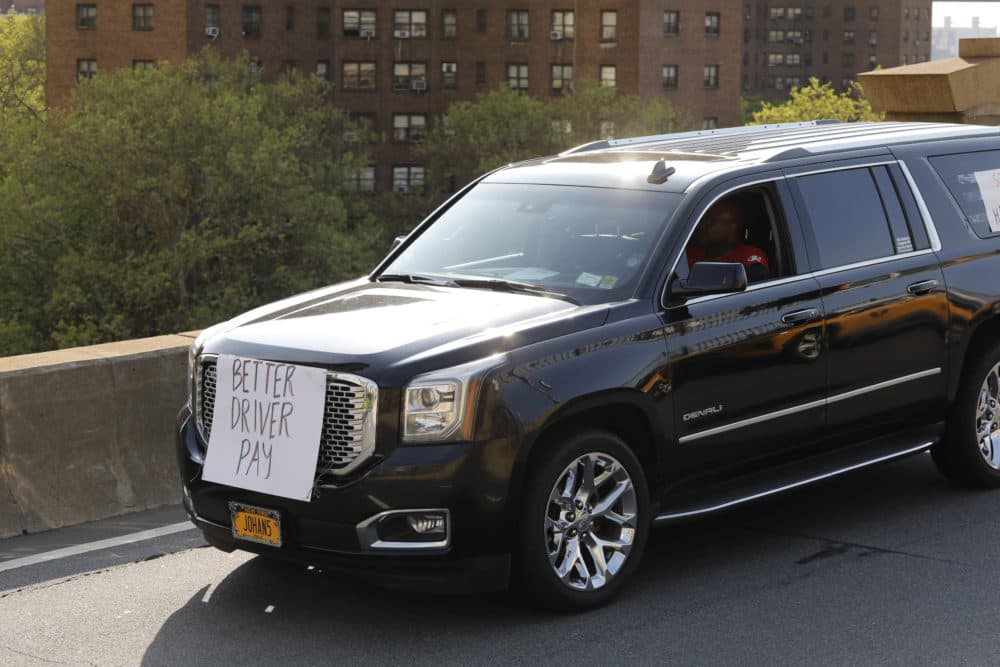 This article is more than 3 years old.
Later this week, Uber will launch its estimated $90 billion IPO, the biggest public stock offering in years. But before that, the company faces strikes and rallies from drivers around the world who are protesting poor wages and working conditions.
Calling on passengers and other gig-economy workers to join them in a boycott, drivers from 10 cities are taking action. They want to see a cap on commissions taken by the ride-hailing companies, hourly minimum pay, an end to automatic account deactivations and more.
"It was a very profitable gig to be in," says Rebecca Stack-Martinez, an Uber driver who is helping to organize protest efforts in San Francisco with Gig Workers Rising. "And over time they have consistently cut the rates, and what they pay their drivers. And so it's become increasingly hard, especially in San Francisco, to earn a decent living doing this gig."
"Researchers at the Economic Policy Institute found that Uber drivers earn an hourly wage of $9.21 on average, after deducting things like fees and commissions. That wage lands below the hourly minimum wage in most of Uber's major markets, the researchers concluded."
Stack-Martinez breaks down the demands of strikers into four points:
Living Wages: "As independent contractors, we're responsible for all expenses. ... Our rates have been decreasing as far as what we're making, and so it's harder and harder to have any sort of profit margin left at the end of the day."
Transparency: "There's a lot of their policies that are very ambiguous that affect our lives on a daily basis, such as their deactivation policies, which is equivalent to an immediate firing, which happens often unfairly and without notice to any of the drivers."
Protections: "If we get hurt on the job or we're sick and we're unable to continue working, there's no sort of protections for us."
A Seat At The Table: "A recognized voice within Uber on any policies that could potentially change and affect what we're doing. We want to have the right to have a voice at work."
Uber, however, has so far shown no desire to provide a drivers' group or association a seat at the table for negotiations or decision-making processes, according to Stack-Martinez.
Here's what else the company had to say in a statement to On Point:
"Drivers are at the heart of our service ─ we can't succeed without them ─ and thousands of people come into work at Uber every day focused on how to make their experience better, on and off the road. Whether it's more consistent earnings, stronger insurance protections or fully-funded four-year degrees for drivers or their families, we'll continue working to improve the experience for and with drivers."
Stack-Martinez's response? "Typical."
"I'm glad that they're acknowledging that that we're the heart of their business, but now they need to treat us like that," she said. "They could say it all they want, but their actions don't prove that."
It's worth noting Uber's recent financial performance amid the company's plans to go public. According to IPO filings, Uber lost $1.8 billion last year. CEO Dara Khosrowshahi admitted the company needs to show investors "a path to profitability."
But he earned $45 million in 2018, and company co-founder and ex-CEO Travis Kalanick stands to make millions if not billions of dollars from his 117 million shares of Uber.
Ultimately, drivers could see even more cuts to their benefits and incentives on that "path to profitability," which will almost definitely lead to even more dissatisfaction — something Uber acknowledges.
Another wrinkle for Uber drives in all of this: The U.S. Department of Labor just last week ruled that one company's gig workers are independent contractors, not employees. The statement came in a non-binding letter specific to the one unnamed company. But, as Sharon Block, executive director of the Labor and Worklife Program at Harvard Law School, told On Point, it presents yet "another hurdle" for gig workers looking to fight for compensation, protections or other benefits in court.
Allison Pohle produced this show for broadcast.