Week In The News: Contempt Vote, China Tariffs, North Korea Missiles, Trump Taxes
46:26
Play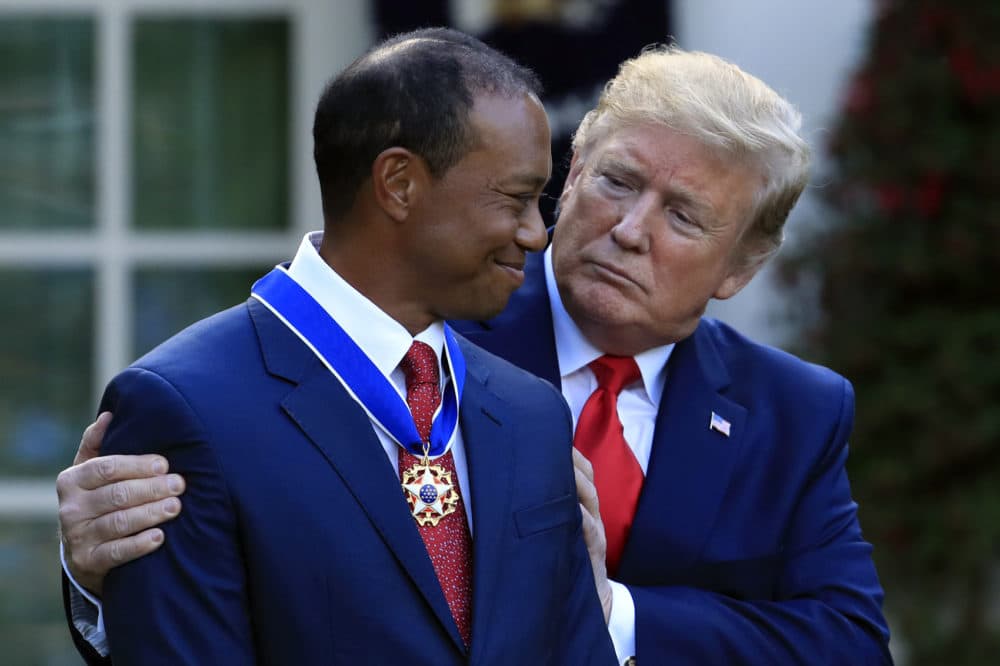 This article is more than 1 year old.
With David Folkenflik
Contempt vote for Barr. Iran inches away from nuclear deal. China tariff fears. Ten years of Trump's tax documents. The roundtable is here.
Guests
Ayesha Rascoe, NPR White House reporter. (@ayesharascoe)
Sheryl Gay Stolberg, congressional correspondent for the New York Times. (@SherylNYT)
Jack Beatty, On Point news analyst. (@JackBeattyNPR)
From The Reading List
NPR: "Debate Over Voting Rights For Prisoners Divides 2020 Candidates" — "Should people convicted of a crime be allowed to vote while in prison?
"It's a question that's divided 2020 Democratic presidential candidates and sparked attacks from President Trump and his allies.
"At a CNN town hall event on April 22, presidential hopeful and Vermont Sen. Bernie Sanders was asked whether his support for allowing inmates to vote would extend to Boston Marathon bomber, Dzhokhar Tsarnaev. Tsarnaev has been sentenced to death for his role in the 2013 attack.
"Sanders responded that he believes U.S. citizens should not lose their right to vote, even those that have committed horrific acts.
"'I think the right to vote is inherent to our democracy. Yes even for terrible people because once you start chipping away ... you're running down a slippery slope,' Sanders said."
New York Times: "Trump Is Pushing Democrats to the Brink. Look at Elijah Cummings." — "Even after President Trump sued him last month to keep his business records secret, Representative Elijah E. Cummings kept his cool and urged Congress to move slowly on impeachment. But with Mr. Trump manning a full-scale blockade of Democrats' access to documents and witnesses, the ordinarily careful Democrat is, like the rest of his caucus, growing impatient.
"'It sounds like he's asking us to impeach him,' Mr. Cummings, the chairman of the House Committee on Oversight and Reform and a top lieutenant to Speaker Nancy Pelosi, said in an interview last week. Ticking off all the ways Mr. Trump is stonewalling Congress, he added, 'He puts us in a position where we at least have to look at it.'
"Mr. Cummings's remarks, which have been echoed by Ms. Pelosi, represent a significant shift for top Democrats, who have been trying to maneuver carefully around the impeachment issue. But with Mr. Trump standing in the way of their investigations — on Wednesday he asserted executive privilege over the unredacted version of the special counsel's report and on Tuesday he tried to block the former White House counsel from handing over documents — their strategy of holding impeachment-like hearings without declaring a formal impeachment process is looking like a dead end.
"The frustration is showing."
CNN: "The US just raised tariffs on Chinese goods. China says it will hit back" — "The United States has escalated its trade war with China, hiking tariffs on $200 billion worth of Chinese exports hours after trade talks held in Washington failed to produce a breakthrough.
"Tariffs on the targeted exports increased from 10% to 25% at 12:01 a.m. ET on Friday, prompting a swift rebuke from Beijing.
"The Chinese government expressed 'deep regret over the development' and pledged to take 'necessary countermeasures.' "
The Atlantic: "The Rarely Used Congressional Power That Could Force William Barr's Hand" — "Impeachment is Congress's most famous, yet rarely exercised, power over wayward presidents and other federal officers. But as Trump-administration officials continue to defy House subpoenas related to Special Counsel Robert Mueller's investigation, Democrats in control of the chamber could turn to an even blunter weapon in their arsenal: arrest.
"Courts have recognized that the House and Senate each have the authority to enforce their orders by imprisoning those who violate them—literally. They can direct their respective sergeant at arms to arrest officials they've found to be in contempt and bring them to the Capitol for trial and, potentially, jail. Congress hasn't invoked what's known as the 'power of inherent contempt' in nearly a century, but the escalating clash between two co-equal branches of government has Democrats talking about moves previously deemed unthinkable.
"'Its day in the sun is coming,' Representative Jamie Raskin of Maryland told me by phone on Tuesday. Raskin, a second-term Democrat and former constitutional-law professor, sits on the House Judiciary Committee, which on Wednesday approved, on a vote of 24–16, a resolution finding Attorney General William Barr in contempt for his refusal to give Congress the full, unredacted Mueller report. As lawmakers met to consider the move, the White House carried out its threat to assert executive privilege over the document."
Brian Hardzinski produced this segment for broadcast.
This program aired on May 10, 2019.