Week In The News: Mueller In Public, Abortion Battles, 2020 Debates
46:25
Play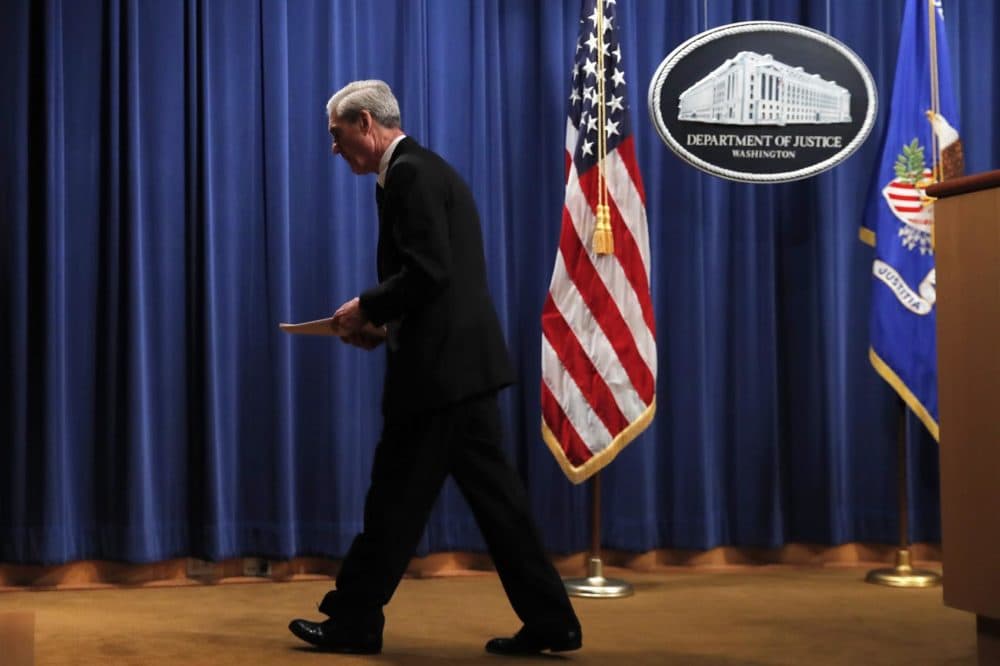 With David Folkenflik
Mueller speaks. Abortion battles rage. New 2020 debate rules could cull the Democratic field. The roundtable is here.
Guests
Julie Mason, host of "The Press Pool" on SiriusXM's POTUS Channel. (@juliemason)
Jessica Rosgaard, supervising editor and producer for WWNO, the NPR member station in New Orleans. (@jessicarosgaard)
Jack Beatty, On Point news analyst. (@jackbeattynpr)
From The Reading List
New York Times: "Mueller Delivered a Message. Washington Couldn't Agree on What It Was." — "At long last, the sphinx of Washington spoke on Wednesday, and here is what President Trump heard: 'Case closed.' Here is what the president's adversaries heard: 'Time to impeach.'
"The much-anticipated public debut of Robert S. Mueller III as special counsel proved as polarizing and unsatisfying as almost everything else about the two-year investigation he led into Russia's interference in the 2016 election in support of Mr. Trump's candidacy.
"In his dry, lawyerly, scripted statement, Mr. Mueller gave voice for the first time to the damning details he uncovered about Russia's efforts to disrupt American democracy and Mr. Trump's efforts to impede the investigation. He chose in the end to speak out, just this once if he has his way, to plead for a deliberate assessment of the facts from a deeply divided political system that shows no willingness to look at his findings through his dispassionate eyes.
"He did not accuse the president of a crime. But Mr. Mueller seemed to hint that he might have if he could have and pointedly refused to exonerate Mr. Trump. Likewise, he implied that Congress could pursue impeachment without directly recommending it."
Wall Street Journal: "White House Wanted USS John McCain 'Out of Sight' During Trump Japan Visit" — "The White House wanted the U.S. Navy to move 'out of sight' the warship USS John S. McCain ahead of President Trump's visit to Japan, according to an email reviewed by The Wall Street Journal.
"The ship was named after the father and grandfather of the late senator—a war hero who became a frequent target of Mr. Trump's ire—and the senator's name was added to the ship in 2018.
"In a May 15 email to U.S. Navy and Air Force officials, a U.S. Indo-Pacific Command official outlined plans for the president's arrival that he said had resulted from conversations between the White House Military Office and the Seventh Fleet of the U.S. Navy. In addition to instructions for the proper landing areas for helicopters and preparation for the USS Wasp—where the president was scheduled to speak—the official issued a third directive: 'USS John McCain needs to be out of sight.'
"'Please confirm #3 will be satisfied,' the official wrote."
Washington Post: "Tougher new debate rules could dramatically winnow Democratic presidential field" — "The Democratic National Committee announced Wednesday new criteria for the party's September presidential debate that could dramatically winnow the sprawling field of 23 candidates, raising the stakes for the summer campaign season.
"What some candidates have called a marathon may soon take on the look and feel of a sprint, as those who fail to register in public polls and attract a large pool of donors confront a sharp deadline to create a breakout moment and stay in the mix.
"To appear in the party's third debate, to be broadcast by ABC News and Univision, candidates will have to earn at least 2 percent support in four party-approved polls between late June and August. In addition, they will have to show that they have attracted at least 130,000 donors since the start of the campaign, including at least 400 contributors from a minimum of 20 states."
WWNO: "Louisiana Legislature Approves Banning Abortions After Fetal Heartbeat Is Detected" — "A bill to ban abortions in Louisiana after a fetal heartbeat can be detected is headed to Governor John Bel Edwards' desk, after the Louisiana Legislature overwhelmingly gave final approval Wednesday.
"'When you can hear a baby's heartbeat, that is proof that life is present,' said Representative Valarie Hodges (R-Denham Springs), who presented the bill on the House floor for the author, Senator John Milkovich (D-Shreveport).
"Louisiana joins several other states, including Georgia and Mississippi, that have passed so-called 'heartbeat' bills this year. The legislation outlaws abortions after a physician can detect the pulse of what will ultimately become the fetus' heart, usually around six weeks into a pregnancy.
"'By week five, you know, or week six or seven, you certainly know if you are pregnant or not,' said Representative Hodeges.
"But opponents say women don't always know they're pregnant that early on and by the time a woman may find out she's pregnant, abortion would no longer be an option."
Anna Bauman produced this hour for broadcast.
This program aired on May 31, 2019.