Climate Change Is Transforming How Our Food Gets From Farm To Table
Resume
With Meghna Chakrabarti
As climate change transforms the planet ⁠— affecting seasons, species, weather patterns and water ⁠— we take a look at how farming and agriculture practices have had to change, too.
Guests
Marc Heller, reporter covering agriculture for E&E News. (@EENewsUpdates)
Daniel Cusick, reporter covering climate adaptation for E&E News. (@dcusickmpls)
Becky Weed, co-owner, with her husband, of Thirteen Mile Farm in Montana, since 1987. Vice chair of the Montana Organic Association. Co-author of the Montana Climate Assessment.
From The Reading List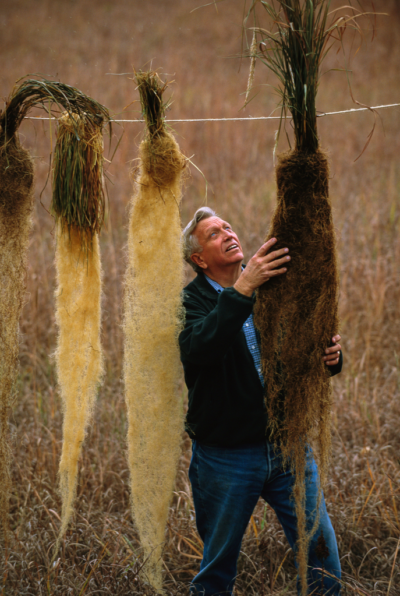 Sustainable Agriculture Research & Education: "An Interactive Exploration of Soil Health and How to Improve It"
E&E News: "Recipe for Change" — "E&E News examines how climate change is transforming food production and the food that ends up on our dinner plates. From mega-greenhouses to heat-resistant cattle to super carbon-absorbing wheatgrass and more, the Recipe for Change series explores how farming and fishing are changing because of global warming."
The Weather Channel: "We Just Experienced the Hottest June on Record and It's Part of a Larger, Troubling Trend" — "June 2019 was Earth's record warmest June in 140 years of temperature records, according to four separate analyses, continuing a warming trend that has 2019 on pace for one of its warmest years dating to 1880.
"NOAA's June global state of the climate report released Thursday found global land and ocean temperatures were 0.95 degrees Celsius above the 20th-century average.
"That may not sound impressive, but in the realm of global temperatures, this warm anomaly made it the planet's warmest June in records dating to 1880, slightly outpacing the previous record from 2016.
"Ultimately, what's most important is not whether a given month is a fraction of a degree warmer or colder; rather, it's the overall trend, which continues its upward climb since the late 1970s."
E&E News: "Farming heads indoors to escape punishing weather" — "Hurricane Michael knocked down pecan trees and blew cotton to shreds in Peach County, Ga., early last October.
"But two crops survived unscathed: tomatoes and cucumbers, coming into bloom in a 25-acre greenhouse just steps away from a pecan grove.
"The site in central Georgia, just a 10-minute drive from Agriculture Secretary Sonny Perdue's hometown of Perry, is where Pure Flavor, an Ontario, Canada-based company, is working on the ultimate defense against climate change: climate-controlled greenhouses.
"Pure Flavor recently opened the first phase of what will eventually be 75 acres of indoor-grown tomatoes and cucumbers, a harvest destined for grocery stores throughout the Southeast. When the facility is complete in the next few years — the second and third phases are scheduled for 2020 and 2022 — it will be the biggest of its kind in a region that covers 10 states."
E&E News: "Grain may take a big bite out of cropland emissions" — "Carmen Fernholz's 500-acre farm in Lac qui Parle County is a modest proving ground for what is being heralded as crop agriculture's best chance to beat back climate change.
"Here in the Minnesota River valley, 150 miles west of Minneapolis, Fernholz is growing a new perennial crop called Kernza, whose edible seed, or 'kernel,' offers a nutty sweetness sought by artisan bakers and brewers from St. Paul to San Francisco.
"But the plant's greatest value may lie in the soil, where its deep, weblike root system acts as a massive sponge and repository for carbon dioxide, the world's most abundant greenhouse gas.
"The interest behind Kernza is one example of how farmers, food producers and even consumers are redirecting their choices to options that benefit the environment.
"Scientists say Kernza, a trademarked hybrid of intermediate wheatgrass (Thinopyrum intermedium), is so efficient at carbon absorption that its widespread adoption across North America's wheat belt could reduce the agriculture sector's CO2 emissions by millions of tons annually while also helping feed a hungry world."
Stefano Kotsonis produced this hour for broadcast.
This program aired on July 25, 2019.