International Roundtable: Continued Brexit Backlash, China's Troops In Hong Kong, More
46:44
Play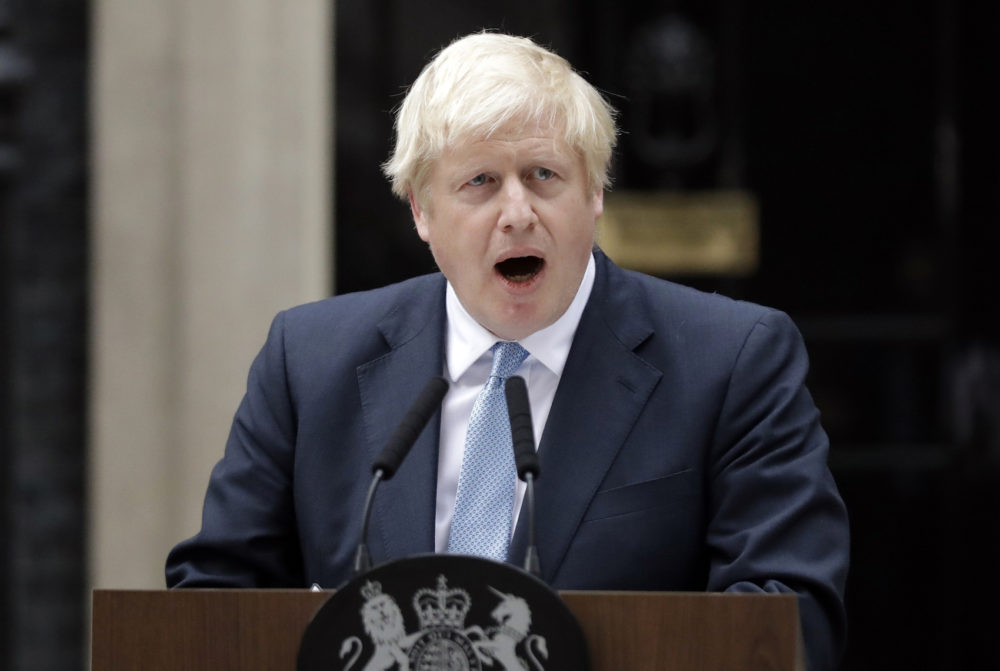 With Meghna Chakrabarti
Brexit politics and backlash. China sends more troops to Hong Kong. U.S. trade wars. Our global roundtable returns with the top news you need to know from around the world.
Guests
Keith Bradsher, Pulitzer Prize-winning Shanghai bureau chief for The New York Times. (@KeithBradsher)
Susan Glasser, staff writer at The New Yorker, where she writes a weekly column on life in Trump's Washington. Former editor-in-chief of Foreign Policy, and founding editor of Politico. (@sbg1)
Adrian Wooldridge, political editor and "Bagehot" columnist for The Economist. Former Washington Bureau Chief for The Economist. (@adwooldridge)
From The Reading List
The Guardian: "Time to step up tempo of Brexit talks, says bullish Boris Johnson" — "A bullish Boris Johnson has sought to reassure Tory MPs queasy about his plan to suspend parliament by announcing he wants to 'step up the tempo' of Brexit talks in Brussels.
"After his chief negotiator, David Frost, met EU officials in Brussels on Wednesday, the prime minister said on Thursday that both sides had agreed to meet twice a week.
"'I have said right from my first day in office that we are ready to work in an energetic and determined way to get a deal done. While I have been encouraged with my discussions with EU leaders over recent weeks that there is a willingness to talk about alternatives to the anti-democratic backstop, it is now time for both sides to step up the tempo,' Johnson said.
"Downing Street is gearing up to resist efforts by MPs, lawyers and campaigners to frustrate his suspension of parliament. Johnson's team face a battle on several fronts, with the Scottish court of session due to rule on Friday on whether proroguing parliament is unconstitutional and MPs drawing up plans to legislate against a no deal."
CNN: "Chinese military's rotation of new troops to Hong Kong garrison raises alarm" — "China claimed Thursday that the addition of fresh military troops to the Hong Kong garrison was simply a military rotation, sparking skepticism among US officials and widespread concern in Hong Kong, demonstrating how tense the city is ahead of a 13th consecutive weekend of anti-government protests.
"Chinese Defense Ministry spokesman Ren Guoqiang said the China's People's Liberation Army troop 'rotation' in Hong Kong was a 'routine arrangement.' China has stationed troops in Hong Kong since it was turned over to the Chinese in 1997 from Great Britain.
"The spokesman said the timing of this year's rotation was "similar to previous rotations" and 'was decided based on the order of the Central Military Commission and the defense needs of the Hong Kong Special Administrative Region.' He dodged a question about whether the number of troops and the amount of equipment have increased since the latest rotation.
"The People's Liberation Army troop movements were carried out in the dead of the night and took place at the same time as a rotation of the garrison in neighboring Macao. They were announced by Chinese state media early Thursday morning."
CBS News: "Pakistan leader Imran Khan warns of "genocide" as is India accused of torture in Kashmir" — "Pakistan's prime minister said Friday he has warned the international community that India could launch an attack on Pakistani-held Kashmir in an effort to divert attention from human rights abuses in the portion of the disputed Himalayan region that it controls. His warning comes as multiple reports claim abuses of civilians in Indian-held Kashmir, including torture by Indian forces and threats of sexual violence.
"In a speech at a rally in Islamabad, Imran Khan said his country will give a 'befitting response' to the government of Indian Prime Minister Narendra Modi if it attacked.
"'Every brick will be countered with a stone,' he said. 'Our armed forces are ready' to respond to any such attack, he said."
Stefano Kotsonis produced this hour for broadcast. 
This program aired on September 3, 2019.