Remembering 9/11 With Those Who Lost Loved Ones
17:09
Play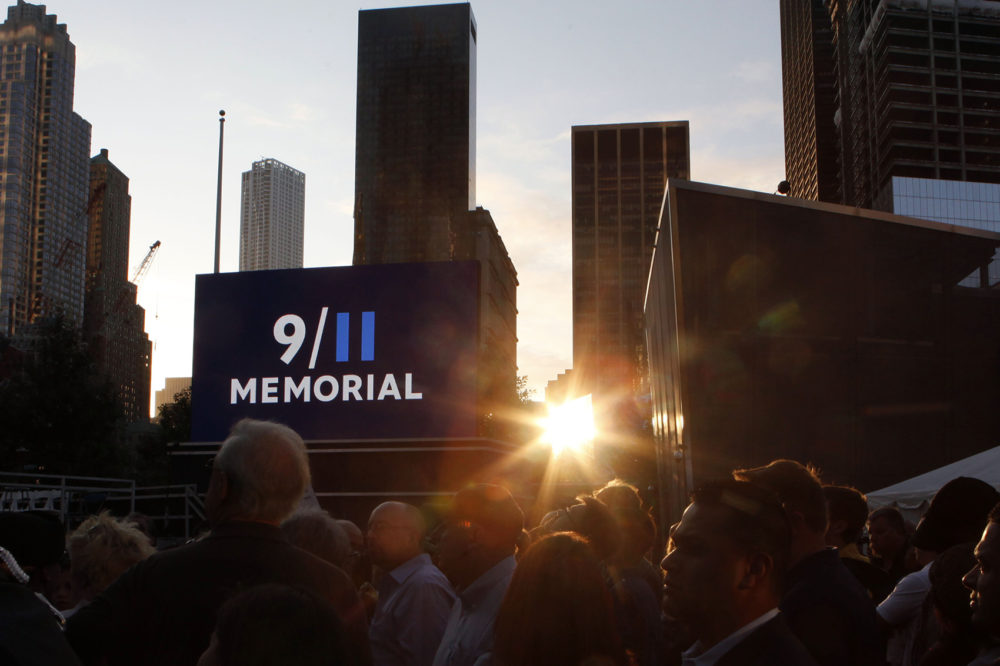 With Meghna Chakrabarti
Eighteen years have passed since the 9/11 terrorist attacks. We ask those who lost loved ones how to tell the story to young people who were born after that fateful day.
Guests
Cindy McGinty, her husband, Mike, then 42 years old, was on the 99th floor of the North Tower when the first plane struck. Board member of 911day.org.
Jimmy Dunne, senior managing principal at Sandler O'Neill, an investment bank. On Sept. 11, 2001 the firm's primary offices were on the 104th floor of the South Tower of the World Trade Center. Of the 83 people who showed up for work that day, only 17 survived the attack. Dunne was not in the office that morning.
The Sandler O'Neill Assistance Foundation pays for the college tuition of children of employees who lost their lives that day. It has supported 67 children over the years.
Interview Highlights
How our guests are remembering this day and honoring their loved ones
Cindy McGinty: "I have mixed feelings. Certainly I miss my husband and I know my boys miss their dad. But because of the way that we honor and remember Mike on this day, there is a sense of hope. What we like to think is that hope was born on Sept. 11, all of these babies that are born on Sept. 11, it does bring hope in the darkest days. And since Sept. 11 was declared a National Day of Service and Remembrance, that's how we like to spend the day."
"This is the day where everybody else will remind you of it, whereas every other day, we're thinking of it, to some degree."

Jimmy Dunne
Jimmy Dunne: "For people that were very close to it — obviously, Cindy lost her husband, I lost so many of my real, lifelong friends — you know, we think about it every day. I very rarely — before I brush my teeth, I've already thought about it. So for us, it's an everyday thing. But it's different on 9/11, because you'll hear from more people that will check in. And so today's always sadder, because it's just that everyone else will — there'll be ceremony, there'll be conversations, people reach out. I just spoke to Billy Edwards, who lost his son that day, and he said he felt like today, this was sadder than most times. That's the difference, I would say, for me, and maybe to some degree Cindy. It's just that, this is the day where everybody else will remind you of it, whereas every other day, we're thinking of it, to some degree."
From The Reading List
New York Times: "The Twin Towers in Film and TV: A Tribute or a Painful Reminder?" — "It can happen abruptly, while flipping through reruns of 'Friends' or rewatching a movie like 'Armageddon' or 'Working Girl': a sight of the twin towers, dominating the New York skyline like steel sentinels.
"'I used to get so startled when I first saw them in repeats and old shows,' said Sally Regenhard, a skyscraper-safety advocate whose 28-year-old son, Christian, a New York probationary firefighter, died when the towers fell 18 years ago.
"Although she still views the towers as 'instruments of death,' she added, 'I do get less startled now.'
"Since the Sept. 11, 2001, attacks on the World Trade Center, filmmakers, television producers, Hollywood executives and even the curators at the National September 11 Memorial & Museum have pondered how best to deal with material showcasing the towers in opening montages ('The Sopranos,' 'Sex and the City'); in scenes of computer-generated conflagration ('Armageddon,' 'Independence Day'); or as a setting for romance ('Kissing Jessica Stein') or affectionate satire ('The Simpsons')."
Fast Company: "9/11 National Day of Service: 4 ways to volunteer on September 11, 2019" — "Tomorrow is the 18th anniversary of a day that shook this country, but Americans can use 9/11 as a chance to not only commemorate the tragedy and its victims but also to give back to their communities.
"It's officially called the September 11th National Day of Service and Remembrance—or 9/11 Day for short.
"Here are four ways for you to volunteer, whether you remember the horror of the World Trade Center, the Pentagon, and Shanksville, Pennsylvania, or are too young to think of it as anything other than history."
Karen Shiffman and Grace Tatter produced this segment for broadcast.
This article was originally published on September 11, 2019.
This segment aired on September 11, 2019.