Week In The News: Asylum Claims, 2020 Democrats, Bolton, N.C., Gun Laws
46:29
Play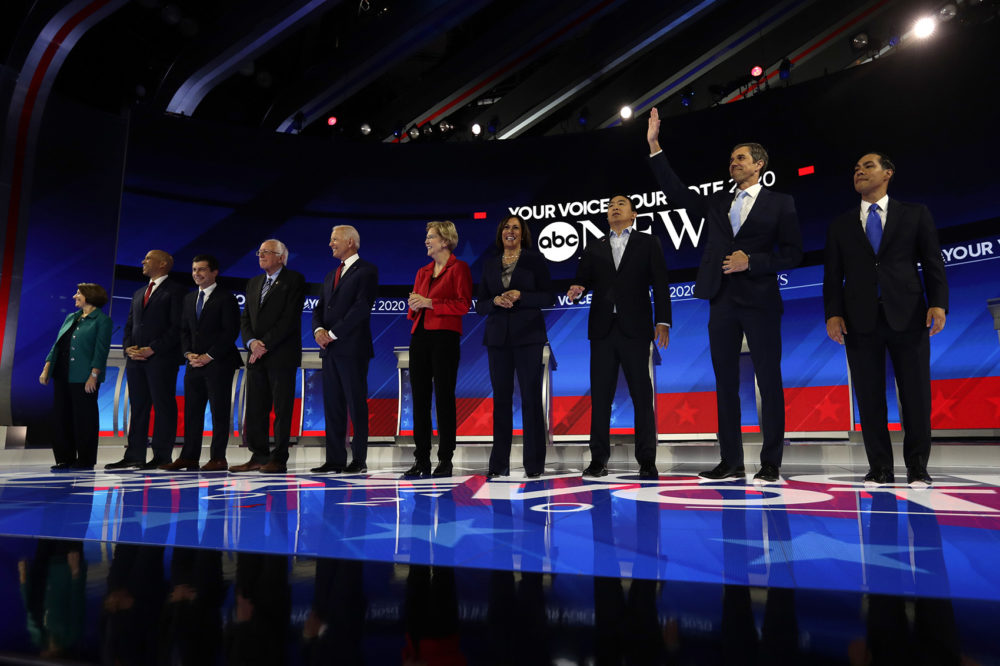 With David Folkenflik
Bolton exits. Democrats debate. GOP notches up a win in N.C. The House moves on gun control. The roundtable is here.
Guests
Seung Min Kim, White House reporter for The Washington Post covering the Trump administration through the lens of Capitol Hill. (@seungminkim)
Sahil Kapur, national political reporter for Bloomberg News. (@sahilkapur)
Jack Beatty, On Point news analyst. (@JackBeattyNPR)
From The Reading List
Washington Post: "Senate Democrats to force one more vote against Trump's border emergency declaration" — "Senate Democrats plan to force another vote in Congress aimed at overturning President Trump's border emergency declaration — potentially triggering a new standoff between the administration and congressional Republicans over the billions of dollars being siphoned from the Pentagon to pay for Trump's border wall.
"The procedure to disapprove Trump's border emergency being deployed by Minority Leader Charles E. Schumer (D-N.Y.) is 'privileged,' meaning Senate Majority Leader Mitch McConnell (R-Ky.) would be unable to block the vote from happening. The Senate voted to reject the emergency declaration on March 14, with a dozen Republicans joining Democrats to defy Trump's contention that there is an emergency at the border that justified his end run around Congress to pay for the wall. Trump promptly vetoed the legislation, and Congress lacked the votes to override his decision.
"'This rises to a large and vital constitutional issue: Does our country truly have checks and balances, particularly when we have such an overreaching president?' Schumer said in a floor speech Tuesday. 'We all must consider the dangerous precedent that would set if presidents may declare national emergencies every time their initiatives fail in Congress. It is outrageous.' "
Bloomberg: "Joe Biden Wins by Not Losing as Rivals Struggle to Take Him Down" — "Rivals eager to dislodge Joe Biden from his front-runner's perch tried attacking him in last month's debate and going easy on him in Thursday's debate. Neither worked.
"The night in Houston highlighted a puzzle that has vexed 2020 hopefuls — how to knock Biden off his game. Frequent gaffes haven't hurt him. His 76 years haven't stopped him — and on Thursday, it was Bernie Sanders, 78, who was hoarse and hunched. His checkered history on race hasn't sunk him.
"And in a Democratic debate in which Barack Obama was revered, his former vice president was well-positioned to claim he's the rightful heir.
"In the end, the nearly three-hour debate seemed unlikely to reshape the current contours of the Democratic primary: Biden in a persistent lead as a rising Elizabeth Warren and a steady Sanders battle for second place. None of the others polls in double-digit support, with Kamala Harris and Pete Buttigieg rounding out the top five."
New York Times: "Trump Administration Plans to Ban Flavored E-Cigarettes" — "The Trump administration said on Wednesday that it would ban the sale of most flavored e-cigarettes, at a time when hundreds of people have been sickened by mysterious lung illnesses and teenage vaping continues to rise.
"Sitting in the Oval Office with the government's top health officials, President Trump acknowledged that there was a vaping problem and said: 'We can't allow people to get sick. And we can't have our kids be so affected.'
"Alex M. Azar II, the health and human services secretary, said that the Food and Drug Administration would outline a plan within the coming weeks for removing flavored e-cigarettes and nicotine pods from the market, excluding tobacco flavors. The ban would include mint and menthol, popular varieties that manufacturers have argued should not be considered flavors.
"The White House and the F.D.A. have faced mounting pressure from lawmakers, public health officials, parents and educators, who have grown alarmed by the popularity of vaping among teenagers but have felt powerless to keep e-cigarettes away from students and out of schools."
NBC News: "CEOs of 145 of America's biggest companies send letter to senators urging gun legislation" — "A group of 145 CEOs from some of the largest companies in America have sent a letter to senators demanding they pass stronger gun control laws, calling firearm violence 'a public health crisis that demands urgent action.'
"The letter, signed by the chief executives of Uber, Levi Strauss & Co., Twitter and Royal Caribbean Cruises Ltd., among other companies, urges Congress to expand background checks and 'red flag' laws, legislation that would enable law enforcement to temporarily take guns away from people deemed a danger to themselves or others.
"'We are writing to you because we have a responsibility and obligation to stand up for the safety of our employees, customers and all Americans in the communities we serve across the country. Doing nothing about America's gun violence crisis is simply unacceptable and it is time to stand with the American public on gun safety,' the letter, dated Thursday and first reported by The New York Times, said."
Associated Press: "GOP holds N Carolina House seat but shows frailty in suburbs" — "Conservative Republican Dan Bishop won a special election for an open House seat in North Carolina, averting a demoralizing Democratic capture of a district the GOP has held for nearly six decades. But his narrow victory didn't erase questions about whether President Donald Trump and his party's congressional candidates face troubling headwinds approaching 2020.
"Bishop, a state senator best known for a North Carolina law dictating which public bathrooms transgender people can use, defeated centrist Democrat Dan McCready on Tuesday. Bishop tied himself tightly to Trump, who staged an election eve rally for him in the district, and Tuesday's voting seemed no less than a referendum on the Republican president, who quickly took credit for the triumph."
Allison Pohle produced this show for broadcast.
This program aired on September 13, 2019.