Former NSA Inspector: Whistleblower Does Not Need Firsthand Information
Play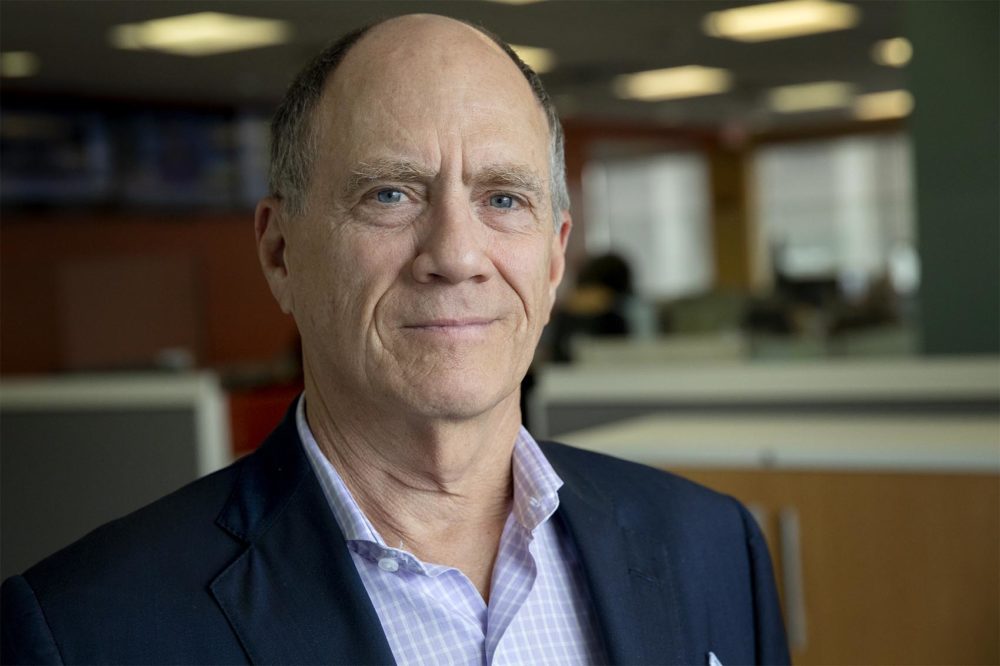 This article is more than 3 years old.
With Meghna Chakrabarti
We talk with former NSA inspector Joel Brenner about the whistleblower complaint.
"I think everybody in the intelligence community is extremely nervous. The president's been attacking the community, explicitly," he told On Point's Meghna Chakrabarti.
Guest
Joel Brenner, former inspector general for the National Security Agency, and later senior counsel to the NSA. Former head of U.S. counterintelligence under the Director of National Intelligence. Senior research fellow at MIT's Center for International Studies.
Interview Highlights
On President Trump's demands to unmask the whistleblower
"I think everybody in the intelligence community is extremely nervous. The president's been attacking the community, explicitly. And, the president's now attacking the norms by which the Congress — and the intelligence community — have agreed that there ought to be a way to report wrongdoing. This is dangerous. The president's M.O. is to create as much chaos and confusion on all fronts as he can. That's what he's doing here."
On concerns about Trump's desire to reveal the whistleblower's identity
"It has to do with the basic trust that people used to have in American institutions. And, even as that trust diminished significantly during my lifetime, there were still basic norms that people observed; ways that they behaved. This is going to make whistleblowers more reluctant to come forward. I'm talking about whistleblowers who are not merely cranky and complaining about not getting promoted and stuff. We saw plenty of that, too. But, people who really saw something that they thought really looked wrong. … [Especially] since the president's now saying such nasty things about this person — who everybody else says, in a position to know, is following the rules. … I mean, this is so beyond the pale. And, of course, people are extremely nervous about it."
On reporting that correspondence, such as the Ukranian phone call, and other information is being kept on highly secret servers at the advice of White House lawyers.
Is that outside of standard operating procedure?
"Out of the normal operations of the intelligence community, it's just totally — I can't say nobody's ever done it, but it is not according to Hoyle. … Let me explain, first, what 'code word' means. There are three classifications only, under our law: confidential, secret, top secret. You don't go higher than that. But, then, we have certain horizontal classifications that have to do with things that are put in compartments, or in [the] Defense Department, called Special Access Programs. That's what this is talking about. This server was to hold information that was compartmented – or, sapped — as they say. This information was clearly not appropriate, to put this information there.
"Now, the president does have the power to classify things however he wants. Which means, his behavior and an ordinary IC [intelligence community] person's behavior, are not the same thing. But, I would remind people, that if you do a lawful act for an unlawful purpose, in the course of conspiring to cover up illegal behavior — which I think is demonstrated in the transcript itself — then that becomes illegal. That's an act in furtherance of conspiracy. And I think that's what was going on here."
On being astonished that White House lawyers would, reportedly, advise trying to hide Trump's behavior
"Yes, I am. You know, when things go wrong, you always want to say, 'Where were the lawyers?' And, if this whistleblower complaint pans out in all respects, it appears that the lawyers were actually guiding the cover-up of this information. And, I think if that is true — if they've got problems under criminal law, and they're licensed to practice law — they're going to be challenged, at some point, as well."
On whether a whistleblower has to have first-hand information in a complaint
"No. And why would you want that to be the case? An investigator — whether it's an investigative journalist, or a prosecutor, or an inspector general — wants leads. You start with leads, you don't start with admissible evidence for in a courtroom — which is what firsthand information is, so it's not hearsay. You want to get information that's credible, that will then guide an investigation to produce firsthand information. … So, this is a complete red herring. It's not only not the case, but you wouldn't want it to be the case."
From The Reading List
New York Times: "White House Knew of Whistle-Blower's Allegations Soon After Trump's Call With Ukraine Leader" — "The White House learned that a C.I.A. officer had lodged allegations against President Trump's dealings with Ukraine even as the officer's whistle-blower complaint was moving through a process meant to protect him against reprisals, people familiar with the matter said on Thursday.
"The officer first shared information about potential abuse of power and a White House cover-up with the C.I.A.'s top lawyer through an anonymous process, some of the people said. The lawyer shared the officer's concerns with White House and Justice Department officials, following policy. Around the same time, the officer separately filed the whistle-blower complaint.
"The revelations provide new insight about how the officer's allegations moved through the bureaucracy of government. The Trump administration's handling of the accusations is certain to be scrutinized, particularly by lawmakers weighing the impeachment of the president.
"Lawyers for the whistle-blower refused to confirm that he worked for the C.I.A. and said that publishing information about him was dangerous."
USA Today: "A GoFundMe has raised over $70k to cover legal fees for anonymous Ukraine whistleblower" — "Lawyers for an anonymous whistleblower who filed a complaint alleging Donald Trump pressured a foreign government to interfere in the U.S. election have launched a fundraiser to cover the whistleblower's legal aid.
"The fundraiser, organized through GoFundMe, has received over $70,000 from more than 2,000 donors as of Thursday afternoon, as House Democrats pursue an impeachment inquiry.
"The nonprofit Whistleblower Aid partnered with the whistleblower's legal counsel to launch the fundraiser, which was posted on Wednesday, according to the GoFundMe page.
"Whistleblower Aid founder and CEO John Tye told USA TODAY that the organization hopes to protect the anonymous whistleblower's rights including being free from retaliation, in addition to educating the public about the importance of whistleblowing."
Stefano Kotsonis produced this segment for broadcast. Alex Schroeder and Sydney Wertheim adapted it for the web.
This segment aired on October 1, 2019.