Botham Jean, Amber Guyger And The Question Of Forgiveness In The Court
Play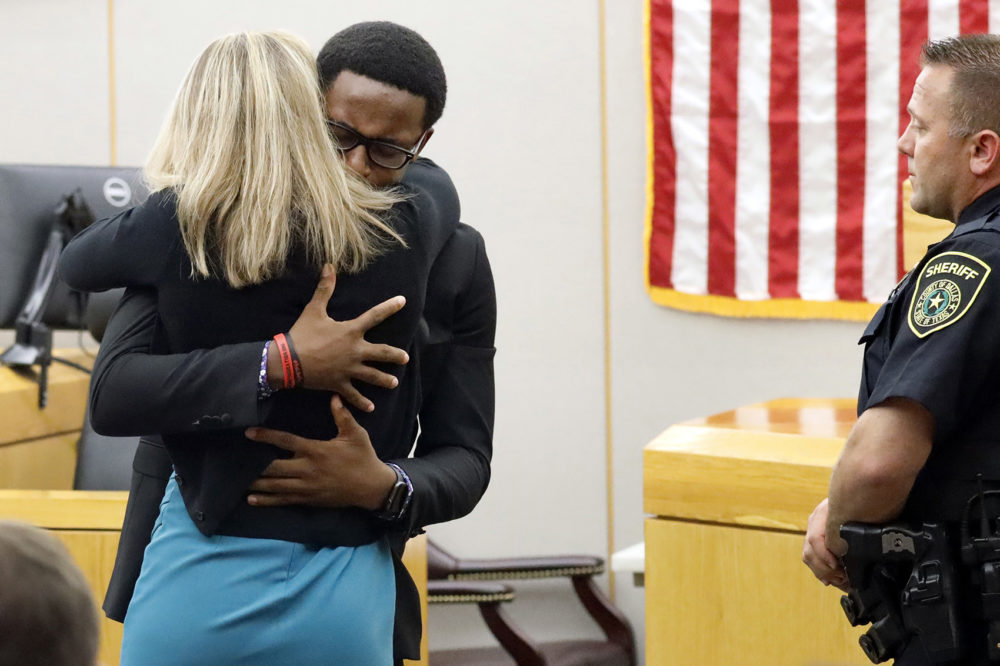 This article is more than 3 years old.
Tears, hugs and a new debate about race and forgiveness after an ex-Dallas cop is sentenced for the murder of her unarmed neighbor.
Guests
Leona Allen, editorial writer for the Dallas Morning News. Pulitzer Prize-winning journalist for reporting on race relations in Akron, Ohio. (@ldallen)
Jemar Tisby, writer, historian, speaker. Author of "The Color of Compromise: The Truth about the American Church's Complicity in Racism." (@JemarTisby)
From The Reading List
Dallas Morning News: "Botham Jean's neighbor, a key witness in Amber Guyger trial, shot to death in Dallas" — "A key witness in Amber Guyger's murder trial was shot and killed Friday evening at an apartment complex near Dallas' Medical District, authorities said.
"Joshua Brown, a neighbor of Botham Jean and Guyger at the South Side Flats apartments, was slain about 10:30 p.m. in the 4600 block of Cedar Springs Road.
"Brown, 28, lived across the hall from Jean and testified about the night he was killed.
"A preliminary investigation shows Brown was shot in the back and thigh, a government official said on condition of anonymity."
Dallas Morning News: "Opinion: A good man, a bad cop and a measure of justice in the Botham Jean case" — "Reaching toward the heavens in anguished thanks, Allison Jean brought a moment's grace to a mother's worst nightmare.
"Just moments earlier Tuesday, a jury had declared off-duty police officer Amber Guyger guilty of murder for gunning down Jean's son, Botham, in his own home.
"Although the murder conviction is some measure of justice, it cannot make up for the life of the much-beloved 26-year-old whose favorite spot was in the church choir.
"But the verdict does matter: Nothing less than a murder conviction would have been sufficient in Botham Jean's killing — and for the cause of justice and the future of Dallas.
"I didn't sit in the jury box — my thanks and admiration to those who did — but know of this: Guyger had every opportunity to act with sound judgment that Sept. 6 night and instead she chose a deadly option."
The Root: "Botham Jean, Amber Guyger and the Delusion of Forgiveness" — "It was described as 'stunning,' 'rare,' and 'inspirational': Brandt Jean, the younger brother of Botham Jean, killed last year at the hands of a Dallas police officer who mistakenly walked into his apartment, asking his brother's killer if he could hug her.
"'I love you as a person,' Jean, who had been delivering his victim impact statement, told Amber Guyger at her sentencing. Sobs rippled through the courtroom as the two hugged. 'I don't wish anything bad on you.'
"Video of the embrace immediately caused waves online. Some people, many of them white, valorized it, calling Jean's act 'inspirational.' Some, many of whom were black, were confused or disheartened by it. Others tried to pull from that hug some sort of instruction for how we, collectively, should feel about Guyger and what she did.
"'I think he showed with his grace and forgiveness how we should heal,'' defense attorney Toby Shook told the Today show's Gabe Gutierrez. 'And I hope that people who were upset by the verdict will follow his example.' "
Washington Post: "White Christians, do not cheapen the hug and message of forgiveness from Botham Jean's brother" — "In a high-profile case this week, former police officer Amber Guyger, who is white, was found guilty of the murder of Botham Jean, a black man, in his Dallas home.
"On Wednesday, the same day Guyger was sentenced to 10 years in prison, Brandt Jean, Botham's younger brother, made a victim impact statement in the courtroom and then sealed his words with a gesture.
"'If you are truly sorry,' he said. 'I know I can speak for myself, I forgive you.'
"Brandt is a Christian, and his brother professed to be one. He urged Guyger to turn to Jesus.
"'I think giving your life to Christ would be the best thing that Botham would want for you,' he said.
"Brandt went so far as to say that he didn't want Guyger to face jail time for the 2018 shooting in the Dallas apartment complex where both Botham and she lived. He pleaded with the judge to let him hug his brother's murderer, a request the judge granted."
This program aired on October 7, 2019.