Why Are Songbirds Across The U.S. Mysteriously Dying?
Resume
Listen: Naturalist Julie Zickefoose on the joy of birds. 
---
A mysterious disease has affected songbirds in many Eastern states this spring and summer.
Scientists still haven't figured out the cause.
But while alarming, this isn't unprecedented. Birds have faced die-offs in the past. And more broadly, birds throughout North America are facing severe population decline.
So, what can we do? Ornithologists say birds are excellent indicators of the health of our natural environment. Paying attention to their well-being can help secure our own well-being. Not to mention, bring us joy.
Today, On Point: understanding why North American songbirds are dying.
Guests
Jennifer Toussaint, chief of Animal Control at the Animal Welfare League of Arlington in Arlington County, Virginia.
Margaret Brittingham, professor of wildlife resources at Penn State University.
Peter Marra, professor in biology and the environment at Georgetown University and director of the Georgetown Environment Initiative. (@PeterPMarra)
Also Featured
Julie Zickefoose, writer, artist and naturalist in the Appalachian foothills of Ohio. (@harpyeye)
Paintings by Julie Zickefoose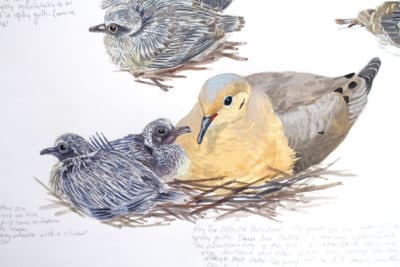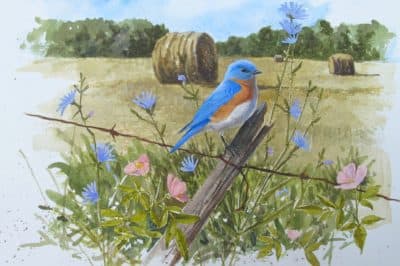 Interview Highlights
On first signs of the mysterious disease 
Jennifer Toussaint: "We were finding them on the ground in good body weight, meaning that parents were still caring for them avidly. When songbirds fledge from the nest, they fall to the ground and spend a period of time on the ground, building up the shoulder strength to fly. So they were in good body weight, but they could not see. We had ocular discharge pressing around the eyes, and the start of neurological symptoms. They were doing head ticks. Some of them had their heads to the ground while standing. A very atypical thing to see in a bird. And they were just obviously unwell."
What is different about this particular illness?  
Jennifer Toussaint: "I've experienced issues with West Nile, for instance, showing signs and symptoms in birds. I've never experienced the volume of ill patients coming in. And the volume of what appeared to be ... decently healthy songbirds found deceased in yards. Again, with these ocular issues, the discharge, the crusting and general blindness. And additionally, it kind of snowballed really quickly. Normally at the start of an illness, you get kind of a slow increase to a peak. And this kind of felt like it onset overnight."
On the history of mysterious disease in birds
Peter Marra: "We've been here before, unfortunately. This is yet just another shot across our bow of the sorts of impacts that we're seeing birds facing. In 1999, we started seeing dead birds, mainly crows early on around the Bronx Zoo, in fact. And there happened to be pathologists there that noticed the high mortality of dead crows and determined it was a new invasive disease transmitted by a mosquito, the West Nile virus. And that soon spread throughout the U.S. in the Western Hemisphere, avian influenza is another.
"So any time you start seeing dead birds, they are, of course, the canary in the coal mine. Or in this case, the sparrows and grackles on the streets that are telling us there's something out there that's not quite right. It's something, it could be turning into an unraveling of our important bird communities. And so it's really critical that we start to figure out not just what it is, but how significant is it.
"We really don't know yet how significant the mortality is. Is it really mortality that is reducing the overall populations, or is it not quite that significant? It's primarily fledglings. It's not having an impact on adults, we don't think. My hope is that it's not quite that significant, not as significant as West Nile virus, but we still need to figure out what it is."
Do you have any indication of what might be causing this?
Jennifer Toussaint: "We're still trying to figure all of that out. We are still sending out things for testing as recently as two days ago, staying in contact with all of the national organizations who are now lending a hand to the region and state in trying to determine, through concrete scientific testing, what this issue was. The good thing is we know what it isn't. We've ruled out a lot of the more, I would say, scary illnesses, illnesses that are zoonotic, or transferable to people.
"We've ruled out some of the players that a lot of people had speculated it was at the start. I will say we saw the onset very similarly to the start of cicadas in our region. And we are starting to see drop offs in patients coming in as cicadas are starting to lessen in our region. But I think we know that we can never assume that because something happened concurrently that there is that inherent connection. I know that a lot of agencies are very determined in finding out why this occurred."
On the impact of pesticides on birds
Jennifer Toussaint: "There are a lot of things affecting birds, and we are seeing national decreases. And birds are federally protected for a reason. They are a national treasure. And when they spend their part of the year with each of us, because a lot of them kind of move through our areas, it is really our responsibility to take care of them. So things like not spraying pesticides, ensuring you're appropriately cleaning your bird feeders regularly, because bird feeders can be a way that birds spread illnesses to each other. It has not been definitively connected to this incident, but we did put that messaging out right away. Please take down bird feeders and clean out and clear bird baths. There's lots of ways that we can individually foster and help our bird population."
What are the indicators telling you about what this illness represents as far as our environment?
Peter Marra: "This illness that we're trying to figure out right now is one of many, right? And so there's West Nile virus, there's avian influenza, but there's lots of other threats that are impacting birds. And we published a paper just two years ago in 2019 that reported a decline of around 3 billion birds, about a third of our overall avifaunal abundance. And 57% of species are declining.
"What that represents is an unraveling of our ecosystem, an ecosystem that we are a part of, an ecosystem that we depend on, just like birds. So, you know, as Margaret said, as I've said, birds are canaries in the coal mine that are warning signals, not just about the birds, but also to us as humans, as co-inhabitants of the Earth. And so it is our responsibility to protect the planet and protect these ecosystems, not just for birds, but for future generations. It's critical. It's our responsibility."
On ways individuals can support birds
Jennifer Toussaint: "There are lots of ways as an individual, you can support the birds. Again, going back to speaking with your local HOA about not using pesticides, speaking to neighbors about how to do humane deterrents and not to destroy or cut down trees at certain times of the year when they're being so avidly used by our birds and our other native wildlife. Baby season is commonly the spring. And that's always when I see people calling out companies to remove trees and cut down things which are a vital resource to the wildlife at that time.
"Also, as an officer, I'm very lucky. I work for an organization that really supports wildlife in a holistic way. We take the one health perspective, like many animal welfare organizations, of understanding the connectivity between people, pets, the environment, wildlife and our overall health. So, yes, I have lots of access to resources, but maybe your local animal control agency, wherever the listener is, that officer doesn't have the resources they might need. So reaching out to your animal welfare experts in your area and saying, Hey, how can I lend a hand?"
From The Reading List
Science Magazine: "Songbirds are mysteriously dying across the eastern U.S. Scientists are scrambling to find out why" — "Jennifer Toussaint, chief of animal control in Arlington, Virginia, can't forget the four baby blue jays. In late May, worried residents had delivered the fledglings to her clinic just outside of Washington, D.C., within just a few hours."
This program aired on July 16, 2021.