Why school boards are a nexus of America's culture wars
Play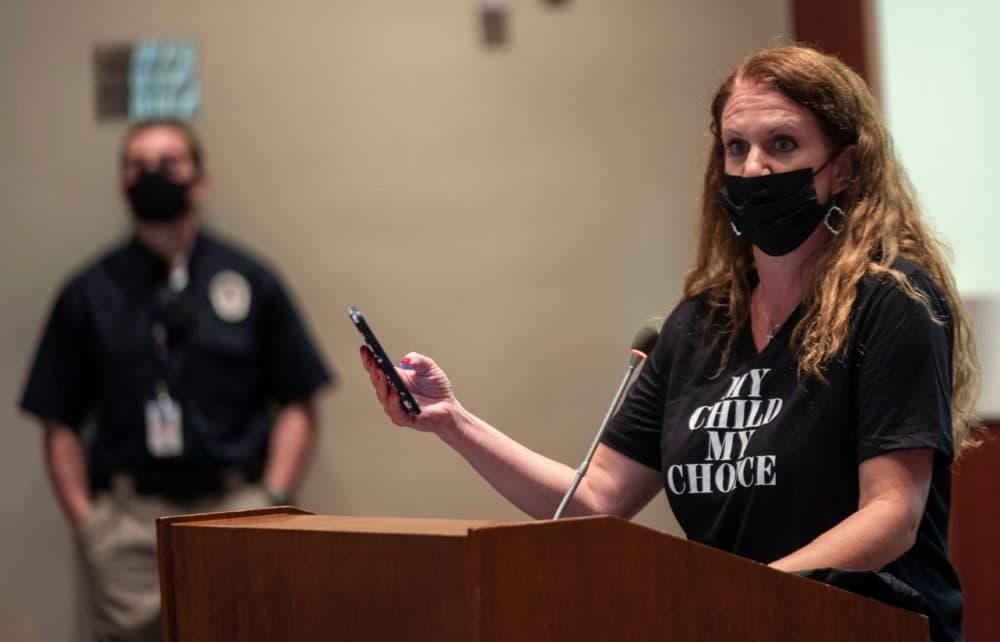 This article is more than 1 year old.
Maud Maron is an attorney, mom, former school board member, and now an independent candidate for New York City Council. She knows firsthand how high the temperature can get at school board meetings.
"We're sort of algorithmically set up to run to the far corners of our positions instead of finding the middle ground," she says.
As for calls for federal law enforcement to investigate school board meeting outbursts, Maron says:
"Offering your opinion at a public meeting in a public setting is a quintessentially important American thing to do," she says. "It's a protected right, and it's something that we absolutely need to make sure is not ... stopped or intimidated."
While parents are showing up concerned about what their kids are learning at school, politics are also at play at school board meetings across the country.
"Right-wing groups have often returned to public schools as a culture war battleground," Peter Montgomery says. "But it is also clearly an attempt to rile up and mobilize."
This hour, On Point: Inside the school board culture wars.
Guests
Peter Montgomery, senior fellow at Right Wing Watch, a progressive advocacy group. (@petemont)
Noah Weinrich, spokesman for Heritage Action for America. (@weinrich_noah)
Laura Vozzella, Virginia politics reporter at the Washington Post. (@LVozzella)
Also Featured
Shirley Brown, chair of the Sarasota County School Board.
Maud Maron, New York City Council candidate. (@MaudMaron)
Interview Highlights
On the politics at play at school board meetings
Peter Montgomery: "It is a continuation of that trend that you talk about, for public schools to become cultural battlegrounds and political battlegrounds. I think one thing that's different right now is that there's a coming together of COVID conspiracies and people who view masks and vaccine requirements as a form of tyranny. And that's coming together with this manufactured right-wing campaign against critical race theory.
"And then preexisting concerns, and concerns that are being inflamed about the teaching of racism in schools, but also the inclusion of LGBTQ students. So there's a number of issues that are being used by right-wing groups to stir up people to show up at school board meetings, to run for school board and to try to take them over."
The National School Board Association wrote a letter on September 29th to the Biden administration, requesting that the Department of Justice look to the Patriot Act and consider some of these acts as domestic terrorism. Is that an overstep?
Peter Montgomery: "It's really important to distinguish between what the School Board Association asked for and the Department of Justice has done, and what Republicans and right-wing groups are mischaracterizing. Nobody is trying to treat concerned parents as domestic terrorists just for showing up, something that the Heritage Foundation claimed in an email just this morning.
"The concern that was raised was about the increasing level of harassment and threats of violence directed at school board members and educators. ... The Justice Department made it clear that they support the right for spirited debate, and this is not an effort to silence people who want to show up and yell at their school board members. It's an effort to deal seriously with criminal acts like harassment, and threats of violence and actual acts of violence."
What are some of the organizations that are fomenting controversy? 
Peter Montgomery: "The Heritage Foundation, one of the large, influential think tanks on the political right in the U.S. ... They're encouraging people to report examples of critical race theory. And they and other organizations put out information, like if you see these words, that's critical race theory sneaking into school. And they're words like diversity, and equity and inclusion. And so they're creating this boogeyman out there that they can then use to stoke controversy.
"The Leadership Institute, a long-time conservative organization, is training people to run for school boards and take over school boards. The Family Research Council is raising money to, for what it says, is to train candidates to take over school boards. And they say that in June, they had a boot camp that trained 1,200 parents to do that.
"And this goes across what we might think of as the right-wing. From people like Heritage Foundation, and the Leadership Institute to newer organizations like Turning Point USA, which is a right-wing youth organizing group. Part of the Koch Brothers network like FreedomWorks, religious right groups like the Family Research Council. They have all jumped on the bandwagon because they see it as an issue that they can exploit to try to make political gains this year, and in 2022 and 2024."
On the fear that drives the school board culture wars
Peter Montgomery: "What we're seeing is really harmful to communities. When I heard you playing that tape of some of the anger coming out at meetings, I thought about some of the Tea Party meetings that we heard where people were fueled to anger with lies about what the Affordable Care Act would do, and how it was going to destroy Medicare. And so all this anger was created really around lies. But it worked for the right, if your only value is winning the next election.
"It helped people turn out to the vote and win. And I think some of that is what we're seeing here. You can often mobilize people if you make them fearful and angry. And you say that their children are being threatened by teachers in public schools who have evil intent. Some of the groups that are involved in this anti-CRT campaign have long records of trying to sow distrust in public education, and that plays into this as well."
On how to create civil school board meetings
Peter Montgomery: "[Make] it clear that people do have the right to speak. They're not trying to silence people. Neither was the federal government trying to silence people. They are concerned about criminal acts. They're concerned about some of this hostility leading to violence. And I think that parents, and parents groups and people that are organizing parents should also be concerned about the level of anger and fear that they're ramping up. And maybe get their activists to engage civilly."
From The Reading List
Right Wing Watch: "Turning Point USA Targets School Boards Over 'Evil' Mask Requirements and 'Radical' Training on Bias and Inequality | Right Wing Watch" — "Turning Point USA, an organization that trains and mobilizes right-wing college students, launched a project targeting public school boards on August 15, the Documented newsletter reported."
Right Wing Watch: "The Right-Wing Political Machine Is Out to Take Over School Boards by Fanning Fears of Critical Race Theory" — "The right-wing campaign to stifle teaching and discussion about racism in U.S. history and institutions is fearmongering about critical race theory to mobilize right-wing activists and conservative voters to take over local school boards."
Right Wing Watch: "Family Research Council Raises Money for Right-Wing School Board Takeover Campaign" — "Family Research Council President Tony Perkins is raising money to promote right-wing takeovers of local school boards."
Spectrum News 1: "Conservative groups are training activists to swarm school board meetings" — "Blanca Martinez stepped up to the podium at a recent meeting of the Fort Worth School Board."
This program aired on October 14, 2021.