What the Rooney Rule reveals about football, coaching and race in America
Play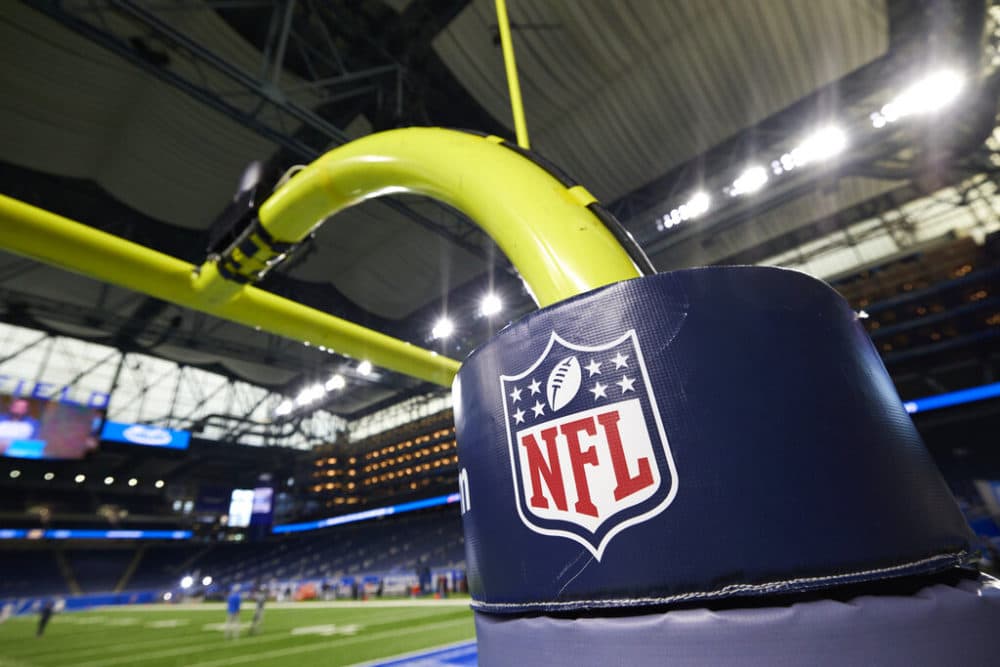 Three days before his interview for the New York Giants' head coaching position, Brian Flores found out that the job was promised to someone else.
Flores is now suing the NFL for racial discrimination. But this won't be the first time there's been a push toward racial advancement in pro-football leadership.
"After the Rooney Rule's enactment, the number of head coaches of color jumped from one to eight. And so there was hope, but it was bearing out," sports professor N. Jeremi Duru says. "But what we've seen is there's some tremendous progress and then there's backsliding. And we are right now in the period of backsliding."
Today, On Point: The NFL's track record with diversity – and the rule that was supposed to help advance it.
Guests
N. Jeremi Duru, professor of sports law, civil procedure and employment discrimination at the American University Washington College of Law. Author of "Advancing the Ball: Race, Reformation, and the Quest for Equal Coaching Opportunity." (@njeremiduru)
Also Featured
Cyrus Mehri, civil rights attorney. He co-wrote a report titled Black Coaches in the National Football League, which led to the adoption of the Rooney Rule. Co-founder of the Fritz Pollard Alliance, an advocacy group that works in conjunction with the NFL to promote minority hiring in coaching, scouting and front office positions. (@cyrus4nflpa)
John Wooten, former NFL player, agent and executive. Former Chairman of the Fritz Pollard Alliance.
From The Reading List
The Undefeated: "Brian Flores' lawsuit shines a brutal light on the NFL's hiring practices — The Undefeated" — "Brian Flores came with receipts. For the NFL, that's the most damning part of the stunning lawsuit filed Tuesday on behalf of the recently deposed Miami Dolphins head coach, who alleges discrimination in hiring in the NFL."
Transcript: The History Of The NFL's Rooney Rule
EDDIE FROM VERMONT: As far as I could see, Brian Flores was an excellent coach. It was absolutely ridiculous that he got fired, but people get fired for all kinds of reasons. However, he seems to have ample evidence that the reason he got fired was racially motivated. So I think he has a darn good point, and I think this might lead to really good change within the league.
MEGHNA CHAKRABARTI: That's listener Eddie from Vermont. Now, we talked at the beginning of this hour about how Brian Flores knew he was not going to get the job with New York. So why did he continue with the interview process anyway?
BRIAN FLORES [Tape]: I think, There's still hope. Maybe ... call it the audacity of hope. And I was, you know, I have a belief that, you know, there's good in people. I just do.
CHAKRABARTI: That's Flores on CBS Morning last week. But you also might be wondering, Why did the Giants continue the interview if they already knew they were going to hire Brian Daboll? Well, there's a reason for that. They had to, because of something called the Rooney Rule. In January 2002, two Black head coaches were fired in rapid succession. The Vikings' Dennis Green and the Buccaneers' Tony Dungy.
CYRUS MEHRI: You know, I was upset about Dennis Green getting fired. ... He was such a consistent winner, with different quarterbacks, getting the Vikings to be a perennial playoff team. And then comes the news that morning, coach Tony Dungy, he literally took over a team that lost 10 or more games every year for a decade, and he turns them around and he gets terminated.
CHAKRABARTI: That's Cyrus Mehri. He's a civil rights lawyer, who in 2000, successfully won a $156 million racial discrimination case against Coca-Cola. Mehri is also an avid NFL fan. So on Martin Luther King Day 2002, in the wake of the Green and Dungy firing, Mehri had an idea.
MEHRI: In the civil rights employment discrimination area, we use a lot of statistics. And one way that we use statistics was actually in a gender case. My expert was explaining how women in financial services, when they inherited the same portfolio from men, they actually outperform the men. And yet they had fewer business opportunities. I'm like, Oh my gosh, I know as a fact, I can hypothesize that if we study the win-loss records and the playoff records of Black coaches, and compare them to white coaches, we would have gotten a window into that same kind of double standard.
CHAKRABARTI: Mehri and his legal team ran the numbers. They were right.
MEHRI: Black coaches won over nine games per year, and went to the playoffs two out of three years. And the white coaches went to the playoffs one out of three years. A lot of white coaches were hired, hired again, and hired again and never even actually had a winning season. So that really kind of showed a double standard.
CHAKRABARTI: Mehri, along with Johnnie Cochran, best known for his defense of O.J. Simpson, put their findings in a report titled Black Coaches in the National Football League: Superior Performance, Inferior Opportunities. In the report, they also included specific recommendations.
MEHRI: One was to reward a team that was a superstar team on diversity with a draft choice. Second was level the playing field with the interview process, and has diverse slates. And the third one was take draft choices away from teams that violate the diversity requirement.
CHAKRABARTI: Mehri credits the league with taking the report seriously. Because that fall, Pittsburgh Steelers owner Dan Rooney led the creation of the NFL's Workplace Diversity Committee. Cyrus Mehri recalls:
MEHRI: Dan Rooney told me this story that every time he raised this idea of the diverse slate, people were hemming and hawing. And this, and that, and that problem, this problem. And then he said, Well, does anybody have a better idea? And the room would go silent.
CHAKRABARTI: In December 2002, three months after Mehri's report was released, Rooney led a phone meeting with NFL owners. And he asked them if everyone was on board with the recommendations.
MEHRI: And they gave him, you might say a gentlemen's handshake. So when that happened, a reporter for the Washington Post, Len Shapiro, called me and said, Cyrus you won't believe it. They voted for your idea. And I said, Great. Is it like a written rule, or is it something that you can really point to? And it goes, No, it's a handshake. And a handshake, that doesn't sound good to me. Within the first, literally days after watching football, as I always do, I guess on Sunday. And I'm like watching Chris Mortensen, and somebody ... from ESPN is talking about how Jerry Jones met with Bill Parcells for like two days near the airport in New Jersey.
And he gave Dennis Green like a 30 minute phone call, to quote 'satisfy the Rooney Rule,' right? The second one happened a few weeks later, when the general manager of the Detroit Lions, Matt Millen, and I'm sure he felt this was honorable, told [a] series of Black coaches, Look, I'm hiring Steve Mariucci. But we have this rule. And you come up here, and I'll show you around the facilities. And every one of them said, No, that's an empty shell of a process. So again, the Dan Rooney handshake with 32 owners was like falling apart in front of our very eyes.
CHAKRABARTI: Dan Rooney himself in a 2015 interview, acknowledged that teams tried to get around the rules.
DAN ROONEY [Tape]: There were some people that were general managers, and things like that, who were in the process of hiring would try to fudge it and, you know, not give a fair interview and things like that. And we had to fine some teams.
CHAKRABARTI: For months, Mehri, Cochran and others pressured the league to codify the Rooney Rule into written NFL policy. In 2003, Mehri finally got what he was looking for. The NFL fined the Lions $200,000 for failing to interview a minority candidate before hiring Steve Mariucci, and the league finally put the Rooney Rule on paper.
It's been 20 years since Mehri first launched the idea that led to the Rooney Rule. But it's been only a week since Coach Brian Flores filed his lawsuit against the NFL, alleging continued racial discrimination in the hiring process for head coaches. And yet, Cyrus Mehri says he's hopeful that the NFL can become a truly diverse league.
MEHRI: We can get there. There's no doubt in my mind the NFL can get there as America's game. There's no doubt in my mind the country can get there. But the challenges are monumental, but you have to be intentional about it. You have to be intentional and never let your foot off the gas.
Listen to the rest of our show on football, race and the NFL's track record with diversity by visiting our podcast feed, here.
This program aired on February 9, 2022.