No food, medicine or electricity: The truth about life in Ethiopia's Tigray region
Play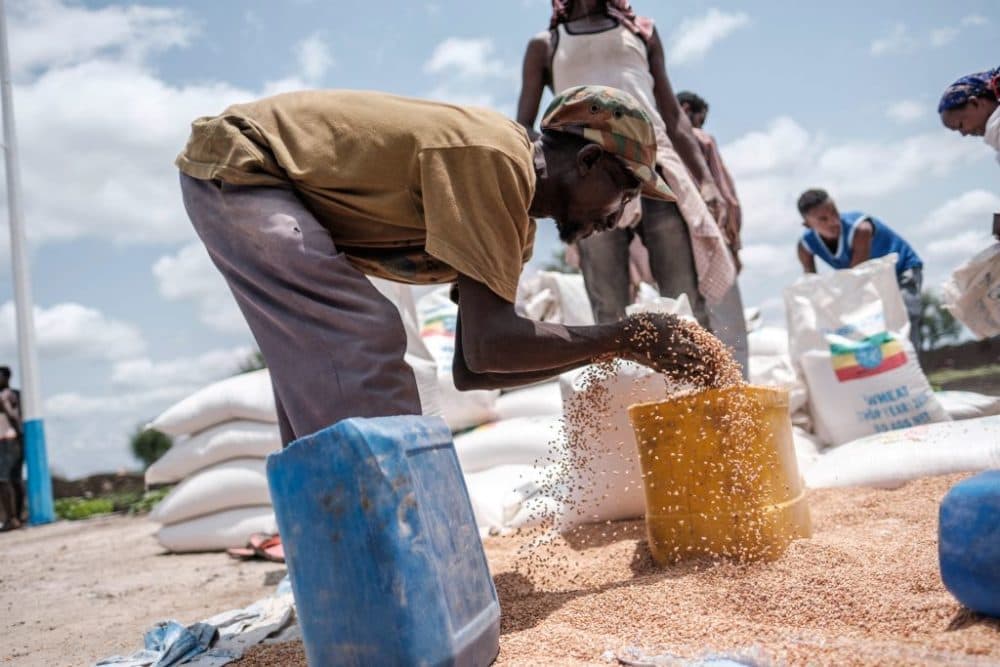 Dr. Reiye Mengesha is a doctor in what was a modern, well-equipped hospital Ethopia's northern Tigray state.
"There are so many patients who used to come to our hospital. For instance, patients with cancer," he says.
Almost two years ago, everything changed. Most of his patients are now dying.
"We have been using for the past one year medications which were expired. But currently we don't even have those … those drugs," he adds. "So our cancer patients don't have any medications."
---
For 500 days, Ethiopia's government has kept five million people in the state of Tigray in a virtual prison.
The WHO calls the Tigray region one of the most dangerous places on Earth.
No new medicines, electricity, food. No one gets in, no one gets out.
Today, On Point: The tragedy in Tigray.
Guests
Etana Dinka, associate professor at James Madison University. (@ittaanaa_haftee)
Hayelom Mekonen, former executive director of the Ayder Referral Hospital in Mekelle, Ethiopia. (@Noliasadi)
Ephraim Isaac, scholar on Ethiopian culture and history. Chair of the board of the Ethiopian Peace and Development Center. Director of the Institute of Semitic Studies in Princeton, New Jersey. (@eisaac5)
Also Featured
Dr. Reiye Mengesha, surgeon at the Ayder Referral Hospital in Mekelle, Ethiopia.
Highlights From The Show's Open
MEGHNA CHAKRABARTI: Tigray is a state in northern Ethiopia.
It's home to the Tigrayan people, a relatively small ethnic group that's had an outsized influence on the country's history, not least by overthrowing the communist junta that had plunged Ethiopia into famine in the 1980s.
A year and a half ago, Tigray's leaders rebelled against the Prime Minister, Abiy Ahmed. The Tigrayans came close to taking Ethiopia's capital, Addis Ababa.
Ahmed responded forcefully, partnered with Eritrea, recruited militias from Tigray's rival ethnic groups, purchased drones bought from Turkey and the United Arab Emirates, attacking Tigrayan ground forces from the air. And then Prime Minister Ahmed put the entire state of Tigray under siege. No one and nothing is allowed in or out.
No refugees, no aid workers. No fuel, no electricity, no internet, no medicine, no food.
More than six million people have been sealed off from the outside world by Eritrean and Ethiopian forces for more than 500 days, the WHO director general recently tweeted.
Starvation is being used as a weapon of war.
WHO Director General [Tape]: "People are dying. The blockade on communications, including on journalists, is being able to report from Tigray means it remains a forgotten crisis. Out of sight and out of mind."
MEGHNA CHAKRABARTI: Well, four days ago, Tigrayan ground forces and the Ethiopian government agreed to a humanitarian cease fire with the hope of getting some of the much needed aid into the region. However, there are reports yesterday of hundreds of Ethiopian troops converging on a town near the border of Tigray province.
What about what's still happening inside Tigray? Dr. Reiye Mengesha is a surgeon at the Ayder Referral Hospital in Tigray.
Over the weekend, he managed to bypass the internet blockade and send us a voice memo about what this siege is doing to his patients.
REIYE MENGESHA: There are so many patients who used to come to our hospital to get services, for instance, patients with cancer, chemotherapy. ... But the chemotherapies are now no more available. We have been using for the past one year medications which were, you know, expired. ... But currently we don't even have those drugs. Our cancer patients do not have any medications.
CHAKRABARTI: Cancer patients, diabetes patients, Tigrayans needing dialysis. For 500 days, Dr. Reiye has been unable to treat anyone.
MENGESHA: Patients on dialysis. We're used to see our patients dying in front of our eyes because of lack of dialysis.
CHAKRABARTI: 500 days of an almost impenetrable blockade means Dr. Reiye and his hospital now also lack critical necessities. Even for basic hospital hygiene, for example, they have run out of new gloves.
MENGESHA: We used to use gloves when we do surgery as a surgeon, I can tell you that. But we can't do that anymore, and we are using only single glove. And even after that, we have to wash it again and reuse it after sterilization. So these are only a few of the things that can tell you how dire the situation is.
Related Reading
African Arguments: "Ethiopia: The wider battle of which the Tigray war is just a part" — "Nearly five months since the war in Tigray began, reports continue to trickle out of mass atrocities and attempts at ethnic cleansing. Refugees have told harrowing stories of brutal massacres."
This program aired on March 29, 2022.