The future of small colleges
Play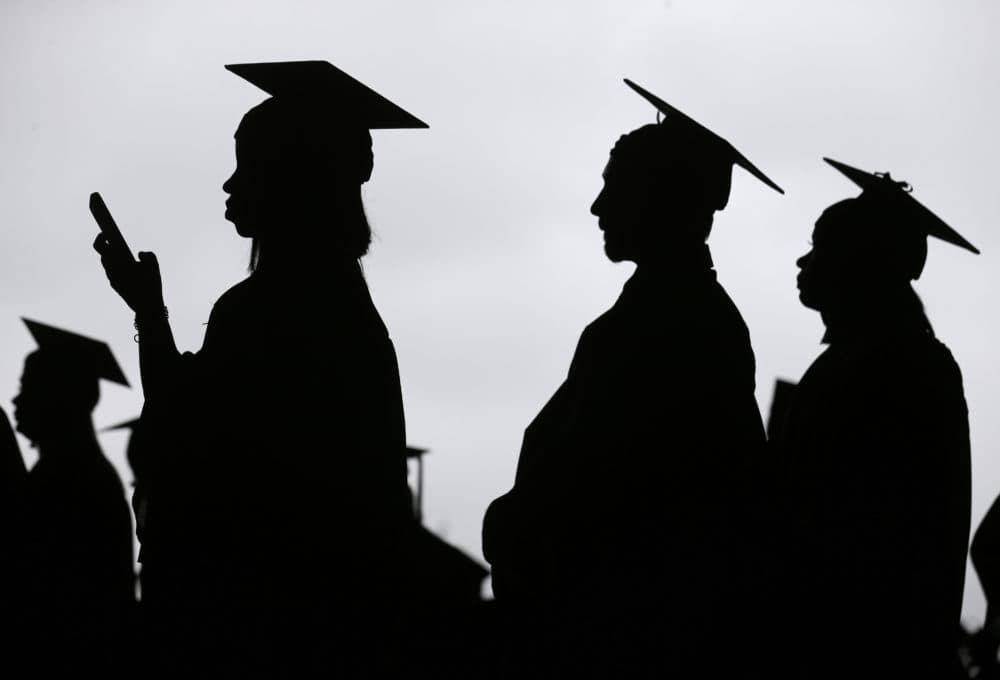 Sign up for the On Point newsletter here. 
American colleges and universities face a big challenge: enrollments are plummeting.
Demographic changes are largely driving that.
"Demographically there are fewer 18-year-olds in the United States than there were, say, 10 years ago," Lee Gardner says. "With the number of projected 18-year-olds who are going to graduate high school and go on to college, that number is even worse."
The enrollment cliff spells trouble for all higher education institutions – but particularly for small colleges.
"There an immediate impact on revenue, on your biggest revenue source which is the net tuition the students pay," Linda Oubré says. "Things like room and board, that is very high margin, was impacted because LA County said you can't have people on campus."
Today, On Point: The future of small colleges — and how they'll survive.
Guests
Linda Oubré, president of Whittier College, a private liberal arts college in Southern California with about 1,300 students. She's also a professor of business at the college.
Lee Gardner, senior reporter at The Chronicle of Higher Education. (@_lee_g)
Marjorie Hass, president of the Council of Independent Colleges, an association of more than 650 independent, liberal arts colleges and universities.
Also Featured
Martin Van Der Werf, director of editorial and education policy at the Georgetown University Center on Education and the Workforce.
Interview Highlights
On rethinking how small colleges like Whittier College do business
Linda Oubré: "A big part of it is thinking about how to use technology, right? Like a lot of institutions, we pivoted in two weeks to remote, and we learned that we can bring a lot of elements of this intimate small college to a remote format, which surprises a lot of people. Our faculty did a fantastic job. Of course, we had bumps along the road like everyone, but I'm really, really proud of the faculty and how creative because we felt it was important not to just go online, but to think about how we can bring parts of that intimate education. So one of my favorite examples is people say, How do you do labs remote?
"And we had a very creative chemistry professor who figured out that all the labs she needed for her class could be done in a kitchen with normal kitchen ingredients. And so she sent out a list of the students, or what they can purchase via Amazon that could be delivered and did her labs using kitchen elements. You know, just very, very creative. We had other faculty who felt that a good way for the classes to connect was to spend the first ten or 15 minutes and just let the students talk among themselves on Zoom to catch up, to talk about their issues, etc. That was very, very important to have a way for students to connect, even though we were remote."
Does that mean that as bad as the challenge is today, that it might well get worse?
Lee Gardner: "Oh, certainly. And there are additional challenges. For example, the inflation that's been going around. Recently, I had a college president tell me just this week that the cost of replacing a roof on a building at his institution has doubled from before the pandemic. And so when you're on a tight budget, that's an issue. And it's also important to keep in mind that, you know, for a lot of colleges, their market is the area immediately around the institution.
"And the demographic cliff, so to speak, isn't evenly distributed. It's worst in the upper Midwest and in the Northeast. A lot of states are expected to gain students. But these small colleges especially compete on a national level, some of them, many of them. And so they're looking to draw students from all over the country. And so they may be able to rely on that local market, but they are competing with all these other colleges just as well. So they don't really catch a break that way."
On affordability in high education
Linda Oubré: "I personally think that affordability is probably the issue for higher ed. And I think, again, I think COVID just brought it more to the forefront. We are spending a lot of time at Whittier, and I'm sure it's happening in small colleges across the country, because the other thing that is difficult in the business model, and the business model was broken before COVID, is that our discount rates have been increasing. And a lot of us have discount rates that are over 50%. And so part of what we've been looking at ... at Whittier is because of students we serve. Our competition is not necessarily the other small colleges. And we have data that shows the students who we admit who turn us down go to the California State University.
"And the California state campuses and to UC schools, UC Riverside and Irvine. You know, you can go for $25,000 a year, including room and board, or you can live at home. And, you know, so we are really trying to rethink that. We launched an effort to attract more community college students. We have a community college advantage program for students who attend California community colleges that basically has a has a lower sticker price to attract more of those students, because we know there's a lot of students who don't even apply because all they see [is] a sticker price."
How do students feel about this return on investment of small colleges today? 
Lee Gardner: "I think small colleges tend to offer a particular thing that a lot of students still value. But I think for a lot of students, it's maybe an increasingly tough sell just because of a lot of the things we're already talking about, in the sense that there's a lot of question about the value of a college degree. You know, there's been some evidence that more young men are skipping college or doing something besides college, traditional college, because they don't feel like it's for them.
"It doesn't offer them what they're looking for. And the cost narrative that's out there certainly contributes to that. And I think that there's something to be said for sure regarding the tuition discounting and, you know, colleges sort of giving themselves a self-inflicted wound with sticker price versus what people actually pay."
On hope for the future of small colleges
Marjorie Hass: "I am very hopeful. I'm very hopeful because of the caliber of leadership that these institutions are able to support. We see also an incredible range of new models of collaboration emerging. There are companies and social businesses and foundations that are stepping forward to help our institutions collaborate. Boards are willing to have these more difficult conversations earlier in the process.
"I think the shift in environment and the pandemic made it less ... embarrassing for institutions to say, hey, we really better look at our business model. And it means that these conversations can be had more openly and before we've had a crisis point. And that gives more room and more time for creative solutions. And the thing that always gives us hope is our students."
Related Reading
The Chronicle of Higher Education: "The Perilous Predicament of the Very Small College" — "If there's a primary vital sign for colleges, a crude point of reference for outside observers, like the pulse of an emergency-room patient, it's student enrollment. A college with thousands of students is usually a sign of healthy fiscal and reputational footing."
This program aired on January 20, 2023.