Boston Mayor Marty Walsh On Casinos, Housing
07:10
Play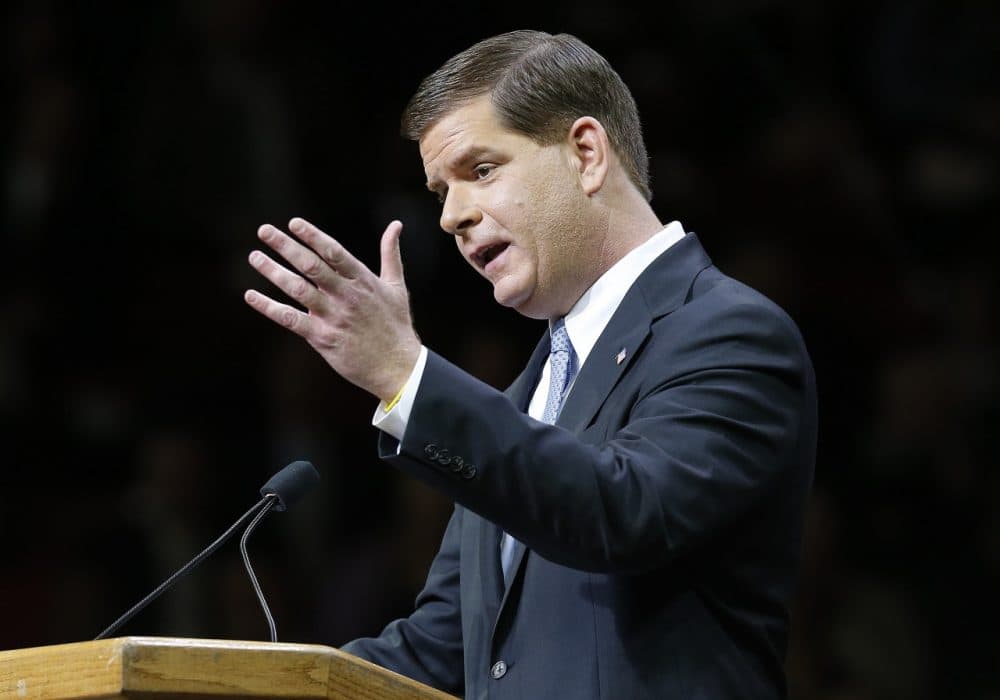 This article is more than 7 years old.
On Friday, Boston Mayor Marty Walsh considered whether to take the state gaming commission to court. The commission voted on Thursday that Boston residents will not get to vote on proposed casinos in neighboring Everett and Revere because the commission doesn't consider Boston a host community for either project.
The commission's vote came after Mayor Walsh challenged the commission to give the city host status and a greater say over whether or not there will be a casino at the city's doorstep.
Guest
Marty Walsh, mayor of Boston. He tweets at @marty_walsh.
Highlights
On the state gaming commission's decision not to name Boston a host community:Mayor Marty Walsh: "I was disappointed by it, clearly. We put up what I thought was a good argument and discussion on why we should be deemed host in both Mohegan and Wynn's proposals. But it seems to me that the commission had a predetermined decision already made out. We spent three hours deliberating and they spent ten minutes coming back and giving the decision."
On the mayor's confidence in the gaming commission:
MW: "I don't have confidence in this particular process. I had confidence in the commission before. Probably the first year or so they were moving along fine. But I just think that in this case they got it wrong, and I think this region is being handled wrong."
On substandard off-campus student housing:
MW: "Inspectional Services has the tools to be able to do a lot of the corrections that have to happen, we just have to make sure we enforce it now. We're probably going to have to put on more inspectors at some point. We have the ability to fine problem property owners $300 a day per violation. And we have to make sure that's enforced. These landlords have to understand that, you know, when they have our young people in there, that are going to school, they can't overcrowd and they have to have them in safe and up-to-code living conditions."
On protecting students living off campus:
MW: "When a parent sends their child off to college, to Boston, they should not have to worry about the living conditions that their sons and daughters are living in. And we are going to institute and implement tougher laws on these landlords that want to use these properties for profit. We're also going to work with the colleges and universities to find out how many students are living off campus and where they're living, so we can keep an eye on it."
More
WBUR: Boston Reviewing Legal Options After Gaming Commission Vote
"Walsh implied that the city had not received a fair hearing — pointing to the quick decision by the commission after more than three hours of testimony. During the hearing, city lawyer Thomas Frongillo tried to argue that Mohegan Sun's proposal is built around the Suffolk Downs racetrack."
Boston Herald: Denial Forces Marty Walsh's Hand
"Boston got one thing it was looking for yesterday in the recusal of Crosby, who announced before the meeting that he was taking himself out of the decision on whether Mohegan or Wynn gets the casino license. Crosby has been scrutinized over decisions critics argue compromised his impartiality, including attending opening day at the Suffolk Downs racetrack, site of Mohegan's proposed casino, and his ties to an owner of the Everett casino site."
Boston Globe: Walsh Vows Off-Campus Student Housing Crackdown
"The city will levy $300 daily fines on scofflaw landlords, increase the number of inspections, and demand that colleges in Boston disclose the addresses of undergraduate students living off campus, measures designed to protect the health and safety of tens of thousands of university students."
This segment aired on May 9, 2014.