Emerson President Lee Pelton Balances Arts With Liberal Arts
23:29
Play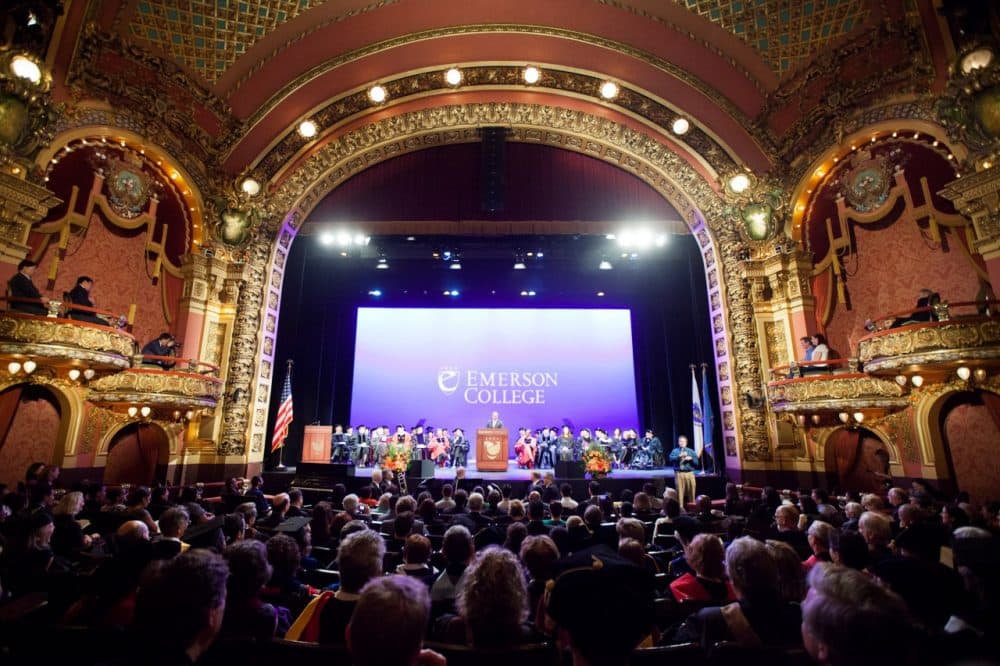 This article is more than 7 years old.
If you or your child are looking at colleges, there's a pretty long checklist to consider.
Can you specialize in your chosen field? Does it offer a balanced education? Will the school really launch you into the job of your dreams? What are the dorms like? Are there study abroad options? And how much debt will you end up with on graduation day?
These are challenges not only for students and parents, but also for college presidents who work to balance the many demands of students, faculty and trustees — all while keeping applications rolling in year after year.
President Lee Pelton of Emerson College is one of those presidents. Emerson is located in the heart of Boston and defines itself as a school "devoted to communication and the arts in a liberal arts context." It can be a tough balance to strike when 18-year-olds are arriving on-campus with dreams of Hollywood and Broadway.
But Pelton is working on initiatives he hopes will attract both passionate artists and students seeking a strong liberal arts education.
Emerson just opened a sensational $85 million campus in Los Angeles on Sunset Boulevard in Hollywood — it's the first of its kind for an East Coast school
But Pelton also recently launched the Elma Lewis Center for Civic Engagement, the College Presidents' Gun Violence Resource Center and the Presidential Fund for Curricular Innovation.
Guest
Lee Pelton, president of Emerson College.
More
Boston Magazine: The Power Of Ideas
"In a town where there's no shortage of exceptional educational leadership, Pelton makes no small plans. In the past year alone, he unveiled Emerson's stunning new $85 million dollar campus in L.A."
WBUR: Emerson College Debuts New Hollywood Facility
"Boston's Emerson College this weekend opens its new $110 million complex for television, film and advertising students looking to learn the ropes in Hollywood."
The Boston Globe: Emerson Game Lab Aims To Fix Local, Global Problems
"The game used by the international organization is a product of the Engagement Game Lab at Emerson College, a group of play-oriented programmers, designers, and researchers who see video and computer games as a promising medium for promoting civic involvement and solving problems from neighborhood planning to global warming."
This segment aired on May 13, 2014.