Northeastern Study: Not Enough Spots In Massachusetts Vocational Schools
21:26
Play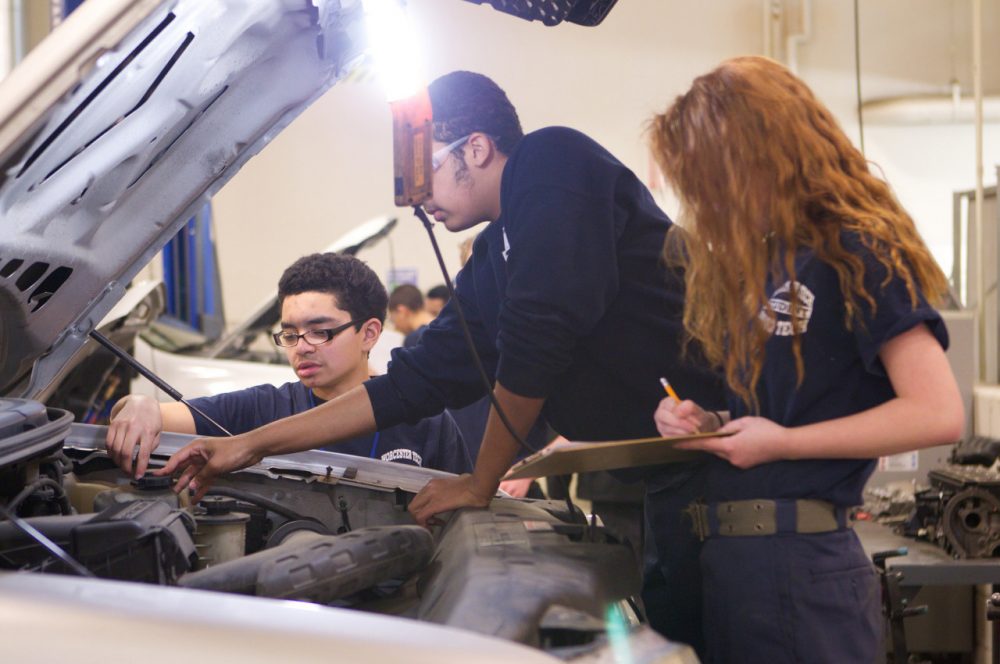 This article is more than 6 years old.
Among the issues the next Massachusetts governor will face is a growing disconnect between the number of manufacturing jobs available in the state, and workers with enough skills to fill those positions.
Researchers at Northeastern University estimate that Massachusetts manufacturers will have to fill 100,000 jobs over the next decade just from retiring workers, let alone from any new jobs created.
And, a new study by Northeastern University Law School says that thousands of students aren't able to get into vocational and technical high schools in order to get training for those jobs.
Guests
Barry Bluestone, economist at Northeastern University and the founding director of the Dukakis Center for Urban and Regional Policy. He tweets @BarryBluestone.
Peter Enrich, law professor at Northeastern University Law School. He also oversaw the survey on Massachusetts vocational and technical high schools.
Kate Putnam, president of Package Machinery and a member of the advisory board of machine manufacturing at the Roger Putnam Vocational Technical Academy in Springfield, which was named after her grandfather. She tweets @wrapsustainably.
Highlights
On why vocational and technical schools have such long waiting lists:
PE: "The reasons are complex. A lot of them come back to money. The funding of vocational schools is largely the responsibility of the state. They use a formula that has a couple of big problems with it. [The] first problem is, in our view, it underestimates the cost of vocational education, and so the schools are short of money to start with. The second problem is, to determine how much money a school gets, they look at its enrollment in the previous year. So, if you had a waiting list last year, you're going to get funded based on how many students you had in the school. [It] pays no attention to your waiting lists, so you're going to have exactly the same problem year after year after year — there's no allowance for growth in the funding formula."
On the viability of a vocational education:
Barry Bluestone: "We also did another study at Northeastern where we interviewed over 700 manufacturers...throughout the state and the number one issue they came up with was, 'How do we find replacement workers for those who are retiring?' Because the average age of the manufacturing workforce in Massachusetts is now 51 years old. And therefore, they are desperate for these workers. What we found is that this is one industry — manufacturing — but there are a whole set of industries where we're not really preparing the correct workforce for the future. And I think part of it is — and Peter and I are both at Northeastern University, we're both professors — we've stressed so much [the] college — university — education, to the extent that people think...'If I don't go to college, I'm a failure.' The fact is, students coming out of vocational schools — in some of these schools — they have 100 percent chance of getting a job when they graduate, they're getting good pay in the crafts, in manufacturing, but very few parents understand that. Very few guidance counselors understand that. And therefore, even politically, we haven't put enough pressure on the legislature and on the governor to expand the vocational education schools to make up for the difference."
On the kind of jobs vocational schools prepare students for:
BB: "We're talking about, literally, tens of thousands of openings to replace current workers, but the new jobs in manufacturing aren't like the jobs I worked on when I was on an assembly line at Ford putting my way through college in the 60s, building carburetors. All of these folks are using high-tech equipment, they need to have mathematical skills, they need to have a lot of technical skills that we normally think of as college education. So, that we still have manufacturing, but it's a very different type of manufacturing than we had 20 or 30 years ago which requires very specialized skills."
On why there are so many students on the waiting list at Roger Putnam Vocational Technical Academy:
Kate Putnam: "It's amazing, we've had a groundswell of support for the program, which was restarted about five years ago, and there are all new machines in there and it's just a fabulous facility. It's brand new. We have a shortage of teachers. The qualifications to teach at the high school level are more onerous and restrictive than to teach at the community college level. And as a result, there's a constant scramble for teachers. If you think about it, a skilled machinist can easily earn, even in this area, $60,000 a year or more. Why on earth would they want to take at least a $10,000 pay cut, perhaps $15,000, to become a teacher where they would then have to pay and spend a lot of time getting their teacher certification. So, they're taking a pay cut, and they're not getting reimbursed but they're going to have to spend time getting the certification. We can't get teachers."
On the "college-centric paradigm":
PE: "We did recognize, in our report, what we referred to as the college-centric paradigm that has been dominant in recent years, but one of the interesting things that's happening is, and it's particularly happening in lower income communities, is more and more students are not buying into that paradigm. They're recognizing their different learning styles. They're looking for different alternatives, that's part of what we're facing."
More
The Boston Globe: Schools' Wait Lists Called A Drag On The Economy
"Many vocational and technical schools across Massachusetts have long waiting lists for students seeking admission, creating a bottleneck in worker training even as thousands of well-paying jobs go unfilled for lack of skilled labor, according to a new survey."
Radio Boston: Norfolk Aggie, Where Students Love The Animals And The School
"When asked how this school is different than a typical high school, senior Jenna Illingworth is quite clear: 'How is it not different from the typical high school?'"
This article was originally published on September 15, 2014.
This segment aired on September 15, 2014.