Tsarnaev's Middle School Adviser: 'He Was A Compliant Kid Who Never Questioned Authority'
16:21
Play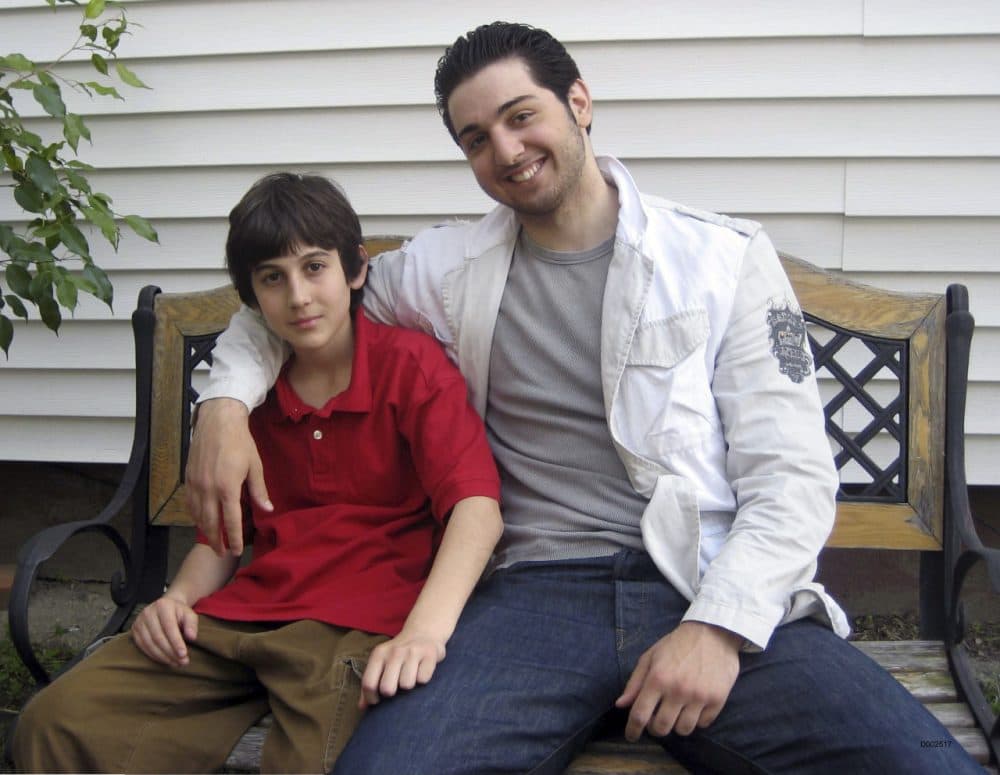 This article is more than 6 years old.
Last Wednesday in federal court, Becki Norris testified on behalf of Dzhokhar Tsarnaev. She was once Tsarnaev's adviser and teacher at the Community Charter School of Cambridge, where she's now middle school principal.
"Every teacher has an advisory of about 10 kids, and so you get to know the students in your class, but you get to know your advisees the best because you spend time with them every week," says Norris. She even visited the Tsarnaev home as part of her adviser duties.
Norris spent a lot of time with Tsarnaev. She was his adviser for two years — 7th and 8th grade — and she also taught him math and science.
"He was a great kid," she says. "His teachers loved him, I loved him. He was just a sweetheart. He was very shy at first. Dzhokhar was just a quiet kid, but he didn't have trouble making friends, which had been my initial concern when I first met him, because he seemed so shy."
But not too shy to step forward when Norris brought in her newborn daughter to meet her small group of advisees.
"The boys in the group were afraid to hold her but [Dzhokhar] was happy to."
Norris is opposed to the death penalty, so even without her personal connection to Tsarnaev, she knew she wouldn't want him to be put to death.
"I knew that if he did get the death penalty and I hadn't said what I have to say then I would always wonder if there's something that I had to say that might've made a difference. It only takes one juror."
But, as Norris psychologically prepared to take the stand, she realized she had another reason for testifying.
"I realized more and more that this was a kid I hadn't seen in a long time, who I cared a lot about and nobody's really going to see him again. He's going to be gone for good no matter what the verdict is. And I wanted to be able to see him again and to look in his eyes and see if I saw anything of that kid that I knew, and be there as a support for him."
And she says she did see the kid she knew.
"He looked like Dzhokhar. He gave me the Dzhokhar smile that I had known since he was a little 12-year-old. I still can't reconcile that with what he did. It doesn't make any sense. But, he looked like Dzhokhar."
When Becki Norris tries to connect the devastation caused by the Boston Marathon bombings to the 12-year-old she knew, it's almost impossible.
"I don't think it's reconcilable, so I've just decided to hold the two ideas separately in my head. I have a lot of compassion for the victims and the families of the victims. I personally knew somebody who was injured in the bombing. My family had been standing in the same spot the year before and who knows what would've happened with us? And I've cried a lot over that. And then there's this other side, of this wonderful, promising kid — and he destroyed his own life as well. And I don't know how to reconcile those, so I just cry at different times over both of them."
When Norris first found at that Dzhokhar was one of the people behind the Boston Marathon bombings, she immediately tried to figure out what could have made him do it.
"I knew what I knew of him, which is that he was a compliant kid who never questioned authority at all and was very, very eager to please. And that's the only sense I could make of it in my own head, and I wanted them to hear that story because I don't believe that he would have planned this and done it on his own. I do believe he was the follower in this situation, and I think that that makes a difference with the death penalty decision."
However, she doesn't think victims of the bombings need to listen to her message at all.
"I don't think that the victims owe him any understanding. I think there's lots of valid ways of dealing with trauma and some of the victims might need to not think of him at all, some of the victims might need to think of him as just a monster, I think both of those are totally valid and fine and they don't need to try and understand him. And there are probably some victims who want to try to understand him. Different people handle these things in different ways, so if they wanted to hear it I was happy for them to hear some kind of explanation, if that's what it was. I would never walk up to a victim and try to make them listen to me about this. I don't think they owe him that."
But the response to Norris' Facebook post and Cognoscenti article have been surprisingly positive.
"I've had dozens of Facebook messages and only two of them were negative. And there have been a lot of comments online, and mostly positive. There have been a lot of people just saying either, thank you, I felt some compassion too and I didn't know how to say it. Or, I never stopped to think of him as somebody who was human and you made me stop to think, and that's the most gratifying, because that's what I was trying to do. And then there's still a lot of anger, and a lot of the negative responses come from the anger and the hurt that people feel from this situation, and I can't judge that either."
Dzhokhar Tsarnaev's actions haven't changed the way she does her job, but they have given her a new perspective.
"As educators, we spend every single day trying to help young people to grow into the best citizens they can possibly be, and when something like this happens, of course we wonder if there's anything we could've done to change it. [But] I can't spend my whole wondering about the might-have-beens. I'll never know if there's something I could have done or said, but for me now, I'm still going to school every day and I'm still working with the kids I work with every day and it's been a real motivator for me to try to keep any of them from slipping through the cracks. [I] just try to support all of them and make sure that they know that someone cares and make sure that they know how to make good decisions and don't feel afloat. It's definitely lit a fire under me."
Guest
Becki Norris, founding teacher and middle school principal at the Community Charter School of Cambridge. She tweets @beckiwithani.
Jack Lepiarz, WBUR reporter. He tweets @Lepiarz.
More
Cognoscenti: Why I Testified On Behalf Of Dzhokhar Tsarnaev
"I have discovered the painful truth that when you care deeply for someone, that does not stop even if he does unfathomably horrible things."
This segment aired on May 4, 2015.